EU powers united on Brit divorce: Merkel
Author

Publish Date

Tue, 28 Jun 2016, 5:58am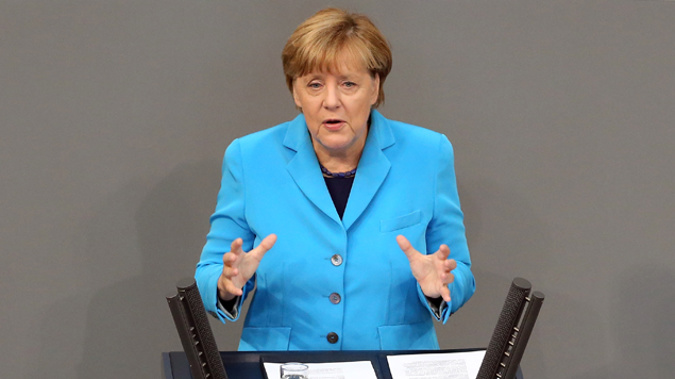 EU powers united on Brit divorce: Merkel
Author

Publish Date

Tue, 28 Jun 2016, 5:58am
Germany, France and Italy are "united" and aim to set a "new impulse" for the European Union that will boost security, economic growth and competitiveness, German Chancellor Angela Merkel says.
Merkel spoke on Monday after meetings with French President Francois Hollande, Italian Prime Minister Matteo Renzi and EU President Donald Tusk that were overshadowed by divisions on Brexit.
All three leaders insist there will be no informal talks about Brexit until Britain gives formal notice to the EU by invoking Article 50 of the Lisbon Treaty, which triggers a two-year timeline to negotiate the exit.
Merkel wants to rein in pressure on London to move quickly.
"We cannot afford a deadlock, ... but I have some understanding for the fact that Britain is taking a certain amount of time to analyse the situation," Merkel said.
British Prime Minister David Cameron on Monday repeated he will leave the decision to initiate Article 50 to his successor.
Conservative nominations could be taken this week, with plans to have a new leader in place by September.
US Secretary of State John Kerry warned the EU against a "revengeful" approach and called on leaders to act in a "responsible, sensitive" and strategic manner.
"I think it is absolutely essential that we stay focused on how, in this transitional period, nobody loses their head, ... people don't start ginning up scatterbrained or revengeful premises," Kerry said during a visit to Brussels.
Renzi, speaking in the Italian Senate before flying to Berlin, said that "the last thing Europe should do is embark on a discussion on procedures for a year".
This week's EU summit should "be about the relaunch" of the European project and "not just about exit procedures" for Britain, Renzi said.
In an interview, French Finance Minister Michel Sapin said "there is no difference between France and Germany" regarding the timeline for Britain's withdrawal.
"Should Great Britain go quickly? Yes. France, like Germany, says that Britain has voted (and that) Brexit should be implemented starting now," he said.
Merkel, Hollande and Renzi will attend an EU leaders summit in Brussels.
The possibility of Britain handing off its EU presidency, due to take place in the second half of 2017, will also be discussed at the summit, EU sources said.