Drone strike kills Isis bombers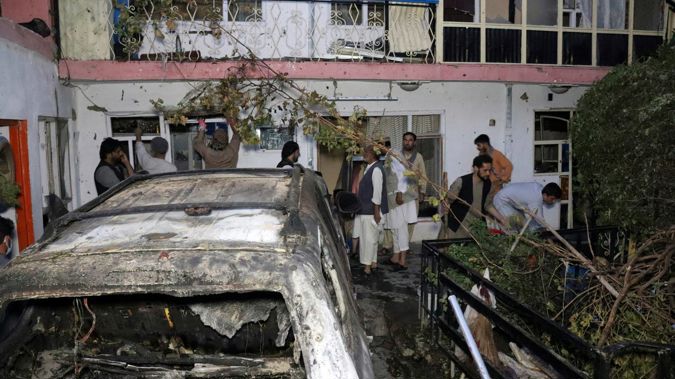 Drone strike kills Isis bombers
A US drone strike blew up a vehicle carrying "multiple suicide bombers" from Afghanistan's Islamic State affiliate before they could attack the ongoing military evacuation at Kabul's international airport, American officials said.
The strike came just two days before the US is set to conclude a massive two-week-long airlift of more than 114,000 Afghans and foreigners and withdraw the last of its troops, ending America's longest war with the Taliban back in power.
The US State Department released a statement signed by around 100 countries, as well as Nato and the European Union, saying they had received "assurances" from the Taliban that people with travel documents would still be able to leave the country. The Taliban has said it will allow normal travel after the US withdrawal is completed on Tuesday and it assumed control of the airport.
President Joe Biden watches as a carry team moves a transfer case containing the remains of Marine Corps Corporal Humberto A. Sanchez. Photo / Carolyn Kaster, AP
At around the same time as the drone strike, Afghan police said a rocket hit a neighbourhood near the airport, killing a child. Rashid, the Kabul police chief, who goes by one name, confirmed the rocket attack, and video obtained by the Associated Press showed smoke rising from a building around a kilometre from the airport.
The Taliban described the drone strike and the rocket attack as separate incidents, but AP reporters in the Afghan capital heard only one large blast.
Two American military officials, who spoke on condition of anonymity to discuss military operations, called the airstrike successful and said the vehicle carried multiple bombers.