Dozens dead after bomb blast at Islamic celebration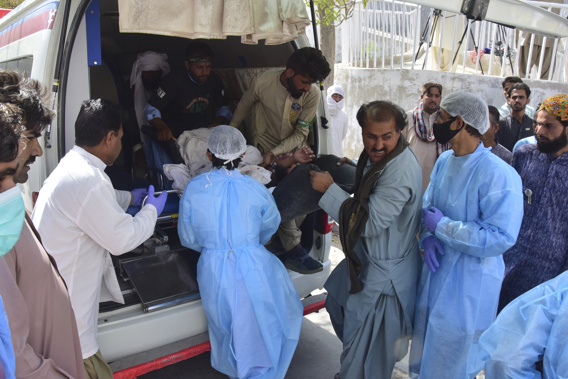 Dozens dead after bomb blast at Islamic celebration
A suspected suicide bomber blew himself up among a crowd of people celebrating the Prophet Muhammad's birthday in southwestern Pakistan on Friday, killing at least 52 people and wounding nearly 70 others, authorities said, in one of the country's deadliest attacks targeting civilians in months. 
An open area near a mosque was left strewn with the shoes of the dead and wounded, TV footage and videos on social media showed. Bodies lay covered with bedsheets. Residents and rescuers were seen rushing the wounded to hospitals. 
No one immediately claimed responsibility for the attack in Mastung, a district of Baluchistan province. But suspicion is likely to fall on the militant Islamic State group's regional affiliate, which has claimed previous deadly bombings around Pakistan. IS carried out an attack days earlier in the same area after one of its commanders was killed there. 
On Friday, around 500 people had gathered for a procession from the mosque to celebrate the birth of the prophet, known as Mawlid an-Nabi. Similar events were held in communities across Pakistan, often including parades of children in traditional garb. The blast went off before the Mastung procession was to begin, while people were still coming to join, said one witness, Asadullah Bangulzai. 
Bangulzai told The Associated Press said he was some distance away when the explosion occured and rushed to join other bystanders helping with the wounded. 
"I had blood on my hands and clothes" from carrying wounded, he said. "I will never forget these painful moments ... People were crying in pain." 
Among the wounded seen at hospital were a number of young boys, bloodied and wrapped in bandages, though the full number of children among the casualties was not immediately known. Some of the wounded were in a critical condition, government administrator Atta Ullah said. 
Thirty bodies were taken to one hospital and 22 were counted at another, said Abdul Rasheed, the district health officer in Mastung. A senior police officer, Mohammad Nawaz, was among the dead, Ullah said. Officers said they suspect the attack was carried out by a suicide bomber. 
Friday's bombing came days after authorities asked police to remain on maximum alert, saying militants could target rallies for Mawlid an-Nabi. 
The U.S. Embassy in Islamabad posted a condemnation of the attack on X, formerly known as Twitter. "Pakistani people deserve to gather and celebrate their faith without the fear of terror attacks," it said, expressing condolences to families and promising to stand by Pakistan. Iran's President Ebrahim Raisi said such attacks "show terrorists have no other goal than to create division among Muslims," according to a statement reported by state TV. 
Also Friday, a blast ripped through a mosque located on the premises of a police station in Hangu, a district in the northwestern Khyber Pakhtunkhwa province, killing at least five people and wounding seven, said Shah Raz Khan, a local police officer. 
Khan said two suicide bombers approached the mud-brick mosque and while guards shot and killed one, the other managed to reach the mosque and set off his explosives. The mosque collapsed with about 40 people inside worshipping, most of them police officers, officials said. Rescuers were pulling people from the rubble, Khan said. 
No one claimed responsibility for the attacks in Mastung and Hangu. 
The Pakistani Taliban, the country's main militant group, denied any role in either attack and denounced them. Known as Tehreek-e-Taliban, or TTP, the Pakistani Taliban has waged a campaign of violence that usually hits government or security targets, and it has repeatedly said it does not target places of worship or civilians. 
The TTP is separate from the Afghan Taliban but closely allied to them and has increased its attacks since the group seized power in neighboring Afghanistan in August 2021. 
Suspicion is more likely to fall on the Islamic State in Khorasan Province, as the IS affiliate in Afghanistan and Pakistan is known. It has been more ruthless in attacking civilians and places of worship – often Shiite Muslim mosques but also Sunni ones like that in Mastung. 
On Sept. 14, IS set off a bomb targeting the convoy of a senior figure of a pro-Afghan Taliban political party as it passed through Mastung. The bomb wounded 11 people but the politician survived. The attack came days after police killed an IS commander in the town. 
The most recent major IS attack came in July, when a suicide bomber killed at least 54 people at an election rally by the same pro-Taliban party in northwest Pakistan. 
Pakistan's President Arif Alvi condemned Friday's attacks and asked authorities to provide all possible assistance to the wounded and the victims' families. 
In a statement, caretaker Interior Minister Sarfraz Bugti called the Mastung bombing a "heinous act" to target people in the Mawlid an-Nabi procession. 
Also Friday, the military said two soldiers were killed in a shootout with Pakistani Taliban after insurgents tried to sneak into southwestern district of Zhob in Baluchistan province. Three militants were killed in the exchange, a military statement said. 
The gas-rich southwestern Baluchistan province at the border of Afghanistan and Iran has been the site of a low-level insurgency by Baluch nationalists for more than two decades. Baluch nationalists initially wanted a share of provincial resources, but they later launched an insurgency calling for independence. 
Pakistan has faced waves of militant violence over the years from multiple groups. In 2014, 147 people, mostly schoolchildren, were killed in a Taliban attack on an army-run school in the northwestern city of Peshawar. 
In recent years, the Pakistani Taliban have emerged as the most powerful group. The group is suspected in this year's deadliest bombing, in which more than 100 people were killed, in a Jan. 30 bombing at a mosque inside a high-security compound housing Peshawar police headquarters. 
___ 
-ABDUL SATTAR, Associated Press  
Associated Press writers Riaz Khan in Peshawar, Pakistan and Munir Ahmed in Islamabad contributed to this story. 
Take your Radio, Podcasts and Music with you