Live: Melania amongst those urging Trump to concede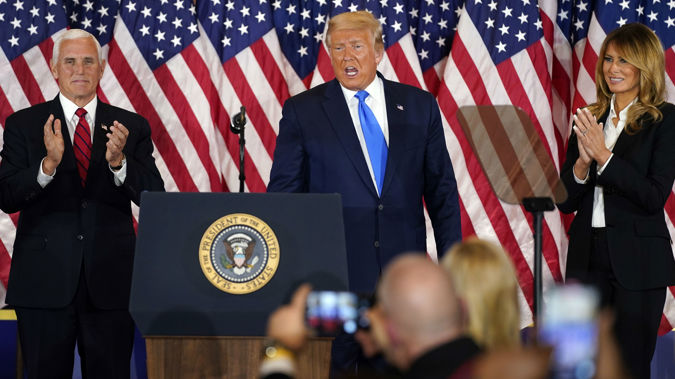 Live: Melania amongst those urging Trump to concede
First Lady Melania Trump is among those in President Donald Trump's inner circle advising him to accept defeat and concede, reports CNN.
The First Lady's stance seems to have put her at odds with Trump's eldest sons, Don Jnr and Eric - but in line with son-in-law Jared Kushner who wants him to also accept the loss to Joe Biden.
Trump has spent the morning seething in the White House - with a new series of tweets claiming he was cheated - before heading to the golf course again. The possibility of a family split would add new drama to the last days of the Trump White House.
The source told CNN Melania, who hasn't publicly spoken following the result, has privately weighed in on what she believes her husband should do. "She has offered it, as she often does," the source said.
LIVE COVERAGE (STORY CONTINUES UNDER BLOG)
STORY CONTINUES
This follows a report from CNN's White House correspondent Kaitlan Collins earlier, in which she said Donald Trump's son-in-law Jared Kushner was urging him to concede.
However, Trump campaign spokesman Jason Miller in a tweet Sunday morning denied that Kushner has approached Trump, although CNN is reportedly standing by their sources.
"This story is not true," said Miller. "Jared has advised @realDonaldTrump to pursue all available legal remedies to ensure accuracy."
Earlier today, Trump tweeted quotes from guests on Fox News' morning programmes to bolster his baseless claims that the election result was fraudulent.
"We believe these people are thieves. The big city machines are corrupt. This was a stolen election. Best pollster in Britain wrote this morning that this clearly was a stolen election, that it's impossible to imagine that Biden outran Obama in some of these states," former Republican politician Newt Gingrich said, in one statement repeated approvingly by the President.
"Where it mattered, they stole what they had to steal."
At the same time, Trump left the White House to play golf again, just like he did on Saturday.
The tweets suggest that Trump is not backing down or planning to concede despite signs he is already fracturing his family with his eldest sons and his son-in-law.
Trump's eldest sons launched a series of morning tweets claiming their father's defeat was fraudulent, in a sign of a split from Kushner.
Don Jnr and Eric both retweeted claims from Republican operatives that included the late boxer Joe Frazier voting in Philadelphia and that counting software was rigged against Republicans.
Eric called for a 'manual recount' of all ballots - which would amount to as many as 150 million - because one county in Georgia said three days ago that it was briefly delaying counting due to a software glitch.
"Software from hell! There needs to be a manual recount of every ballot in this country right now!" he said.
And Don Jnr retweeted an anti-concession demand accusing Michigan, Wisconsin and Pennsylvania of "rampant fraud".
It was unclear today whether either son has spoken to their father since his defeat was called by networks just before midday Saturday.
But it was revealed yesterday that their brother-in-law Jared has been urging Trump to come to terms with defeat and offer a concession.
Gingrich's claims the election was corrupt came from a Fox & Friends interview in which he called Democrats 'corrupt' and claimed the outcome was a 'left-wing power grab.'
Gingrich had spent Saturday at the same Trump golf course where the president was golfing when he was told that TV networks and the Associated Press had called the election and that he was defeated. It is unknown if the two men spoke there.
Trump also amplified claims by Jonathan Turley, a law professor, about fraud, specifically in Pennsylvania, which is the state which pushed Biden over the top to his electoral college majority.
Turley suggested that there could be a problem 'authenticating' ballots received after Tuesday and that this could affect the result of 'the whole election.'
The claim is difficult to assess. Pennsylvania had already separated the late-arriving ballots, and it is so far not known how many there are and whether there enough to sway the election's outcome.
The possibility of an ugly family split would add new drama to the last days of the Trump White House - although the two sons had offered contradictory signals themselves on Saturday.
Eric did not attend a press conference with Rudy Giuliani outside a landscaping company in Philadelphia - and across the road from a sex shop - where the president's personal attorney claimed he had evidence of voting fraud in the city.
Eric had attended Giuliani's Thursday press conference in the city where the former New York mayor and Borat prank victim claimed 'Canadians and Martians' may have voted in the Keystone state.
And Don Jnr's flurry of tweets claiming the election was corrupt were accompanied by an Instagram post with his father paying tribute to his willingness to 'fight' in what could be interpreted as an elegy for a lost cause.
The question of who can tell Trump it is time to admit he is done has perplexed aides in his inner circle.
Some have launched public attempts to flatter him into conceding, including former chief of staff Mick Mulvaney, who used a Wall Street Journal op-ed to say Saturday that Trump will concede once he is sure the election was not corrupt.
The Trump campaign has not produced evidence to support its claims of widespread fraud in the election.
Meanwhile, Biden is in the process of setting up his transition team, which will prepare him to take over as president on January 20.