Trump fined US$10,000 over comment 'maligning' judge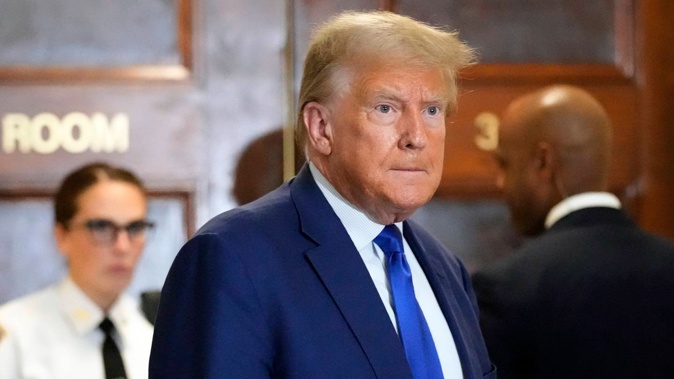 Trump fined US$10,000 over comment 'maligning' judge
Former US president Donald Trump was abruptly called to the witness stand and then fined US$10,000 on Wednesday after the judge in his civil fraud trial said he had violated a gag order. It was the second time in less than a week that Trump was penalised for his out-of-court comments. 
Before imposing the latest fine, Judge Arthur Engoron summoned Trump from the defence table to testify regarding his comment to reporters hours earlier about "a person who's very partisan sitting alongside" the judge. 
Engoron had already ordered all participants in the trial not to comment publicly about his staff. That restriction from October 3 followed a social media post made by Trump that maligned the judge's principal law clerk, who sits next to him. 
Trump and his lawyers insisted that his comment on Wednesday was about Michael Cohen, a former Trump lawyer who has been testifying, and not about the clerk. 
Engoron said Trump's claim was "not credible", noting that he sat closer to the clerk than to Cohen. 
Michael Cohen arrives at New York Supreme Court for former US president Donald Trump's civil business fraud trial. Photo / AP 
"The idea that the statement would refer to the witness," Engoron said, "doesn't make any sense to me." 
Five days earlier, Trump had been fined US$5,000 after Engoron learned that the offending social media post from early October had lingered on Trump's campaign website for weeks after being taken down — on the judge's orders — from Trump's Truth Social media platform. 
Then, on Wednesday, the Republican presidential front-runner complained in a courthouse hallway that Engoron, a Democrat, is "a very partisan judge, with a person who's very partisan sitting alongside of him [sic], perhaps even much more partisan than he is." 
Under oath on the witness stand, Trump told the judge that the remark was aimed at "you and Cohen". 
But Trump did not conceal his frustration with the clerk. "I think she's very biased against us. I think we've made that clear," Trump said during his roughly two minutes on the stand. 
Three of Trump's lawyers objected to the US$10,000 fine, and they reiterated Trump's claim the clerk was partial. 
Not long after he was fined and moments after one of his lawyers finished questioning Cohen, Trump stood up and walked out of the courtroom, trailed by his son Eric. Donald Trump has attended the trial voluntarily, and he can leave whenever he likes. 
The episodes raise questions about whether Trump can abide by court directives that are aimed at reining in his rhetoric while respecting his free speech rights as he campaigns to return to the White House. 
New York attorney-general Letitia James arrives at the New York Supreme Court for former US president Donald Trump's civil business fraud trial. Photo / AP 
Last week in Washington, the judge in Trump's federal election interference criminal case imposed a gag order barring public statements targeting prosecutors, court staff and potential witnesses. US District Judge Tanya Chutkan's order came after prosecutors raised concerns that Trump's remarks could inspire his supporters to threaten or harass his targets. 
Trump is appealing that order, which he contends is unconstitutional. Chutkan temporarily lifted the order Friday so she could consider a defence request to pause the restrictions while Trump's appeals play out. 
Since then, Trump has disparaged Justice Department special counsel Jack Smith in an online post as "deranged" and said those who would make co-operation deals with prosecutors are "weaklings and cowards". 
In the New York case, Cohen returned to the witness stand on Wednesday as the defence team tried to undermine his credibility and question his motives. 
After a decade of working as Trump's fixer, Cohen came under federal scrutiny and broke with his boss in 2018. Cohen soon pleaded guilty to and went to prison for tax evasion, making false statements on a bank loan application, lying to Congress and making illegal contributions to Trump's campaign. The contributions were in the form of payouts to women who said they had extramarital sexual encounters with Trump, who denied it. 
Cohen became an outspoken Trump foe and a key witness in the New York trial, which stems from a lawsuit brought by the state's attorney-general, Letitia James. She alleges that Trump habitually exaggerated the value of his real estate holdings on financial documents that helped him get loans and insurance and make deals. 
Trump denies any wrongdoing and says James, a Democrat, is targeting him for partisan reasons. 
Cohen testified on Tuesday that he and other executives at Trump's company worked to inflate the estimated values of their employer's holdings so his financial statements would match a net worth that Trump had set "arbitrarily". 
During cross-examination on Wednesday, Trump's lawyer Alina Habba confronted Cohen with comments he had made praising Trump, before turning on him. 
Habba tried to suggest that Cohen had angled unsuccessfully for a job in Trump's White House — Cohen insisted he never sought one — and asked whether he had "significant animosity" toward Trump. 
"Do I have animosity toward him? Yes, I do," Cohen replied. 
"You have made a career out of publicly attacking president Trump, haven't you?" Habba asked. 
After a long pause, Cohen said, "Yes." 
Trump's lawyers also emphasised Cohen's federal criminal convictions and worked to portray him as a liar, especially after he said on Tuesday he had lied when he pleaded guilty to tax evasion and loan application falsehoods. Cohen asserted that he did not really commit those crimes. He sought to portray his conduct as a matter of omission and failure to correct paperwork. 
Trump's attorney Clifford Robert pushed Cohen on Wednesday about whether Cohen also lied in congressional testimony in which he said he did not recall being asked by Trump to inflate Trump's net worth. 
Cohen repeatedly declined to answer, but eventually said he stood by the earlier testimony. Robert said the state's key witness was not credible and asked the judge to immediately issue a verdict in Trump's favour. Engoron denied the request, and soon Trump left the court. 
Trump is expected to return to the witness stand later in the trial to testify about the allegations in the lawsuit. 
-Jennifer Peltz and Jake Offenhartz, AP
Take your Radio, Podcasts and Music with you