Chris Lynch: Bringing smiles to cyclone-scared Fiji kids
Author

Publish Date

Sat, 23 Apr 2016, 11:38AM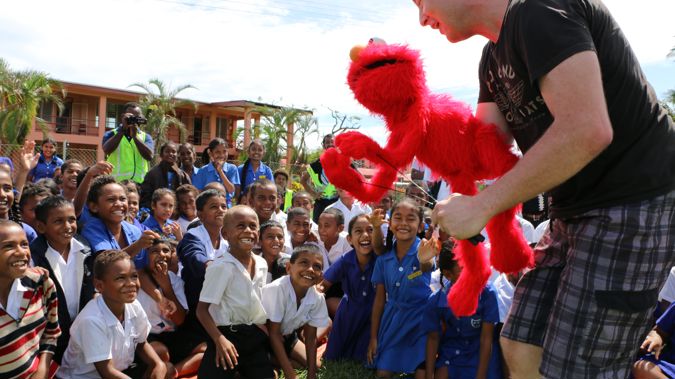 Chris Lynch: Bringing smiles to cyclone-scared Fiji kids
Author

Publish Date

Sat, 23 Apr 2016, 11:38AM
Over the past week, Sesame Street Muppets have brought laughter to a thousand children in Fiji who have been impacted by Cyclone Winston. Before I visited schools, I was briefed by Fiji Red Cross' health coordinator on the psychological impact of the cyclone. She told me that two months on, many children are still too frightened to attend school. Others run out of their classrooms, frightened at the first sign of wind and rain.
A day before we hit the road, I gave Fiji Red Cross staff members an impromptu performance so they could experience first-hand what children could expect. Much to my surprise, when I brought out Grover and Elmo, they reacted with fits of laughter. The Muppets are quite possibly the easiest ice breaker.
During my visit to the Fiji Red Cross head office in Suva, I met Filipe Nainoca, the Director General. Unsurprisingly he's been very busy, facilitating the international response to Cyclone Winston. When Corinne Ambler, who is the communications delegate for the International Federation of Red Cross and Red Crescent Societies (IFRC) and I met him to go through the schedule, we were greeted by silence as he looked at the plan. I feared he didn't approve of the schedule. But as it turned out, he had other matters on his mind. It wasn't until I got out the puppet that his mood changed. He began laughing at Elmo's 'over-confident' approach and told us the Muppets had made him relax and realise that sometimes life was too serious. In fact, at times, I struggled to understand what he was saying because of his laughing, which made us crack up too.
As I learnt during this trip, puppets have the ability to bring out the child in every adult.  The Muppets have always pushed social boundaries by making children and adults laugh at their irreverent humour, slapstick movements, and invading people's personal space, in a non- threatening way.
It was a special moment seeing a stressed out adult begin to relax because of a couple of puppets, who kept referring to him as "your excellency". 
When we arrived at the first school, it was a devastating sight. Roofs from classrooms had completely blown off, and the walls were gone too. Children were learning next to their damaged schools on verandas or in nearby tents. At first, they were reserved but that changed when the real stars appeared. 
I started each show by explaining I'd brought along friends, monster friends, but happy friends. They started to relax when they realised they were about to be entertained and not lectured.
The minute Elmo appeared, their blank little faces illuminated with happiness and they laughed at just about anything the Muppets said and did. Important key messages, developed by Fiji Red Cross, were conveyed through stories the Muppets recounted of their own experiences "living through cyclones".
What took me by surprise was how disciplined the children were. They wore beautifully presented school uniforms and were so polite. The first show took place in a makeshift tent. Afterwards, an excited school principal told us the show did more than just entertain. It provided children with a positive experience, creating a new history in their minds and overriding the terror of Cyclone Winston. 
Some of the biggest laughs occurred when the Muppets asked teachers to dance. In a way, the puppet disarmed their authoritarian persona, forcing them to relax and experience the spirit of what the Sesame Workshop calls "Muppet diplomacy". It was amazing to see these simple puppets having an equally profound effect on the adults.
A principal's home, located onsite at another school, was completely destroyed. The only visible sign was a small plumbing pipe sticking out of the ground. His boarding students' dormitories were decimated. Understandably, he was exhausted and admitted the puppet show was a welcome distraction. Beforehand, I was told by a Red Cross staff member that children at this school were particularly traumatised by the cyclone. Many would stay home if heavy rain struck overnight.
Thankfully, they responded to the puppets, listening intently to the carefully crafted messages and laughing when the characters pretended to be scared of wind and rain. After the show, a teacher told me it was the first time she'd seen some of the children laugh and even engage with one another since the cyclone. I got the impression school staff didn't care if the Muppets taught lessons. They were just relieved to see previously apprehensive little faces looking happy.
It wasn't always smooth sailing. During one school visit, Elmo's left eye became loose. I was worried it might fall off and scare the kids. In fact, Elmo started to look more like Cookie Monster. However, at Red Cross, there's never a missed opportunity. The 'eye issue' became part of the show. Corinne suggested Elmo had conjunctivitis and that's why "it's important to wash your hands".
After that comment, I lost my composure. Thankfully the children and teachers laughed along with me. Fiji Red Cross has always incorporated puppets in child education programmes, particularly when it comes to health messaging.
On our final day, I ran a workshop to help volunteers develop puppetry skills. The training took place at the Fiji Red Cross Lautoka branch office in a tent in the front yard. Despite outside temperatures reaching 33 degrees, it was a great morning, with plenty of laughs, as adult puppeteers attempted to emulate Muppet slapstick movements. Even our drivers Josh and Tiko joined in.
The Muppets provided light relief for many children and adults and despite difficult circumstances there were plenty of happy times. Puppets have always been effective communicators with children and I'm grateful I was able to get mine out of the storage box and help spread positive messages through the support and guidance of IFRC and Fiji Red Cross. Muppet mission accomplished.
PHOTOS: See photos from Chris' trip here.