Call to evacuate refugees on Manus Island after attack
Author

Section

Publish Date

Saturday, 15 April 2017, 6:43a.m.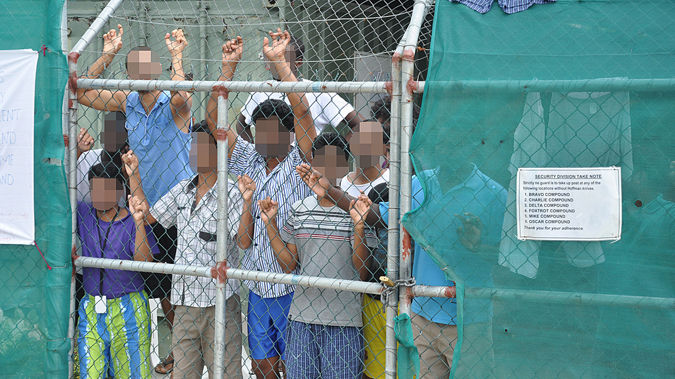 UPDATED 8.58pm
Churches and refugee advocates are calling for asylum seekers on Manus Island to be evacuated to Australia after shots were fired when local men tried to storm the facility.
Australia's Immigration and Border Protection Department has confirmed one asylum seeker was hit by a rock and injured during the violence yesterday evening, which reportedly involved personnel from the local naval base.
However, Behrouz Boochani, an Iranian-born journalist and asylum seeker held on Manus Island, says three asylum seekers and some Australian officers were hurt.
Asylum seekers said a large group of locals tried to storm the centre at 6.30pm local time.

Australian staff were seen running for a boat moored nearby, while asylum seekers hid in their rooms as shots rang out, the ABC reported.
Initial reports suggested both Papua New Guinean Police and Navy were involved in the shooting.

One detainee said the violence had erupted as locals tried to stop a soccer game involving detainees.

"Navy guys and locals I think trying to get inside the camp after beating Australian guards," he told Fairfax Media.

"Our camp is under attack. The Navy officers are firing. I am hiding in my room."

The refugees came under attack as they were leaving the field, another detainee said.

The Refugee Action Coalition said all staff had fled the compounds, leaving refugees and asylum seekers unprotected.

The refugee group said about 100 shots were fired.
Australian Human Rights Law Centre spokesman Daniel Webb says "enough is enough" and PM Malcolm Turnbull should immediately bring the men to safety in Australia.

The attack is the latest in a string of violent incidents at the centre, including the death of Iranian man Reza Berati, who was killed during a riot in 2014.

Greens Senator Nick McKim tweeted the news was "very disturbing".

Local police sent reinforcements to the centre during the incident.

"We have police on the ground and they are trying to contain the situation," Provincial Police Commander David Yapu told the ABC.

The Immigration Department said it was continuing to monitor the situation.