Billionaires want to build a new city in rural California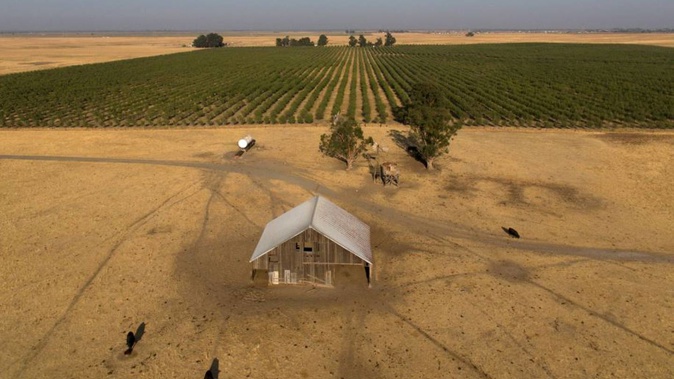 Billionaires want to build a new city in rural California
Silicon Valley billionaires behind a secretive $800 million ($1.3 billion) land-buying spree in Northern California have finally released some details about their plans for a new green city, but they still must win over sceptical voters and local leaders.
After years of ducking scrutiny, Jan Sramek, the former Goldman Sachs trader spearheading the effort, launched a website about "California Forever." The site billed the project as "a chance for a new community, good-paying local jobs, solar farms, and open space" in Solano, a rural county between San Francisco and Sacramento that is now home to 450,000 people.
He also began meeting with key politicians representing the area who have been trying unsuccessfully for years to find out who was behind the mysterious Flannery Associates LLC as it bought up huge swaths of land, making it the largest single landholder in the county.
An all-star roster of Silicon Valley entrepreneurs and venture capitalists are backing the project, including philanthropist Laurene Powell Jobs, LinkedIn co-founder Reid Hoffman and venture capitalist Marc Andreessen. The New York Times first reported on the group's investors and plans.
California Forever, the parent company of Flannery, has purchased more than 202 square kilometres of farmland in Solano County since 2018, largely in the southeastern portion of the county, with parcels stretching from Fairfield to Rio Vista. According to the website, Sramek fell in love with the area over fishing trips and he and his wife recently purchased a home in the county for their growing family.
The project issued a poll to residents last month to gauge support for "a new city with tens of thousands of new homes," solar energy farm and new parks funded entirely by the private sector.
But to build anything resembling a city on what is now farmland, the group must first convince Solano County voters to approve a ballot initiative to allow for urban uses on that land, a protection that has been in place since 1984. Local and federal officials still have questions about the group's intentions.
Two area congressmen who sought for years to find out whether foreign adversaries or investors were behind the buying spree around a US Air Force base vital to national security and the local economy are furious that Flannery kept its identity hidden for so long. The website say 97 per cent of its funding is from US investors and the rest are from the United Kingdom and Ireland.
Highway 113 in rural Solano County, California. Photo / AP
"The FBI, the Department of Treasury, everyone has been doing work trying to figure out who these people are," US Rep. Mike Thompson, who represents much of the county, said this week after meeting with Sramek. "Their secrecy has caused a lot of problems, a lot of time, and a lot of expense."
The investment group said secrecy was required until enough land was purchased, in order to avoid short-term speculation, but that it is now ready to hear from Solano households via a mailed survey and creation of a community advisory board. Past surveys showed parents were most concerned about their children's future, the website said.
"Instead of watching our kids leave, we have the opportunity to build a new community that attracts new employers, creates good paying local jobs, builds homes in walkable neighbourhoods, leads in environment stewardship, and fuels a growing tax base to serve the county at large," it said.
California is in dire need of more housing, especially affordable homes for teachers, firefighters, service and hospitality workers. But cities and counties can't figure out where to build as established neighbourhoods argue against new homes that they say would congest their roads and spoil their quiet way of life.
In many ways, Solano County is ideal for development. It is 96km northeast of San Francisco and 56km southwest of California's capital city of Sacramento. Solano County homes are among the most affordable in the San Francisco Bay Area, with a median sales price of $600,000 last month.
A group backed by Silicon Valley entrepreneurs has been purchasing rural land in southeastern Solano County, California, with an eye toward creating a new city between San Francisco and Sacramento. Photo / AP
But Princess Washington, mayor pro tempore of Suisun City, said residents deliberately decided to protect open space and keep the area around Travis Air Force Base free of encroachment, given its significance.
She's suspicious that the group's real purpose is "to create a city for the elite" under the guise of more housing.
"Economic blight is everywhere. So why do you need to spend upwards of a billion dollars to create a brand new city when you have all these other things that can be achieved throughout the Bay Area?" she said.
Flannery further infuriated locals in May when it sued several landowners in court, accusing them of conspiring to fix prices for their properties. The company disclosed it had purchased or was under contract to buy about 140 properties for more than $800 million.
Then last week, residents began receiving a push poll gauging voter support for "a major new project" that would include "a new city with tens of thousands of new homes." The poll asked if they would be more likely to support the project if county residents were given priority and financial assistance to lease or purchase one of the new homes.
Thompson, the congressman, was unimpressed after meeting with Sramek, saying that the developer was vague on details and failed to display an understanding or appreciation of the county or its values.
Asked how he would help residents finance new homes, Thompson said Sramek told him he planned to use "all of his knowledge as a finance guy" to generate savings. Development in California is convoluted, but Thompson said Sramek told him they're hoping for expedited permitting "because their project is so good and their intentions are so great."
"He doesn't have a plan, he's not there yet," Thompson said.
US Rep. John Garamendi, whose district includes Travis and immediate areas around it, said base and county officials reached out roughly five years ago for help in figuring out who was buying up land. Garamendi, who is scheduled to meet with Sramek on Friday, was appalled to learn who was backing the project.
 "You big wealthy Silicon Valley billionaires, you're party to all of this. This is the kind of people you are? This is how you want to operate?" he said. "What they've managed to do is to totally poison the well."
Hoffman and Andreessen did not respond to emailed requests for comment, nor did Jobs through her business Emerson Collective.
Project developers said they will protect the military base and farmers who want to keep farming on their parcels can do so.
Flannery has purchased virtually all the land surrounding the small city of Rio Vista, said Mayor Ron Kott.
He suspects older people who make up half of the city's 10,000 residents won't appreciate the added congestion and noise, but others might like the improved medical care, nightlife and shopping that a sophisticated city nearby might bring.
"If it's done correctly, I think there's a lot of opportunities for the county. Their tax revenue base will increase quite a bit. So there's going to be a big windfall from that. Property values would probably go up around here as well even further. And so I think from those perspectives it's good," Kott said.
"But again, I think you're giving up a quality of lifestyle that's kind of unique to this area."
Take your Radio, Podcasts and Music with you