Australians told devastating fire seasons 'new normal'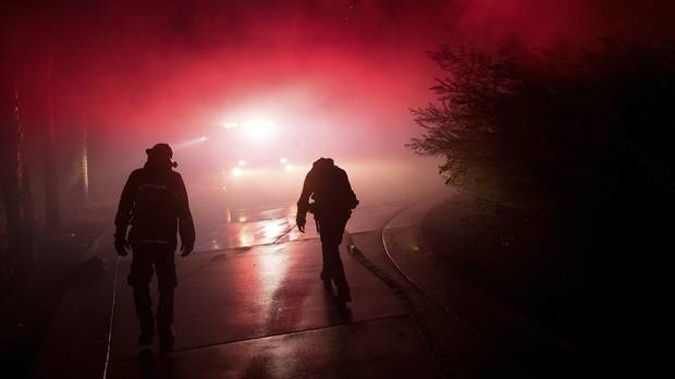 Australians told devastating fire seasons 'new normal'
Australia is experiencing incredibly protracted fire seasons as a consequence of climate change, experts say, and the nation will have to have to get used to the "new normal".
At least 70 homes and other buildings were destroyed when a ferocious firestorm ripped through the picturesque seaside town of Tathra in NSW while in Victoria weekend fires claimed up to 18 homes and 42 sheds.
David Bowman, a professor of environmental change biology, says analysis of recent events shows fire seasons are longer globally.
"Joining the dots, this is consistent with climate change," the University of Tasmania academic said.
"This is the new normal now - we need to get our heads around this.
"This has some really significant implications for people living in flammable environments because it means you can't put your guard down.
"You can't think summer has ended and say, 'Phew, we dodged a bullet'."
The classic example was the 2017 season in California where fires raged right through the northern autumn, Bowman said.
High temperatures, dryness and incredible winds are combining to create "crazy fires" which burn uncontrolled through the night.
The biologist said increased fire activity had been predicted by climate scientists and, while political leaders had struggled to deal with an abstract threat, the danger was now very real.
"It's a fact," he said, adding debate now needed to focus on making communities safer. People would still live in bushland areas but there would need to be "buffers" around settlements in the form of green firebreaks such as parklands, community gardens and golf courses.
"Having houses nestled in bushland ... those days are numbered," Bowman concluded.
Australia Greens leader Richard Di Natale says the federal Government has been slowing the transition to renewable energy "and Australians are bearing the brunt of their failure".
"We are seeing climate change in our everyday lives have an impact on the risk of bushfires to our communities," Di Natale told Parliament yesterday. "We can't any longer be complacent about bushfires once the end of summer comes around."
Firefighters inspect burnt out bushland near Scotts Creek. Photo / AAP
The president of the Australian Council of Environmental Dean and Directors says bushfires "well into autumn" will become increasingly common.
"Given our weak efforts to reduce emissions globally - and especially in Australia - we will increasingly need to plan for catastrophic events and pick up the pieces following such events," Associate Professor Grant Wardell-Johnson from Curtin University said. "A move from burying heads in the sand towards adaptation to climate disruption is well overdue."
The most recent data shows greenhouse gas pollution levels increased by 0.8 per cent across Australia for the year to September 2017.
Australian National University climate scientist Professor Will Steffen has noted emissions began to rise again after the Abbott Government abolished the carbon price in July 2014.
High praise for firefighters
It's a testament to Australia's volunteers and firefighters that no lives were lost in bushfires that continue to rage across two states, Labor's Penny Wong says.
Senators rose in Parliament yesterday to offer sympathies to those affected by bushfires that continue to rage in NSW and Victoria, offering praise to firefighters and support to victims.
More than 70 buildings have been destroyed on the NSW coastal town of Tathra while 18 homes have been razed in multiple fires across south-western Victoria.
Senator Wong said few weekends so graphically illustrated poet Dorothea Mackellar's description of Australia as a country of beauty, terror, fire and flood.
"It is good that there have been no deaths, only minor injuries, which given the scale of these disasters is extremely fortunate but also a tribute to the extraordinary bravery of our emergency services workers and volunteers," she said.