Mushroom chef appears in court: 'Let's get this show on the road'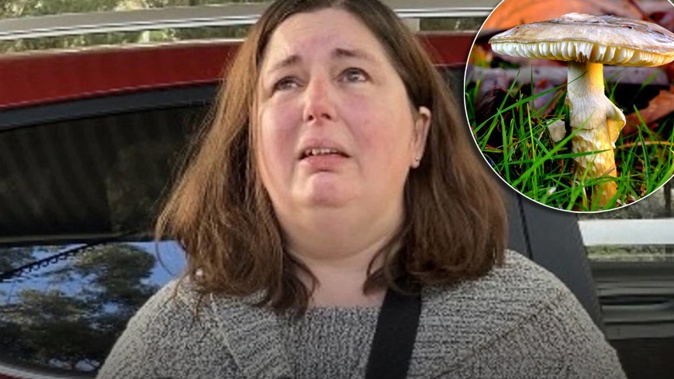 Mushroom chef appears in court: 'Let's get this show on the road'
Erin Patterson, the Australian woman charged over the deaths of three people following a fatal Beef Wellington lunch served at her rural Victoria home, had made her first appearance in court. 
Patterson, 49, was arrested yesterday and charged with three counts of murder and five counts of attempted murder, the latest stage in a long investigation that has made headlines around the world. 
The three murder charges and two of the attempted murder charges relate to that lunch, served on July 29 in the small town of Leongatha. 
Erin Patterson's ex-in-laws Don and Gail Patterson, and Gail's sister Heather Wilkinson, died after symptoms consistent with death cap mushroom poisoning.  
Heather's husband, Ian, was released from hospital in September. 
The remaining attempted murder charges are understood to relate to attempts to kill her ex-husband Simon Patterson in separate incidents in 2021 and 2022. 
Patterson made her first court appearance on Friday morning at the Latrobe Valley Magistrates Court, after making the short journey from the nearby Morwell Police Station, news.com.au reported. 
Her lawyer, Bill Doogue, told the waiting media pack: "We're ready to go with Patterson. 
"Let's get this show on the road." 
Wearing a grey sweater and accompanied by security guards, Patterson reportedly appeared unkempt, her face flushed red as she glanced briefly at waiting media inside the courtroom before turning to Magistrate Tim Walsh. 
She showed little emotion, her jaw briefly trembling as she sat down, news.com.au reported. 
Prosecutor Acting Sergeant Greg Ellis asked for 20 weeks to prepare and serve a brief of evidence on Patterson's lawyers, telling the court that prosecutors needed the time to analyse computer equipment seized from her home, 9 News reported. 
Search at family home
Detectives yesterday brought in specially trained "technology detector dogs" who can sniff out USB memory keys and sim cards to help survey Patterson's Leongatha property. 
Police were seen both inside and outside Patterson's home along with five cars parked in the driveway, one of which is hers. 
Erin Patterson, the woman at the centre of the mushroom poisoned lunch, yelled at media after they requested to ask her a few questions outside her home. Photo / Seven 
"Homicide Squad detectives have arrested a woman this morning as part of their investigation into the deaths of three people following an incident in Leongatha earlier this year," a statement issued yesterday by Victoria Police said. 
"Four people were taken to hospital on July 30 after they became ill following a meal at a private residence in Leongatha the previous day. 
"Two Korumburra women, aged 66 and 70, passed away in hospital on August 4. A third person, a 70-year-old Korumburra man, passed away in hospital on August 5. 
"A 69-year-old Korumburra man was released from hospital on 23 September. A 49-year-old Leongatha woman was arrested at her home address shortly after 8am on November 2. 
"A search warrant has been executed at the Gibson Street address, with assistance from the AFP's technology detector dogs. 
"The woman will now be interviewed by police and the investigation remains ongoing." 
On July 29, Patterson is alleged to have cooked a beef wellington dish that contained deadly death cap mushrooms before serving it to four people for lunch at her home. 
There has been intense media focus on Patterson since news broke of the poisoning. She has denied deliberately feeding the toxic fungi to her guests, claiming she bought them from an Asian grocery store. 
"I'm devastated, I loved them," Patterson said in a video interview in the days after the story broke. 
"I can't believe this has happened and I'm so sorry that they have lost their lives. 
"I just can't believe it." 
Don Patterson and Gail Patterson, Erin's former in laws, died after following a suspected mushroom poisoning. Photo / Supplied 
Patterson continued to deny any wrongdoing in the police statement and claimed to have no idea how the deadly beef wellington killed her guests. 
According to Patterson, the media's coverage of the incident was wrong and biased, and as a result, she was inadvertently but purposely painted as the perpetrator rather than the innocent party. 
How she procured the allegedly toxic mushrooms, how the beef wellington dish was prepared, and what happened to the leftovers are all explained in detail in Patterson's police statement. 
Heather Wilkinson and pastor Ian Wilkinson. Photo / Supplied 
At least three months prior to the lunch, according to the statement, she bought a bag of mushrooms from an Asian grocery store in Mt Waverley. She reported the label on the package of mushrooms she purchased was handwritten. 
The meal's dehydrated mushrooms were combined with additional mushrooms that were bought from a store and cooked into the beef Wellington dish, The Age reported. 
Police found the dehydrator at the local rubbish tip, raising alarms. 
Patterson acknowledged in the police statement that the food dehydrator they discovered in a waste bin at the Koonwarra Transfer Station was purposely thrown away. She said in the statement that she had panicked and thrown away the device after claims that she had been falsely accused of poisoning the food. 
Erin Patterson, the Australian woman who cooked the mushroom meal that killed three people, says she is being painted as an 'evil witch' by the media. 
In the statement, Patterson claims she too fell ill after consuming the meal on July 31, two days after the dinner party. The Age reported she was admitted to the hospital in Leongatha before an ambulance transferred her to a hospital in Melbourne. 
The death cap mushroom is responsible for 90 per cent of all deaths related to mushroom consumption. 
All parts of the fungus are poisonous and even eating a small amount can be fatal. 
Victim's 'miraculous recovery': Criminologist reveals key to solving case
In September, a criminologist said the investigation into the fatal poisoning could take a major turn as survivor Ian Wilkinson was discharged from hospital after a remarkable recovery. 
He had been in hospital for more than 50 days. 
Forensic criminologist Dr Xanthe Mallet explained that Wilkinson could hold the key to solving the case. 
"He's the only one who attended that lunch to survive besides Erin, and he is going to be giving a full account to police as to what happened at that lunch," she told Sunrise at the time. 
"Who ate what, the demeanours and conversations." 
She said police will also be keen to look into the food dehydrator that Patterson used to preserve the mushrooms before throwing it away at the local dump. 
"It's that dehydrator that potentially cooked the death cap mushrooms that they need to get tested," she said. 
"That's going to be critical in this case and really the crux is were the death cap mushrooms in that dehydrator or not?" 
Take your Radio, Podcasts and Music with you