Australian foreign minister Julie Bishop to quit politics
Author

Section

Publish Date

Thursday, 21 February 2019, 6:13p.m.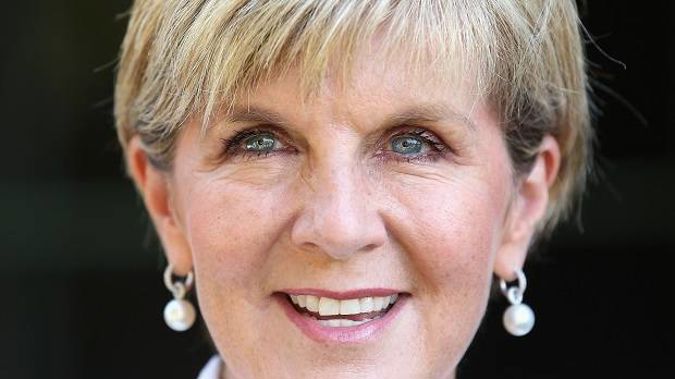 Julie Bishop has announced she will quit politics at the next election.
Ms Bishop was the Liberal Party's deputy leader for 11 years, and served as Australia's foreign minister under Tony Abbott and Malcolm Turnbull.
She ran for the leadership when Mr Turnbull was deposed, but lost to Scott Morrison and Peter Dutton in the first round.
"During the last few weeks, I have had the opportunity to closely consider the future of the Coalition government and the pending general election," Ms Bishop told parliament this afternoon.
She started her speech by praising the government and endorsing its policy platform.
"I have closely observed Prime Minister Scott Morrison and the Liberal-National team in the parliament, in Question Time, in the party room, in press conferences, and elsewhere.
"And it is evident that the policy platform that we will take to the next election is crystallising based on the very firm foundations of our unrelenting focus on prudent management of our national finances, so that we can afford the services that Australians need.
"On returning the budget to surplus. On paying down debt. On lowering taxes. On backing enterprise. On job creation. And growing the economy for the benefit of all Australians."
Ms Bishop said she had come to the conclusion that Labor had "learned nothing" from its past failures, and therefore, the Coalition "will win the next election".
"The government will be returned to office because it is focusing on what matters to the Australian people. And on that basis, I have reconsidered my position as the member for Curtin," she said.
"I've been contacted by a number of talented, indeed extraordinary people, including women, who have indicated to me that should I not recontest the seat of Curtin, they would seek preselection.
"It is time for a new member to take my place."
There has been speculation that Attorney-General Christian Porter could seek to replace Ms Bishop in Curtin, but news.com.au understands he will not.
Ms Bishop promised she would work hard to help her replacement win the seat.
She was confident the Liberals could retain the seat, given she was leaving the party's next candidate a massive margin to defend - having wracked up a two-party preferred vote of 71 per cent - along with an experienced campaign team and plenty of funds.
More to come.