Aussie mushroom deaths: What we know about killer lunch and chef Erin Patterson
Aussie mushroom deaths: What we know about killer lunch and chef Erin Patterson
The woman responsible for cooking and serving a fatal beef wellington lunch in Victoria, Australia has been arrested.
On the night of July 29, Gail and Don Patterson, as well as Gail's sister Heather Wilkinson and her husband Ian, joined 48-year-old Erin Patterson at her home in the town of Leongatha, southeast of Melbourne.
Gail, 70, Don, 70, and Heather, 66, would all later die in a Melbourne hospital.
Now, after months of investigations, police statements, media speculation and forensic experts speaking out, police have arrested Erin Patterson.
She has not yet been charged.
Police revealed today they are searching her home with specially trained "technology detector dogs" while she is being held in police custody.
Patterson has maintained her innocence.
So what do we know about the deadly mushroom lunch and the people involved?
Don Patterson and Gail Patterson, Erin Patterson's former parents-in-law, died after a suspected mushroom poisoning.
Deadly lunch that killed three people
On July 29, Patterson invited her former parents-in-law, Gail and Don Patterson, Gail's sister Heather Wilkinson and her husband Ian Wilkinson around for lunch.
The 48-year-old had cooked a beef wellington pie dish for her guests, but unfortunately, it was laced with death cap mushrooms.
Gail, Don and Heather all died after suffering symptoms consistent with poisoning by death cap mushroom.
Ian survived, but was put in a coma for two months in hospital. After 50 days in hospital, he had recovered enough to be released.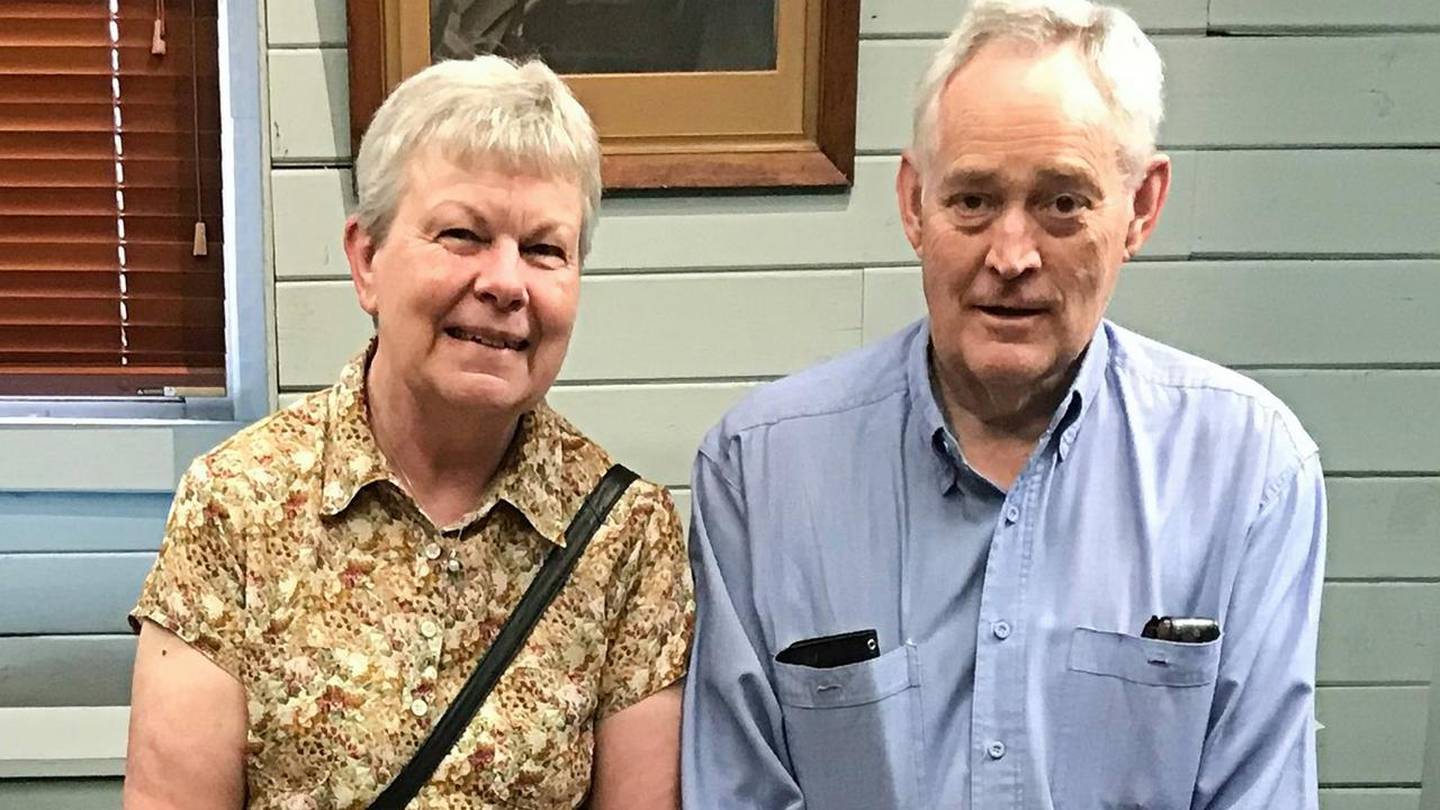 Heather Wilkinson and pastor Ian Wilkinson.
Erin Patterson claims she also fell ill on July 31 after consuming leftovers. The Age reported she was admitted to the hospital in Leongatha before an ambulance transferred her to a hospital in Melbourne.
Neither of Erin's children became ill after the lunch. It is not known if they ate any of the beef wellington pie served to guests.
Why the deadly lunch allegedly took place
Sources in Australia claimed Patterson held the lunch with her former in-laws because she wanted to reconcile with her ex-husband, Simon Patterson.
It is claimed she arranged the meal with her in-laws and ex-husband in an effort to try to negotiate a reconciliation, according to the Daily Mail.
Simon was invited to the meal but pulled out at the last minute.
A friend of Simon told Australian media he had no interest in getting back with Erin.
A source close to the family has claimed Erin Patterson tried to poison her ex-husband Simon Patterson in 2022. Simon revealed he was in a coma after a mystery stomach illness.
"They went to her house for a mediation to talk to the family. Simon was supposed to go there for lunch but he pulled out in the last minute otherwise he would be in that death bed too," the friend said.
The friend also claimed Simon's family only attended the lunch because they were worried about Erin's "mental state".
They wanted to "make sure she was in the right mental health to resume a relationship with Simon".
"This wasn't just a lunch, it was an intervention with the pastor as mediator. That's why this lunch happened," the friend said.
Where the mushrooms came from and the missing dehydrator
According to 7News, Erin Patterson initially told police during her interview that she picked up the mushrooms from a local shop in the Leongatha area.
But in an updated statement she claimed she bought a bag of mushrooms from an Asian grocery store in Mount Waverley at least three months before the lunch.
She reported the label on the package of mushrooms she purchased was handwritten.
The meal's dehydrated mushrooms were combined with additional mushrooms that were bought from a store and cooked into the beef wellington dish, the Age reported.
Police found the dehydrator at the local rubbish tip, raising alarms.
Patterson acknowledged in her statement to police that the food dehydrator they discovered in a waste bin at the Koonwarra Transfer Station was purposely thrown away. She said she had panicked and thrown away the device after being falsely accused of poisoning the food.
Erin Patterson's ex-husband, Simon Patterson, posted on Facebook last year that he had nearly died from stomach issues and was in a coma for weeks. Photo / 7News
Allegations Patterson tried to previously poison ex-husband
According to a source close to the family, ex-husband Simon allegedly claimed Erin tried to poison him last year.
A source close to Simon told the Herald Sun that he claimed Erin had tried to poison him through an "ingested toxin".
The Herald Sun reported that the family friend said Simon felt "a bit off" and that his illnesses "often coincided when he spent time with her".
Simon has refused to speak about the fatal lunch served up by his ex-wife in July, but last year revealed on social media that he had nearly died from a mysterious gut illness that left him in a coma.
"I collapsed at home, then was in an induced coma for 16 days through which I had three emergency operations mainly on my small intestine, plus an additional planned operation," he wrote in May 2022.
"My family were asked to come and say goodbye to me twice, as I was not expected to live."
He was in intensive care for 21 days before starting to recover.
"I've been feeling great for many days. I feel no pain, and it all seems to have no impact on my personality, character or anything else much," the post read.
A source close to the family addressed the 2022 illness, telling the Herald Sun Simon thought he ingested poison "through nightshade plants".
The allegation came after it was revealed Simon was invited to the deadly lunch but suddenly had to pull out "at the last minute".
The key to investigators breaking the case open
In October, a former homicide detective opened up about investigators' next moves as they looked to break the fatal mushroom lunch case wide open.
Now former Victoria detective Charlie Bezzina has told Daily Mail Australia there are likely to be further twists, with police likely to make new moves that could unlock the entire case.
Bezzina said the key will be what pastor Ian Wilkinson has told detectives given he survived the deadly lunch.
"Pastor Wilkinson can say if the guests were invited over to [Erin Patterson's] house, say, every Sunday, every fortnight or month, or if they hadn't been invited over previously," he told Daily Mail Australia.
"As investigators, we don't prove innocence or guilt, we present fact that is either inculpatory or exculpatory (tending to incriminate, or tending to clear guilt)."
Erin Patterson yelled at media after they requested to ask her a few questions outside her home soon after the deadly mushroom lunch. Photo / Seven
With that in mind, Bezzina laid out what they'll be focusing on at police headquarters.
He said the key questions that will be posed will be why the lunch was held, what was the customary "course of conduct" and behaviour like between Patterson and each individual guest.
Bezzina said Wilkinson's information on how the lunch was served, if he knows how it was prepared, where it was prepared or whether any further discussion around mushrooms took place, will be vital in painting the atmosphere of the lunch and that could help lead police on the path to the truth.
The former detective said Wilkinson might be able to help work out whether someone else helped prepare the meal and given it to Patterson who unknowingly served it, or whether there was any motive or reason to harm the lunch guests.
It will be vital in discovering where the poisonous mushrooms came from and how they ended up in the pie.
While the dehydrator may not pick up evidence of mushrooms as it may have been washed, other household kitchen items might contain fragments of the deadly mushroom for investigators to delve into.
"You need to find out how the (death cap mushrooms) came to be cooked in the meal, but it will be important to take samples from kitchen surfaces and cooking utensils to prove beyond doubt they were there, should this go to court," Bezzina said.
Patterson told police she was hospitalised herself after the lunch. He said police will check hospital records to stack up Patterson's report as well as look into the treatment and results of any tests.
She also said she purchased the mushrooms from an "Asian grocery store" and police will need to investigate whether that claim is correct.
"Saying she doesn't remember where the Asian shop is doesn't make her a killer, as she said, after the deaths she was feeling so devastated."
"But the investigators will run rabbits down every burrow."
Her relationship with her ex-husband and children could be a key detail of the police's probe.
Patterson said she loved her family and so what could she have to gain if they died, Bezzina stressed.
Both her ex, Simon Patterson, and her children will be interviewed, and past events or controversies would be examined.
Patterson's run-in with the law, drunken rampage revealed
Following Patterson's fatal lunch scandal, it has also been revealed she has had multiple run-ins with the law.
Patterson was convicted of five charges in 2004, including a drunken high-speed rampage behind the wheel of an unregistered car, the Australian reported.
Patterson, known as Erin Trudi Scutter back then, lost her licence for 30 months after crashing her vehicle in Melbourne while heavily intoxicated, according to court records.
Erin Patterson says she is being painted as an "evil witch" by the media after she served a deadly mushroom lunch that killed three people.
The Australian reported she evaded authorities by speeding away from the crash scene, reaching speeds of just under 100km/h in a 60km/h zone.
After being caught, she had a breath test and her blood alcohol reading registered 0.14 per cent, indicating significant impairment.
According to news.com.au, her blood alcohol level at the time would warrant a 14-month driving ban today under high-range drink-driving laws.
Patterson's lawyer confirmed she does not have any interest in commenting on her past.
"My lawyer has told me not to talk to you," she told the Australian.
Patterson's public statements deny wrongdoing
Patterson has always maintained her innocence, saying she doesn't know how the death cap mushrooms got into the beef wellington pie.
"I'm devastated, I loved them," Patterson said in a video interview in the days after the story broke.
"I can't believe this has happened and I'm so sorry that they have lost their lives.
"I just can't believe it."
Patterson continued to deny any wrongdoing in her police statement and said she had no idea how the deadly beef wellington killed her guests.
According to Patterson, the media's coverage of the incident was wrong and biased, and as a result, she was inadvertently but purposely painted as the perpetrator rather than the innocent party.
She also lashed out at media over the case.
She hit out after journalists outside her home in Leongatha, Victoria, asked: "Can we just ask you a couple of questions?"
Appearing flustered and distressed at the front door, Patterson shouted: "No, go away!" She also said the media had made her out to be an "evil witch".
The investigation continues.
Take your Radio, Podcasts and Music with you