A Tale of Two Recovering Cities – Japan's recovery and Christchurch's rebuild
Author

Publish Date

Tue, 5 May 2015, 10:26am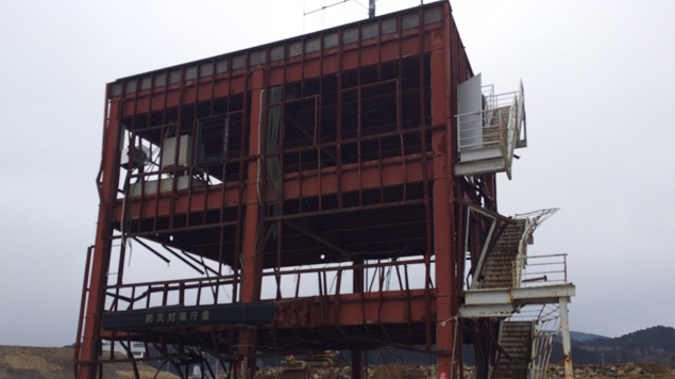 A Tale of Two Recovering Cities – Japan's recovery and Christchurch's rebuild
Author

Publish Date

Tue, 5 May 2015, 10:26am
Four years on from the Christchurch earthquakes and while a sense of optimism is permeating through some parts of the community, many are feeling cheated and frustrated at the speed of the recovery in which it was believed would be far more advanced than it is in 2015.
Of the almost 1000 buildings that needed to be demolished in the inner-city, few now remain. But construction of many of the touted anchor projects are yet to begin, private developments have been stifled by red tape, and thousands in the residential suburbs are still locked in heartbreaking stalemates with insurers to have their homes fixed.
I wanted to get a better picture of how the Christchurch rebuild has been handled, and where we sit on the scale of international disaster recovery.
With help from the Asia New Zealand Foundation, I travelled to the Tohoku Region of Japan, which was devastated by a large earthquake and tsunami two weeks after Christchurch's February quake – to see whether our experience is unique, and what lessons New Zealand could learn in preparation for the next major disaster.
The Great East Japan Earthquake struck 70 kilometres off the east coast at quarter to 3 on the afternoon of March 11, 2011.
A magnitude 9 undersea earthquake, it was the most powerful to ever hit the country, and triggered tsunami waves that reached heights of up to 16 metres, and travelled as far as 10 kilometres inland.
It claimed the lives of almost 18,000 people, destroyed hundreds of thousands of homes and buildings, damaged 800,000, and left 228,000 people homeless.
On a cold and windy morning a former resident of the small town of Minamisanriku, half way up the east coast of Tohoku, showed me the level of destruction first hand.
With a population of around 10,000 people before the earthquake, close to 95 percent of the town was wiped out, almost 200 lives were lost, and many who survived have moved away to set up life elsewhere.
When the earthquake struck teachers at Togura Elementary School gathered their students and literally ran for the hills.
The school, which sat about 100 metres from the ocean on the hills behind the town, was inundated by the massive tsunami which soon reached the students where they had evacuated.
Resident Syouichi Hoshi told me teachers frantically ushered students and locals to higher ground where they finally found safety.

But down in the town, he still remembers the scenes of hundreds of people who evacuated to the three story crises management building, built specifically to protect tsunamis.
Sadly the size of the tsunami was unprecedented, and as hundreds scrambled to the roof to try and escape, only a handful of people who scaled an emergency antenna at the top survived.
The skeletal remains and twisted metal of the Crisis Centre Building stands solitary in what was the bustling centre of the town as bulldozers were busy raising massive earthworks to form foundations for stores and factories as part of the new town, which will sit 10 metres higher above sea level as an added protection against future mega-tsunamis.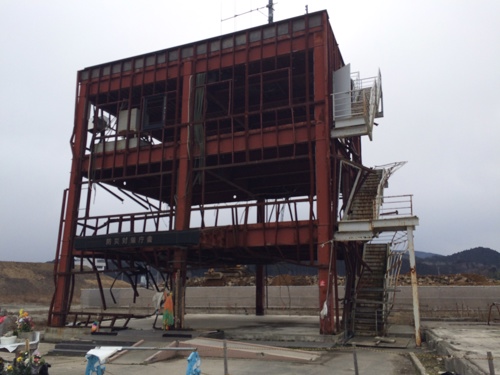 This work is nearing completion; however Syoichi is concerned many previous residents won't want to return to the newly rebuilt town. And all the work and money going into the development will be for nothing.
It's a concern shared by central government.
The Reconstruction Agency was set up to oversee the recovery in a similar vein to the Canterbury Earthquake Recovery Authority, and like CERA has come under its share of criticism over the speed of the rebuild, failing to consult with residents, and added levels of unnecessary bureaucracy.
Agency International Affairs Counsellor Jun Imanishi says they know they have to work with the former residents if they are to move back and restart communities – but it's a difficult task.
He says it depends on the municipalities, but many of the smaller towns may need to be amalgamated.
Many public servants who would normally be leading the initiatives were also lost in the tsunami, meaning human capacity is weak.
Three hours south of Minamisanriku lays the city of Ishinomaki, the second biggest in Tohoku with around 160,000 people.
Richard Halberstadt was working as an English professor at the university at the time of the earthquake.
He says the city has a long history of both earthquakes and tsunamis; however the extent of the March tsunami was unlike anything anyone had witnessed, and while lessons from the past saved many lives, thousands were caught off guard and died.
One of the most tragic stories from the disaster was Okawa Elementary School.
In the 50 minutes before the tsunami hit, pupils and teachers were evacuated to the school playground.
It's believed the schools evacuation procedures underestimated the tsunami, and instead of heading to higher ground, the students and teachers were told to remain near the school.
Of the 108 students, 74 lost their lives or went missing, along with 10 of the 11 teachers.
A lawsuit brought against the school and prefecture by some of the parents is still pending.
As in Christchurch, vast areas of residential and commercial land on the coast of Ishinomaki were damaged beyond repair.
Debate is still underway in Christchurch as to what should become of the hundreds of hectares of residential red zone.
Richard Halberstadt says residents in Ishinomaki have already decided it will be turned into green space and a lasting memorial to the victims.
For the Japanese Government, it hasn't just been a case of clearing the land; they've also had to try and secure more.
Mr Imanishi says while they are eager to buy land for residential housing, it's been a complicated task as in many instances they've had to go back centuries to determine who owns land needed.
The clearing of debris and landworks are also only now being completed, and hundreds of thousands of people are still in temporary homes.
Former editor of the daily newspaper Ishinomaki Hiroyuki Takeuchi became famous after he and his colleagues handwrote hundreds of copies of the paper in the week after the disaster to keep people informed.
He says four years on there is still a lot of frustration in the community, with 60-percent of residents angry at the pace of the rebuild, particularly those still in temporary housing who are starting to feel helpless.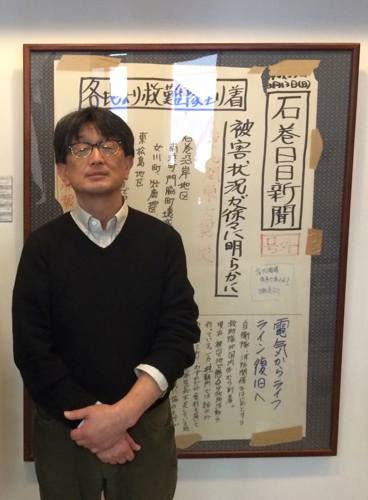 Former editor of the daily newspaper Ishinomaki Hiroyuki Takeuchi
Around 7800 people were forced out of their homes in what is now the red zone in Christchurch, but were compensated by the Government.

Around 80,000 home repairs have been completed, but around 10,000 insured are still waiting.

In Japan, earthquake insurance is uncommon, with less than a third having it, leading to many having to pay for repairs themselves, with a small payout from the Government of around $30,000. Not enough alone to rebuild a new home.

Hiroyuki Takeuchi says thousands left behind are worried what will happen when the temporary housing communities are dismantled.

Those compounding stresses have led to a worrying rise in mental health problems within the population.
In Christchurch, the long term psychological effects of the earthquakes are only coming to the surface now. Ongoing insurance wrangles and post-quake relationship pressures are among the issues taking a hefty toll, and mental health services across the board are over-capacity.

In the Tohoku region, post-traumatic stress is also putting huge pressure on mental health services. Takeuchi says there is support available, but it isn't enough to deal with steadily increasing cases of anxiety and post-traumatic stress predominantly among the elderly.

This has sent alarms bell ringing at central Government level, particularly around the increased risk of suicide, in which Japan already has one of the highest rates in the world.
But there is only so much the Government can do to entice counsellors and therapists to the region.
Mr Imanishi says they have contracted 600 mental health professionals into the region, but they need more.
In an effort to help, aid agencies are stepping in to try and improve the lives of displaced residents. In Ishinomaki, there are still tens of thousands of people living in dozens of makeshift communities made up of hundreds of cramped container homes.

Aid worker Kazumori Hirobe took me on a tour of the scattered and claustrophobic communities. He says his focus is now turning to how to transition the people from temporary homes into new communities and still retain some normality of their lives.

For Kazumori, that involves supporting residents sell handmade goods, which builds confidence they are still connected to society.

As well as preparing them for the upheaval, there is also work within aid agencies and businesses to establish communities which are not only flourishing and happy, but disaster resilient for the future.
One of the initiatives is a car sharing scheme for smaller neighbourhoods, with each solar powered car battery able to sustain vital emergency utilities in the event of a disaster.

Building on from that theme, the small town of Shikama to the west of Ishinomaki is now at the forefront of disaster prevention thanks to a Public Private Partnership with one of Japan's biggest homebuilders Sekisui House.
It's the first business community partnership of its kind, and is leading the charge in self perseverance; autonomous of central government should disaster strike.
As we were shown around the Sekisui factory, Shikama Mayor Takuya Ito told me after the disaster, they realised they needed private enterprise help. He says it's unusual to see such a partnership between a town and company, but gives residents huge reassurance.
The disaster proof factory is run autonomously by three separate power sources, including solar, storage cells, and gas powered generators if main power is shut down.
It can hold 250 people for a week, and has a constant stockpile of food and its own water supply.
As well as protecting the people of Shikama, Sekisui House is also at the forefront of disaster prevention technologies which will be utilised all over Japan and the world.
It has developed a prototype 3 bedroom temporary home which can be built in two weeks, costing around $50,000, and could be self sustaining with solar power and smart technologies – potentially replacing the use of the current container models.
At the other end of the homebuilding scale, it has technologies in development for base isolating homes which reduce shaking to a tenth that of a normal house, seismic resistant frames, autonomous power and water sources, and what would have clear benefits in New Zealand - Liquefaction proof homes by installing specially designed concrete walls below the foundations.
While a big focus has gone into social recovery, the local economy is also still struggling to bounce back.
The region's commerce is built on fishing, agriculture and tourism, all industries which were decimated by the tsunami.
Some 1800 hectares of land were damaged by debris and contaminated water, most of it rice paddies.
The tsunami also severely damaged or destroyed dozens of seafood processing factories.
Strong partnerships between fisherman and daily fish markets popping up in container mall like settings are helping turn the economic future of the region.
But the Government understands just rebuilding factories isn't enough to get business back to pre-quake levels.
All the merchandise routes were taken by competitors, so while they need to sell, they need to produce something attractive again with added value.
The Government has tasked large companies in Tokyo to work with local business and give advice on how to achieve that.
Before the disaster, Tohoku was renowned as a primary producer of Nori, or dried seaweed.
A major production plant centred just 30 meters from the coast was the Higashi Matsushima Nori Production plant which was washed away during the tsunami, devastating not only the ability to produce it, but also damaging the product along the coast.
In a bid to get back up and running as quickly as possible, six groups of local nori producers came together to form a cooperative to build a new production plant which was operational in late 2012.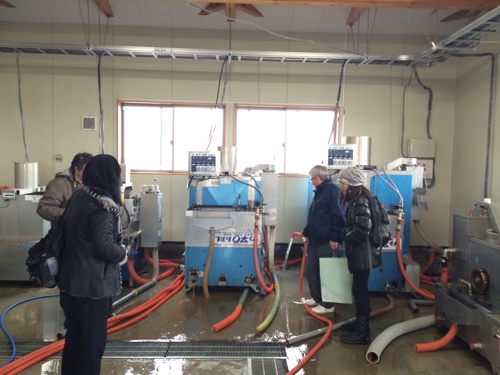 However Cooperative representative Futoshi Aizawa says in the competitive Japanese seafood market, valuable contracts were lost, and will be hard to win back.
The Government estimates approximately 40 percent of businesses enrolled in its business plan have regained their sales volumes, and some are recording higher sales than before the disaster.
Another major focus is tourism, which once was a major pillar of the economy, but has plummeted since the disaster and is struggling to build back up.
In Christchurch residents formally in the red zones in the east of the city grew reluctantly accustomed to buses of camera-wielding visitors at ruins and destroyed suburbs.
Tohoku is also seeing a rise in 'dark tourism' where holiday makers pay to witness the aftermath of a disaster and are only now starting to embrace it as an inevitable consequence – and a point of difference to get people back.
However the biggest challenge is changing the perception of domestic tourists.
Kazumori Hirobe says many outside the region are tired of hearing about the recovery and have been reluctant to visit because of a lack of awareness on how far they have come.
The government plans to use the 2020 Tokyo Olympics as a platform to launch a campaign promoting a new image of a rejuvenated region which is back open for business.

On the tail end of my visit, the fourth anniversary of the disaster coincided with the 3rd UN World Conference for Disaster Risk Reduction being hosted in Sendai, the largest city in Tohoku, which also suffered significant damage along the coast.
The Conference was held to consider new experiences of disaster recovery and prevention for a new international framework to replace the Hyogo agreement signed in 2005 in Kobe, which was hit by an earthquake in 1995.
The Sendai framework was signed, which will for the first time incorporate the health sector and private sector into disaster risk reduction.
Committing $4 billion to international efforts to reduce risk from earthquakes, it is clear Japan has taken its role as leaders in the field seriously.
Minister for Land, Infrastructure and Transport Akihrio Ota says in learning from their own recent disasters, they've taken a new approach of preparing for worst case scenarios.
A 'build back better' outlook is also well ingrained in the Japanese psyche, and for the most part the new Tohoku region will be not only a model of sustainable and smart ways of rebuilding to protect against future disasters, but a tribute to 21st century life in Japan
Minister of States for Disaster Management Eriko Yamatani says there is also tremendous eagerness to share lessons with the international community to warn of the failure to reduce the impact of disasters.
It's a message being touted from the grass roots in aid organisations and community groups just as loudly as it is from the top and sadly this week, the tragedy in Nepal reinforces the importance of thinking disaster prevention rather than recovery.
The comparisons of the rebuilds of Tohoku and Christchurch are in many aspects uncannily familiar, the yearning for faster progress, the mental health issues now coming to the fore, the frustrating living conditions still of thousands of people, and a feeling of powerlessness over many major decisions being made.
However the immense scale of the disaster and lack of private insurance has created added hurdles for Japan, and seeing communities still lay in ruin four years on is an enlightening reality of how far Christchurch has come.
While the technological advancements and sustainable developments are aspects New Zealand should be paying close attention to as cities across the country fortify and strengthen in preparedness for the next disaster, how Christchurch has managed to recover socially through groups like Gap-filler and the Student Volunteer Army should be a source of pride for the city.
The lesson from Japan is to not repeat mistakes of the past and prepare for the worst case scenario – something many here in Christchurch will be hoping leaders have taken on board.