NZTA faces hurdles to Christmas opening of Transmission Gully
Author

Publish Date

Fri, 5 Nov 2021, 2:58pm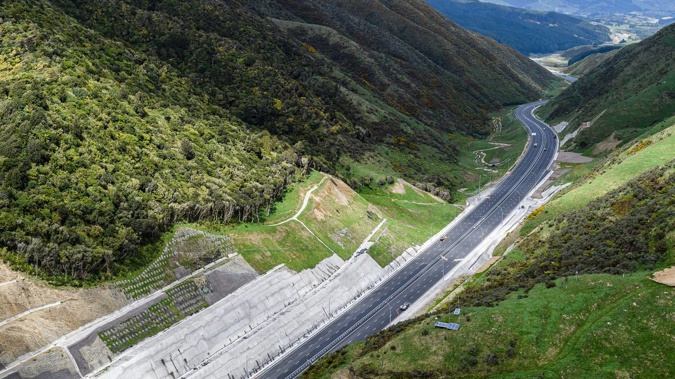 NZTA faces hurdles to Christmas opening of Transmission Gully
Author

Publish Date

Fri, 5 Nov 2021, 2:58pm
Waka Kotahi, the New Zealand Transport Agency, is not giving up hope that Transmission Gully will open before the Christmas holidays.
But in a project update outlining what's left to do to enable the opening of the new 27km motorway out of Wellington, one is left wondering whether a Christmas miracle might be needed.
The road still doesn't have an opening date and negotiations over the latest Covid-19 lockdown are yet to be settled.
Waka Kotahi transport services general manager Brett Gliddon said the agency expected to announce in mid-December whether the road would be open before Christmas.
That's cold comfort to the Porirua Chamber of Commerce, which says the city deserves certainty and has called on Waka Kotahi to "#ReleaseTheDate".
Waka Kotahi transport services general manager Brett Gliddon. Photo / Mark Mitchell
The $1.25 billion motorway was meant to open on September 27.
Before the Delta outbreak struck, Gliddon said he thought they had a clear runway to the finish.
"Then it had one last curveball."
A complicated four-way negotiation has been going on ever since over how much financial relief and extra time the contractor and road builder should get to deal with the impacts of Covid-19.
The four-lane motorway is being built through a public-private partnership (PPP), the Wellington Gateway Partnership (WGP), with CPB Contractors and HEB Construction subcontracted to carry out the design and construction.
Even when Wellington moved to alert level 2, Transmission Gully was still being affected by Auckland remaining in levels 3 and 4.
Construction in New Zealand is often quite mobile in that a lot of people don't live in the same region as the project they are working on.
Gliddon said Transmission Gully in particular had a large group of people flying in and out like this.
The Waitangirua Interchange. Photo / Mark Coote
When Wellington moved to alert level 2, the biggest immediate issue was the paving crew.
"While we had machinery on site to do it, the people that were running that paving crew, and there were two paving crews, they lived in Auckland", Gliddon said.
"We couldn't get them out so it took us some time to get alternate people to come in and run that machinery."
There have also been supply issues with products from overseas landing in Auckland and sitting in warehouses for longer than they otherwise would have.
The road is close to completion but there's still surfacing and pavement work to do, barriers to be installed, landscaping, and work to get the stormwater system up and running.
For example, motorists have been advised to expect delays on State Highway 1 between Porirua and Tawa tomorrow and the following weekend while Transmission Gully paving crews finish laying 1000 tonnes of asphalt to connect the new motorway.
But it's not just the physical construction of the road that Waka Kotahi has to worry about.
There are safety and quality assurance tests that have to be completed for the road to open, along with consent tasks, and there's a lot of them.
In total 100 safety and quality assurance tests have to be completed. Of those, 21 are yet to be submitted and 42 have only been partially submitted.
Te Ara a Toa - the bridge over Cannons Creek. Photo / Mark Coote
However, some of the tests can't be completed until the road construction has finished.
There are also 47 consent tasks. And although 45 of these are under way and have been progressed to varying degrees, only three have been fully completed.
Waka Kotahi appeared to be on edge about these consents and tests even before the Delta outbreak. A statement it issued in July suggested the agency did not share the builder's confidence the road would open by the agreed September date.
The transport agency continues to be at pains to point out these tasks are the responsibility of the Wellington Gateway Partnership and the builder to complete before the road can legally open.
The painstaking negotiations going on behind the scenes to reach a settlement will involve untangling which delays were due to Covid and which issues already existed.
High stakes are involved, because the builder was going to be liable for $250,000 a day in damages if the road didn't open on time.
Furthermore, $7.5 million of a $145.5m settlement covering the cost impacts of the last lockdown would not have been paid out if the road was late.
The Wainui Saddle. Photo / Mark Coote
Asked whether, in hindsight, he thought the road would have opened on time if the Delta outbreak hadn't occurred, Gliddon said it was impossible to say either way.
He rejected the idea that getting the road open before Christmas had anything to do with miracles, but he said a lot of things needed to go well to get to that point.
"And if we can't get there, the worst thing we can do is rush it and take some shortcuts and open a road that's not finished. If we can't, it will open in the new year, it won't open before Christmas.
"But it would be the wrong thing to do in the first week of November to take our eye off the ball and not try to achieve a Christmas opening."
Once the road has been physically constructed, the Wellington Gateway Partnership has subcontracted Ventia to operate the motorway for 25 years.
After that time, responsibility for it is handed to Waka Kotahi at an agreed standard.
The PPP contract hasn't exactly had a smooth start and it's really only just the beginning considering there are still 25 years to go.
But Gliddon said Ventia was a good maintenance operations contractor.
"I've got confidence in the ability of the maintainer to run this road. I've also got confidence that when we do complete this road and it does open and we do get all the sign offs, that it will be built to the right quality standards."
Gliddon said there would always be issues along the way, but overall he thought Transmission Gully was going to be a great piece of infrastructure.
But whether Wellingtonians will get Transmission Gully for Christmas is anyone's guess.