Police stop Restore Passenger Rail protest before it starts, one in custody
Author

Publish Date

Wed, 26 Apr 2023, 8:58AM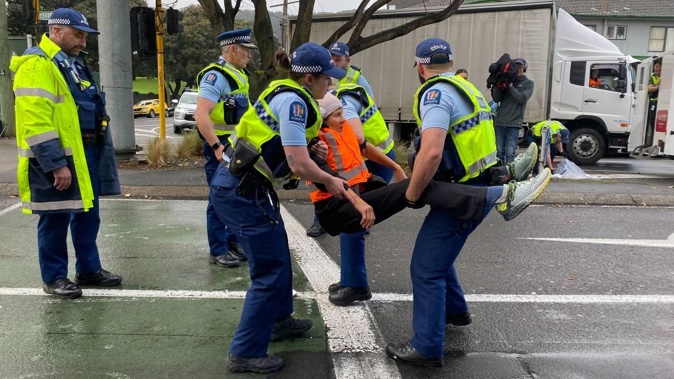 Police stop Restore Passenger Rail protest before it starts, one in custody
Author

Publish Date

Wed, 26 Apr 2023, 8:58AM
Restore Passenger Rail protesters who were trying to block roads in Johnsonville have been stopped by a police.
A police spokesperson told the Herald the group were gathered in a car park near Johnsonville when they were apprehended by police. One person was subsequently put in custody for a breach of bail.
"Police intervened before the road was blocked".
The group was planning to block the southbound lanes of Johnsonville Rd, according to police. It would have been the fourth protest of this nature in a month.
The group has vowed to continue to disrupt traffic until the Government agrees to restore passenger trains across New Zealand and make public transport free.
Spokesman Jonty Coulson said he fears for the future.
 "The future my generation faces is one of cyclones, floods, food supply breakdown and starvation. Our Government's back-pedalling on the climate emergency is a conscious choice to destroy peace, security and wellbeing for young New Zealanders."
The Government has ruled out further meetings with the protest group after they flung paint over the offices of multiple Labour MPs following a failed discussion with Transport Minister Michael Wood.
Wood said he was pleased to see police moving in on the protesters swiftly following Monday's protest which blocked Vivian and Cuba St.
He was pleased with the robust response - but he is concerned at the continued disruption.
"I'm concerned about the disruption that's occurring, I'm concerned that, for example, we've had ambulances that have been held up by these people's actions."
Wellington Mayor Tory Whanau has also ruled out meeting with the group after she offered to assist them and they chose to continue blocking roads instead.
"They have not moved forward in good faith, they have disrupted Wellingtonians, they have disrupted the lives of normal people instead of the Government's."
Take your Radio, Podcasts and Music with you