'Been there, done that': Simon Bridges not interested in being National's leader
Author

Publish Date

Sat, 17 Oct 2020, 11:36pm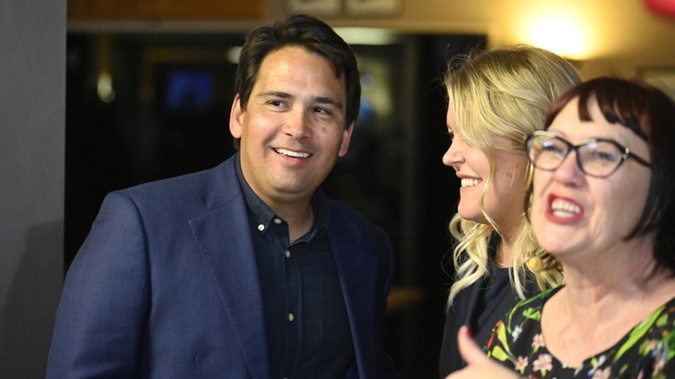 'Been there, done that': Simon Bridges not interested in being National's leader
Author

Publish Date

Sat, 17 Oct 2020, 11:36pm
Former National Party leader Simon Bridges has confirmed that he will not have another run at the leadership of the National Party.
"I'm not interested in that," Bridges, who was ousted as leader of the party this year, said while discussing Labour's dominance in tonight's election results.
"I've been there and done that and I was looking forward to being senior minister again," he said.
Bridges said it had been a tough "grim" night.
"It's a party I've been a member of since I was 16 - maybe (aside from) 2002, it's one of the toughest nights we've had.
He said the swing towards the Labour Party in the party vote in both the Tauranga and Bay of Plenty electorates reflected what was happening around New Zealand.
"It's sad for me and colleagues who have worked hard for New Zealand and the National Party who look like on the numbers will not be in Parliament as a result of that very much smaller party vote for National and very much larger party vote for the Labour Party."
He said there were a number of reasons for the results including the fact there was real personal regard for Labour leader Jacinda Ardern and the sense that Covid had been handled empathetically by her.
"There has been a real response to that in rural seats, urban seats - in any kind of seats throughout New Zealand.
"I think what is also true is that in recent times National has not had a strong ... strategy in what it has been doing. It means on the ground for candidates around New Zealand they haven't been as clear about what they should be doing so our campaign has not been strong as it could have been based off Jacindamania."
When asked whether he thought there needed to be a change in leadership, he said he was not saying that.
"Right now, on this night there wouldn't be anyone who would want to take it on - it's a very tough role.
"I think what we will see in the next three years is a Labour Party that's got a massive mandate and, frankly, near unfettered power ... to do what it wants."
He said he was concerned about National and Act's ability to mount a strong opposition given the numbers.
He said he did not want to speculate on whether the result would have been different if he had remained as the leader.
He said it was a time for reflection and rebuilding in order to mount a strong opposition to hold the Government to account and to be a compelling political party to contest the next election.
Bridges' campaign chair and National Party chairman for the Central North Island, Andrew von Dadelszen., said the result was a "disaster".
While the party vote was creeping up, he said National would still be a long way behind.
"We can only go up from here. And we've been here before, in 2002."
"We are going to lose some good people."
He said Bridges was holding a majority and that was a testament to his hard work.
"Three or four days a week he was out with me putting up signs. He was tireless."
He still believed Bridges would one day be Prime Minister of New Zealand.
"He's 44, still got plenty of time.
"He has grown so much through this experience... we have a long future with Simon in Tauranga.
"But this is a shocker, there's no two ways about it."
He said the local Labour list MPs "really have to step up and start supporting this city".