Election results: Maori Party gains MP; National MP wants review of tightly-fought electorate
Author

Publish Date

Fri, 6 Nov 2020, 2:19PM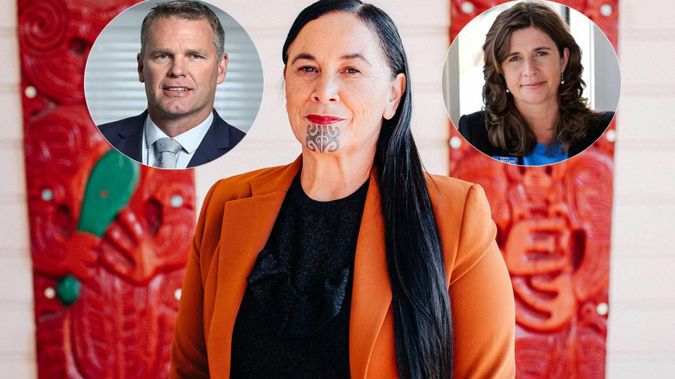 Election results: Maori Party gains MP; National MP wants review of tightly-fought electorate
Author

Publish Date

Fri, 6 Nov 2020, 2:19PM
The final election results are in and National has lost two seats, Labour has gained one, the Māori Party is back with two seats and the "yes" campaign on recreational cannabis has lost by a tiny margin.
The Electoral Commission released the results of the 2020 election today, confirming that Māori Party co-leader Rawiri Waititi has won Waiariki over Labour's Tamati Coffey, who will still be in Parliament as a list MP.
Maori Party and Waiariki MP Rawiri Waititi. Photo / Mark Mitchell
But with an increase from 1 per cent to 1.2 per cent of the party vote, Māori Party co-leader Debbie Ngarewa-Packer will enter Parliament as a list MP.
Three seats have changed hands since the provisional results: Labour's Priyanca Radhakrishnan has won Maungakiekie over National's Denise Lee, Labour's Willow-Jean Prime has won Northland over National's Matt King, and Labour's Emily Henderson has won Whangārei over National's Shane Reti.
Reti will remain in Parliament as a list MP, but Lee and King are out of Parliament pending any recounts.
Their electorate losses and list positions mean that Maureen Pugh - who already started packing up her office in anticipation of losing her seat - keeps her place as a National list MP.
Northland is now the country's most marginal seat, with a 163 vote margin, and King said on Facebook that he will seek a recount. Applications for any recounts have to be filed with a District Court by November 11.
Henderson is Labour's new MP, while Green MP Chloe Swarbrick has held on to Auckland Central.
The final results - which include 504,625 special votes, or 17 per cent of the total - will not change the parliamentary majority that Labour holds, or the Labour-Greens cooperation agreement that has already been signed.
But they determine the number of each parties' MPs in Parliament.
The provisional results three weeks ago were: Labour on 49.1 per cent (64 seats), National on 26.8 per cent (35 seats), Act on 8 per cent (10 seats), the Greens on 7.6 per cent (10 seats), and the Māori Party with the seat of Waiariki.
The final results have Labour on 50 per cent (65 seats), National on 25.6 per cent (33 seats), Act on 7.6 per cent (10 seats), the Greens on 7.9 per cent (10 seats), and the Māori Party with 1.2 per cent (two seats).
The final referendum results are 65.1 per cent (down 0.1 per cent) supporting the End of Life Choice Bill in the euthanasia vote, and 50.7 per cent (down from 53.1 per cent) voting against legalising recreational cannabis.
Just 67,662 votes separated the cannabis vote.
Maori Party: 'The Māori waka is back on the water'
Waititi, who has taken over from John Tamihere as party co-leader, said he was humbled and excited.
He acknowledged Coffey "for an outstanding campaign and for his service to Waiariki over the past three years".
"We can now confirm that the Māori waka is back on the water and the next three years will be focused on building our movement together to ensure that my six other mates are on that waka with me come 2023," Waititi said.
"I'm looking forward to getting my hands dirty alongside Debbie, getting to know the electorate better and more importantly understanding how I can advocate for their needs and their aspirations."
He said he would immediately contact party leaders to discuss "potential working relationships centered on the advancement of Māori".
National MP Shane Reti. Photo / Mark Mitchell
Willow-Jean Prime: "I can't believe it"; National MP to contest result
Northland's new MP Willow Jean Prime was ecstatic after hearing the news she had taken the electorate - the first time Labour has done so since 1938.
"I was shaking when I found out. I can't believe it. It is a dream come true."
Prime was well aware of the 82-year gap since Labour had won an earlier iteration of the electorate. The seat of Bay of Islands was won by teacher and trade unionist Charles Boswell for a single, extended, war-time term.
"I am humbled so many people voted for me," said Prime, who edged out sitting MP Matt King by 163 votes after special votes were counted. The final tally had Prime on 17,066 votes and King on 16,903.
"I had always tried to be the best voice and representative for Northland in Parliament whether I'm a list or electorate MP.
"I knew when I put my hand up in 2014 it was going to be one hell of a battle in such a safe blue seat. It's been a roller coaster ride with so many twists and turns. I will continue to do the best I can for Northland."
King, in a Facebook post, congratulated Prime on a close race.
"But this race is still far too close to call. Northland deserves every vote to be scrutinised to ensure that however close the result may be, that it is an exact account.
"For this reason, I will be requesting a judicial recount. With such a close result, it is only fair that we double-check the results for the people of Northland."
Henderson, the new Whangārei MP, is a lawyer in the practice founded by her father.
Her work includes the family court as well as negotiating criminal justice reforms both in New Zealand and internationally.
National's Denise Lee unsure of next step
Lee, who is now out of Parliament, said she hadn't thought about what she will do now and she needed time to process the result.
"It's not the result I wanted. At the end of the day, politics can be tough and you live with the result."
But she said the disappointing result does not mean that her journey "wasn't any less special and something I have thoroughly enjoyed".
Lee sent an email to her caucus colleagues in the lead up to polling day that criticised leader Judith Collins and was leaked to media.
It led to days of coverage focused on the internal issues in the National Party, but Lee wouldn't be drawn on whether it had contributed to her losing the seat.
But she acknowledged Priyanca Radhakrishnan, the MP who won the Maungakiekie seat.
"She is inheriting a fantastic bunch of people in an area that is the most beautiful, most hardworking, most diverse [area]."
It had been a privilege to represent the electorate, Lee said.
Greens overtake Act
The final result pushes the Greens ahead of Act as Parliament's third largest party, even though they both have 10 seats.
"We're incredibly excited to confirm our outstanding success this election," Green co-leader Marama Davidson said.
"Today's announcement of the final vote count confirms that we have increased our party Vote to 7.9 per cent, meaning we will have three talented new Green MPs joining us this term as part of the third biggest party in Parliament."
Swarbrick's win in Auckland Central has been widened to a 1068-vote margin.
"I am so honoured to have the privilege of representing our home and communities," Swarbrick said.
"I'm very excited to get stuck in to the issues that matter for the people of Auckland Central, including a strategy to end homelessness – working with new Minister Davidson – alongside protecting the Hauraki Gulf, championing sustainable and affordable transport and ensuring the vibrancy of our local arts and culture."
She said she was proud of the "yes" campaign in the cannabis referendum, which just fell short.
"Despite the result, we're really glad to have sparked a conversation about the need for fit-for-purpose drug laws in New Zealand. As a country we've come so far in understanding the need to reduce the harm of drugs by bringing them out of the shadows, and I remain committed to working for a drug harm reduction approach to drugs in the future".
Huge lead for Labour over National
Fifty per cent is the largest share of the party vote for Labour since 1946, and the first time a party has won 50 per cent or more of the party vote since National in 1951.
It is also the largest gap between Labour and National since the two-party system began in 1938.
Labour's Emily Henderson is the party's new MP after she won Whangerei. Photo/ Supplied
Official turn out for the 2020 election was 82.2 per cent, up from 79.8 per cent in 2017 and 77.9 per cent in 2014.
Far more people voted in advance - 67.7 per cent - than in previous elections.
Final enrolment was 94.1 per cent of eligible voters, the highest since 2008.