Why the McCaws are on tour and flying economy to the France RWC
Author

Publish Date

Tue, 26 Sep 2023, 4:11PM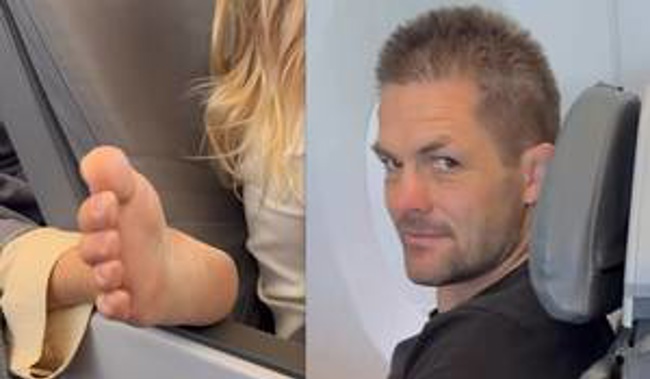 Why the McCaws are on tour and flying economy to the France RWC
Author

Publish Date

Tue, 26 Sep 2023, 4:11PM
Richie and Gemma McCaw and their three daughters are off to France to support the All Blacks as they progress into the next round of the Rugby World Cup. However, there were a few things that have turned heads about the former New Zealand sporting family's travel plans.
The Olympic hockey player and mum of three documented their journey flying from Christchurch International Airport on Singapore Airlines, including an episode of poor passenger etiquette, which more sober reporting has dubbed "footgate". Midway through the flight, an unidentified traveller draped a bare foot on one of their daughters' armrests.
The former All Blacks skipper was not impressed.
Wife Gemma eventually put her foot down, sharing the episode on social media. "A hostess stepped in and asked her to kindly remove her foot," she eventually posted. "All is well."
The McCaws solicited several creative solutions to dealing with strangers' invasive feet (including "let you daughter draw all over it").
However, there was one detail that did not escape Instagram followers' notice: the family were flying economy. Well, economy plus.
"That's some brave travelling!" wrote one on the McCaws' departure post. Others clearly did not envy the route.
"Good luck, Gem. For the flight alone!"
 "Send me a before and after shot lol," wrote another,
However, the McCaws know how to travel with style and economy, apparently.
Despite being multi-millionaires through sponsorships and South Island property, they did not rush up the front of the plane. Travelling as a group of six, they got plenty more economy and foot room out of the Premium Economy bulkhead seats. Although they did have to share these with a certain stranger's foot.
Premium Economy, midway between Business and entry-level Economy, costs an additional $650 per adult to Paris. Perched comfortably over the wings, it makes for some savvy seat planning. Especially when flying as a large group.
The 24 seats in the middle of Singapore Airlines' A350 fleet pack a lot in. With an additional 15cm pitch and 2.6cm width, the bulkhead seats give the 1.87m-tall Richie and 1.68m Gemma a bit more space, plus a bassinet for five-month-old Ella Mae. All without breaking the bank on a family trip to Europe.
A long layover with two nights in a Singapore hotel also means the family can decompress after the 10 hour flight, and try to forget the mid-flight foot encounter.
Thanking followers for their support during "foot gate", Gemma explained in an update they were taking a "couple of days to break up the trip because it helps when travelling with three under 4. I've had a few travel tips from friends who had done the trip before."
Then it's only one more plane and they're off to watch some 'footie'.
Take your Radio, Podcasts and Music with you