'I just want to cry': How NZ's brutal Games call paid off
Author

Publish Date

Wed, 28 Jul 2021, 1:43pm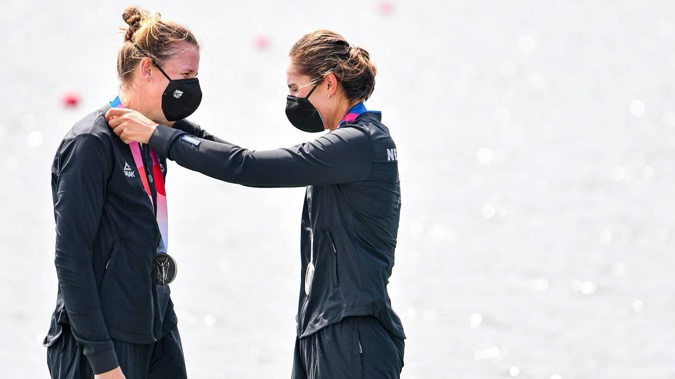 'I just want to cry': How NZ's brutal Games call paid off
Author

Publish Date

Wed, 28 Jul 2021, 1:43pm
It's taken a while, but New Zealand have doubled their medal tally as the women's double sculls pair of Brooke Donoghue and Hannah Osborne claimed second at the Sea Forest Waterway.
In slightly choppy conditions, the New Zealand double started slowly but ploughed their way through the bulk of the field to win the silver medal.
They could not catch the dominant Romanians Ancuta Bodnar and Simona Radis, who took charge early – shortly after the start their stroke rate was 46 as opposed to New Zealand's 40 – and never came close to relenting.
They won in an Olympic record time of 6m 41.03s and such was their primacy it was evident that the real race would be for the minor medals.
Brooke Donoghue and Hannah Osborne celebrate. (Photo / Photosport)
New Zealand's time would have been an Olympic record were it not for the opposition.
"Hot field," Donoghue said drolly when informed of the time.
Donoghue and Osborne were fourth at the 500m mark, 2.66s behind the leaders and although they had clawed their way to second by the halfway mark, they had fallen further behind Romania.
By the 1500m mark they looked a comfortable bet for silver, but had to withstand a strong finish from the Netherlands double of Roos de Jong and Lisa Scheenaard. The New Zealanders had enough in the tank, however, to beat the Dutch by 0.91s.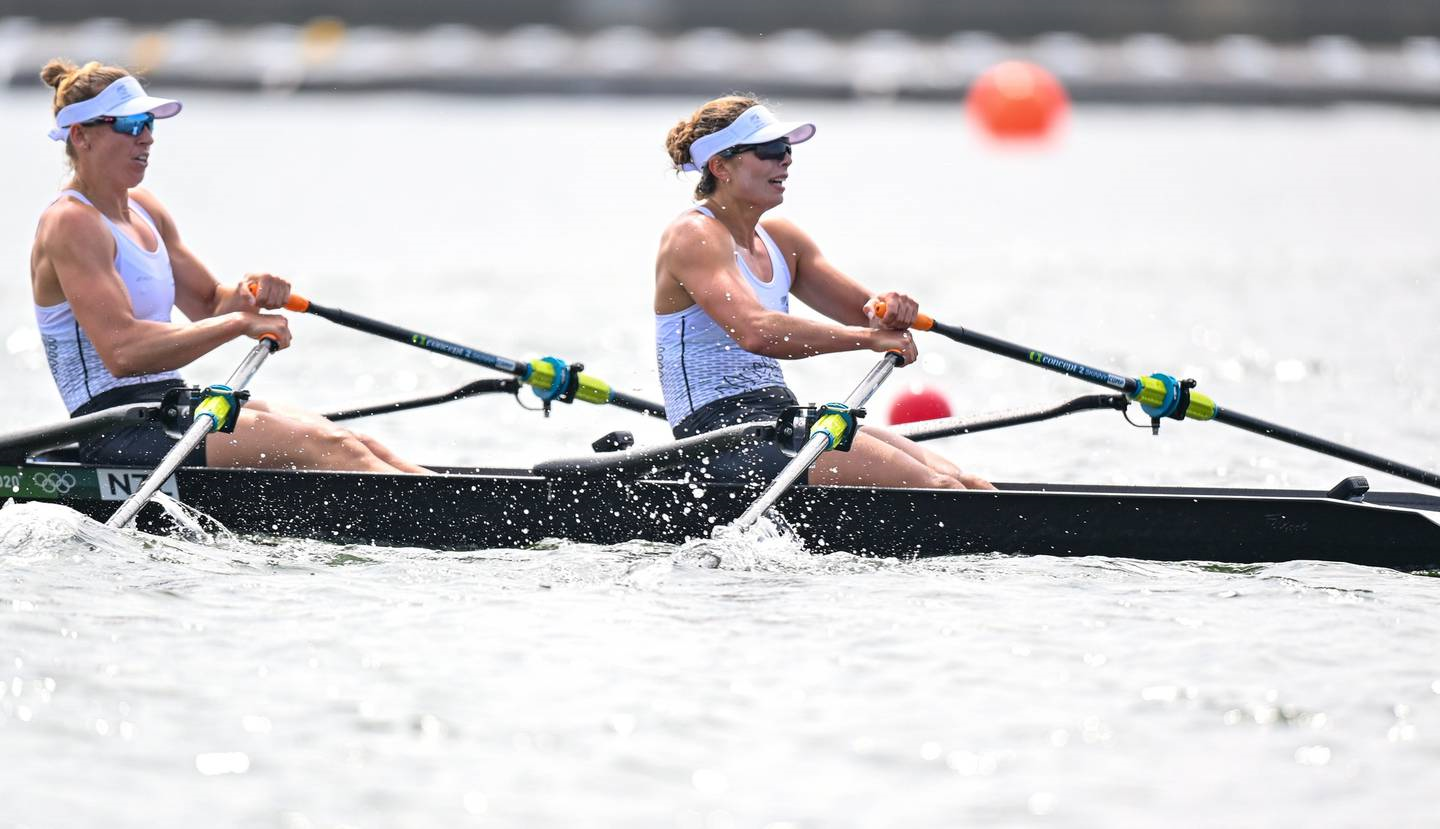 Brooke Donoghue and Hannah Osborne in action during their silver medal run. (Photo / Photosport)
It's been a curious route to silver. Donoghue and Olivia Loe are the incumbent world champs in the event, having won in Linz, Austria in 2019. They also won a world title in Sarasota two years earlier. There has been plenty of the proverbial water under the bridge since then.
After the Olympic trials, Loe was moved into the quad and Osborne into the double. The quad finished second in the B final, effectively eighth (a penny for Loe's thoughts as she watched her former boat charge down the course today?).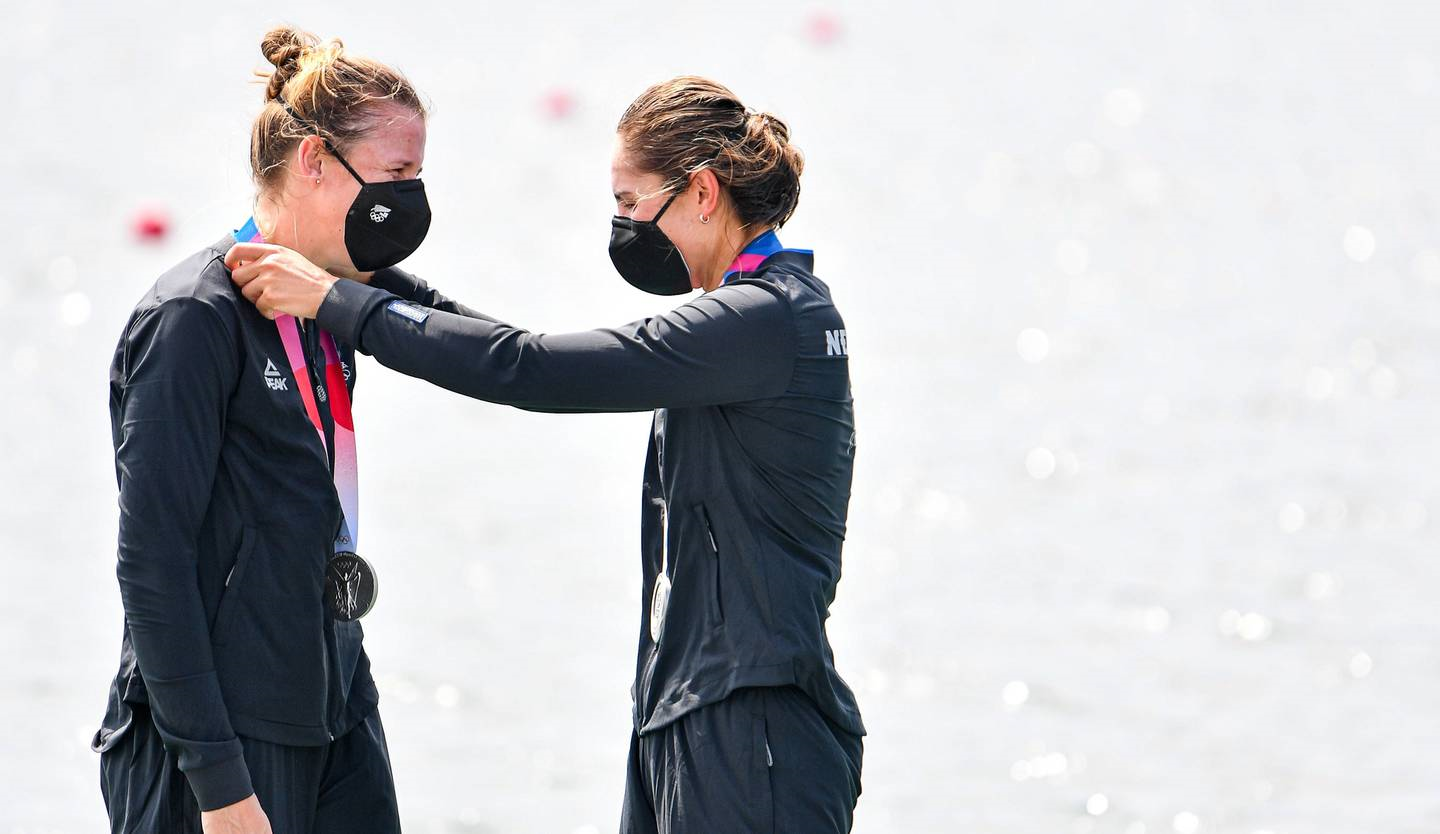 Brooke Donoghue and Hannah Osborne celebrate with their silver medals.(Photo / Photosport)
Donoghue, a 26-year-old business management graduate, told Sky Sport after the race: "I have been thinking about this moment every day for the past two years."
Osborne, 27, who paid tribute to coach James Coote, said the crew and coach trusted each other 100 per cent, despite being a relatively new combination.
"I just want to cry I'm so happy," Osborne said. "I'm absolutely over the moon."