Golden hour! NZ rowers win two golds and silver
Author

Publish Date

Fri, 30 Jul 2021, 12:54pm
Golden hour! NZ rowers win two golds and silver
Author

Publish Date

Fri, 30 Jul 2021, 12:54pm
The men's eight put an exclamation mark on an extraordinary hour in Tokyo, winning gold from lane two in a brutal display of power.
Following on from the success of Emma Twigg (gold) in the single scull and the women's eight (silver), the men produced the collective performances of their lifetime to stun the rowing world.
Always a chance for a medal, few genuinely thought they would match the favoured Germans but New Zealand took control at the halfway mark, put distance on the field at the three-quarter pole and never looked like relinquish it in the home straight.
Cue scenes of jubilation as the crew smashed the tranquil Sea Forest waterway with their fists, screamed in exultation and engaged in the sort of awkward hugs the confined spaces of a skiff allows for.
In a thrilling race, the Kiwis started strong and took charge from the second 500m, holding off the Germans and Brits at the end.
It was a historic win for Hamish Bond, who collects his third Olympic gold medal - the first New Zealander to win a gold medal at three successive Games.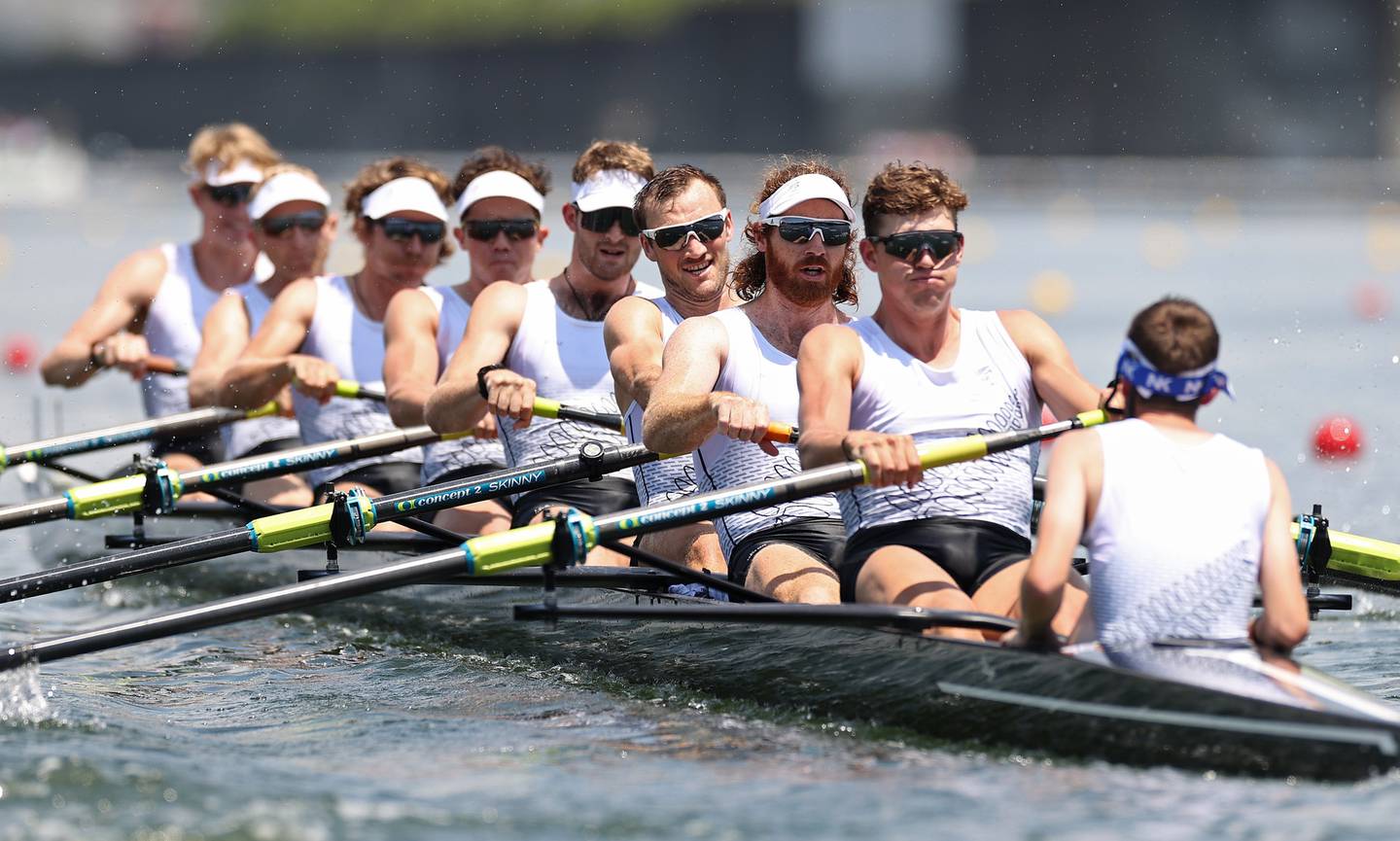 Thomas Mackintosh, Hamish Bond, Tom Murray, Michael Brake, Daniel Williamson, Phillip Wilson, Shaun Kirkham and Matt MacDonald of Team New Zealand. (Photo / Getty)
Few have worked harder for an Olympic gold medal than Emma Twigg. Nobody will begrudge her this moment of glory.
In her fourth Olympic single sculls final, Twigg got her bow-ball over the line first, capping an incredible regatta and an amazing, at times luckless, career.
Twigg, 34, now has sixth, fourth, fourth and this victory, and having given up the sport, she has triumphed over what looked to be a cruel Olympic fate.
Twigg looked awesome from the start, staking herself to a small lead at 500m, a commanding one at the halfway mark. Thoughts that she might tie up in the second half of the race were soon dispelled as she kept increasing her lead over Russian starlet Hanna Prakatsen and Austria's Magdalena Lobnig.
Twigg won in an Olympic best time of 7m 13.97s, blitzing the field. Prakatsen took silver in 7m 17.39 and Lobnig 7m 19.72s.
"I can't believe it. Honestly, crossing the line it was disbelief," an exhausted Twigg said.
"I didn't hear the hooter and thought I had stopped before the line.
"I'm lost for words. I can't believe it. All these years, many, many disappointments. I can't thank the people I have surrounded myself with enough. They got me here. That's not my result, it's my team.
"I had a great moment with my coach Mike [Roger] before. He didn't know if he was going to be here with me after a car crash. I'm lost for words. This is fate. Here we are - it's an amazing feeling," she said through tears.
"For me this is for everybody. It's a dream come true."
The Hawke's Bay sculler left everything on the Sea Forest Waterway course, barely having the energy to even smile as she dangled her feet outside the boat.
Took two years out following Rio, worked for the IOC and it was while at the PyeongChang Winter Olympics in 2018 that she started entertaining thoughts about a comeback.
Abandoning a plan to cycle from Switzerland to Singapore, Twigg instead returned to New Zealand and her partner Charlotte (they married last year). She also returned to Lake Karapiro with a reinvigorated passion for the sport forged on the Clive River under the eye of her father Peter, a coach at the Hawkes Bay Rowing Club.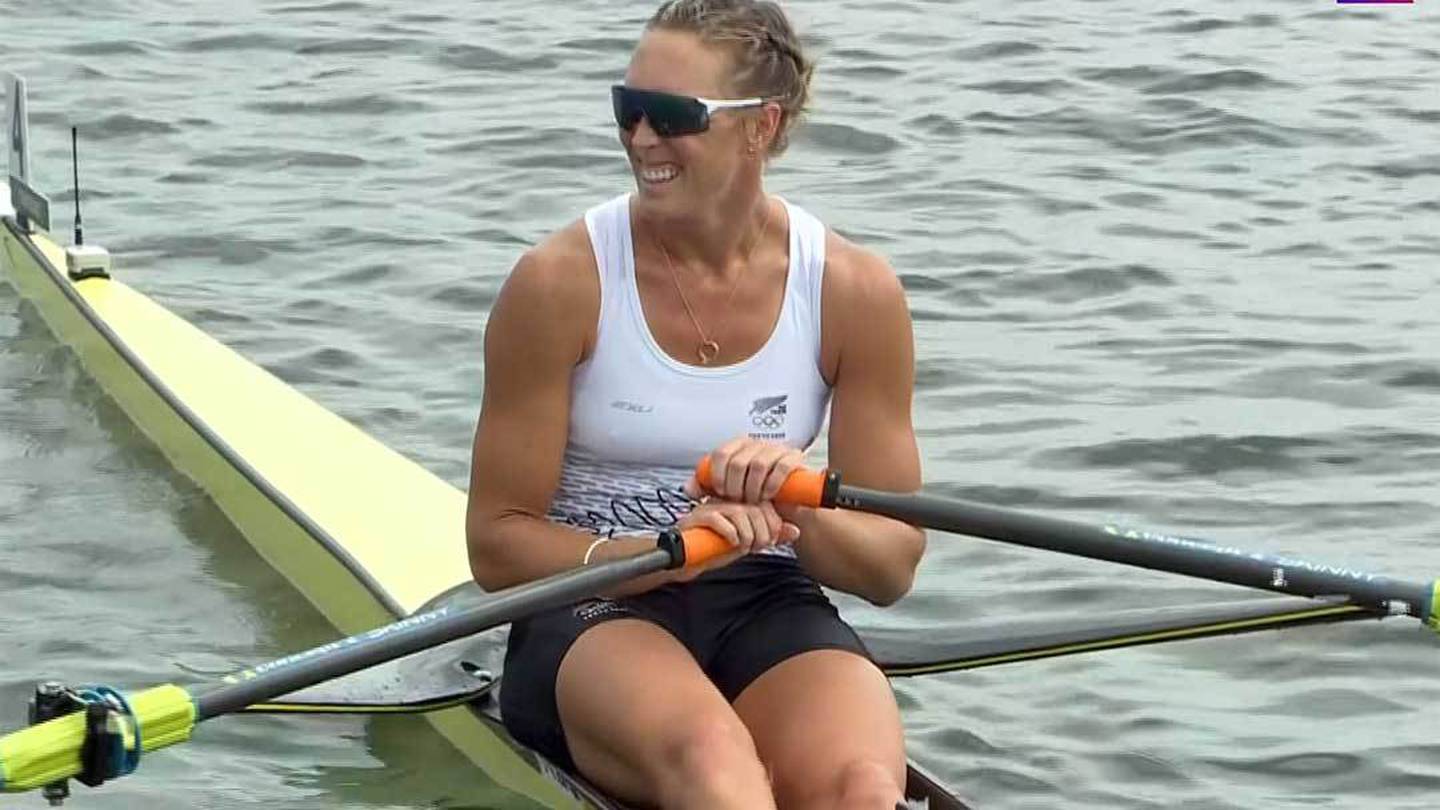 Twigg paid tribute to Grace Prendergast and Kerri Gowler, who inspired her on their way to gold yesterday, and to "my beautiful wife Char. She has changed my philosophy on life. I'm a very lucky girl".
There was something different about her campaign this time, which has been picked up by the likes of two-time gold medallist Eric Murray.
Hot on Emma Twigg's oars following her redemption gold in the single sculls on the final day at Tokyo's Sea Forest Waterway, the New Zealand women's eight trailed the Canadians from start to finish, despite making up ground over the final 500 metres in a desperate late push to finish 0.91 seconds back in a time of 6.00.04.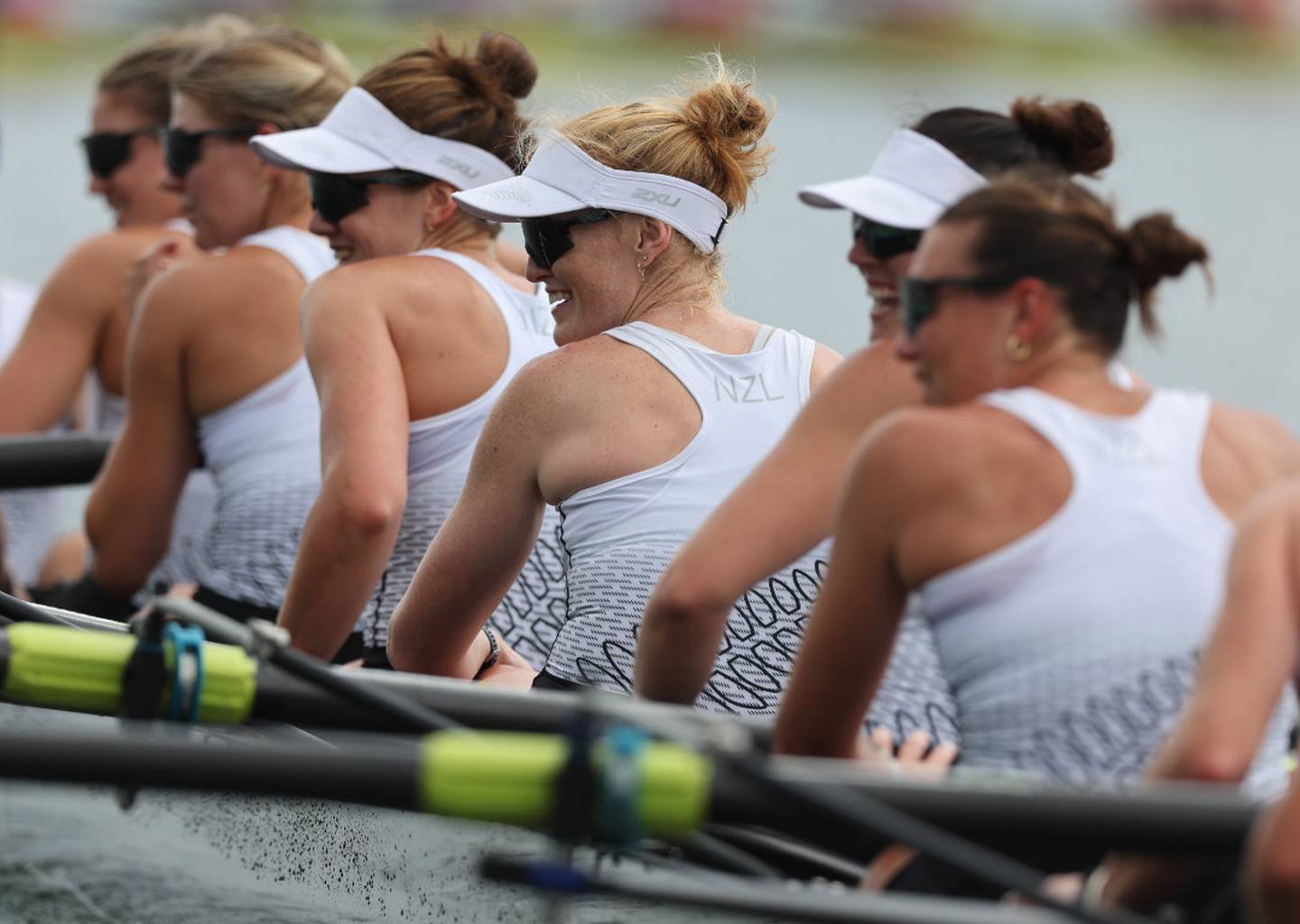 It was all smiles for the women's eight after they claimed a silver medal in Tokyo. (Photo / Getty)
New Zealand were 1.7 seconds back at the halfback mark in third, behind Canada and Australia, but dug in over the final 1000 metres to claim silver. China finished third.
Five years ago, New Zealand sent a women's eight to the Olympics for the first time in Rio and the boat finished an agonising fourth - 1.38 seconds outside the bronze medal.
This time, the crew of Ella Greenslade, Emma Dyke, Lucy Spoors, Kelsey Bevan, Grace Prendergast, Kerri Gowler, Beth Ross, Jackie Gowler and coxswain Caleb Shepherd were favoured to claim gold after surging from third to first in their heat.
The New Zealand women's eight also claimed a dominant win at the 2019 world championships – the last time all the world's top crews met before the Covid-19 pandemic.
While they could not match the Canada on this pinnacle occasion, the eight continued the theme for New Zealand of the women leading the way in the boats at these Games. It was also the first ever medal for New Zealand in the discipline.
One day after setting a world record and clinching gold in the women's pair Prendergast and Gowler, who will savour the achievement alongside sister Jackie, made history by becoming the first Kiwi rowers to win two medals at one Olympics.