Burling's heart-stopping moment in Team NZ's crushing Cup win
Author

Publish Date

Wed, 10 Mar 2021, 5:10PM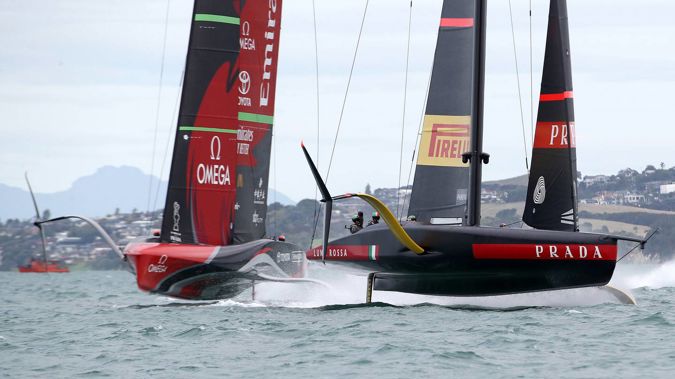 Burling's heart-stopping moment in Team NZ's crushing Cup win
Author

Publish Date

Wed, 10 Mar 2021, 5:10PM
The defender is on the board.
After months of watching from the sidelines, Team New Zealand wasted no time in getting their first win for the year, beating Luna Rossa comfortably in the opening race of the America's Cup match.
Team New Zealand won by a margin of 31 seconds, leading every one of the six legs in the race.
"It's good to get off the line and get a few shifts up the first beat," Team New Zealand helmsman Peter Burling said after the race.
"I was really happy with the pre-start and how the whole team has got the boat in good shape."
As has been the case for the entire event, the team who got the better of the start went on to glory.
While they were both off the starting line side by side, an aggressive tactic from Luna Rossa to try and draw a penalty against their counterparts didn't come off, and as a result Luna Rossa gave up any chance of taking the lead at the start of the first leg.
It was a bold manoeuvre to try in the opening race of the Cup match, and put the challengers on the back foot immediately.
With that unsuccessful move seeing Luna Rossa drop back, Team New Zealand were able to build a lead by a couple of hundred metres, which varied between 100m and 600m throughout the rest of the race.
But much like the racing in the Prada Cup, a lead of more than 200m is all but insurmountable and the trailing team is left hoping for an error from their competitors, especially when the two teams are matching one another in boat speed.
The Kiwis' only misstep was the heart-stopping moment when helmsman Burling slipped and fell when swapping sides of the boat after a manoeuvre early in the leg.
Burling avoided disaster, however, and managed to steer Te Rehutai to a comfortable first win - to put the first point on the board in the best-of-13 series.