Wayne Smith: 'Rugby can't carry on like this, changes must be made'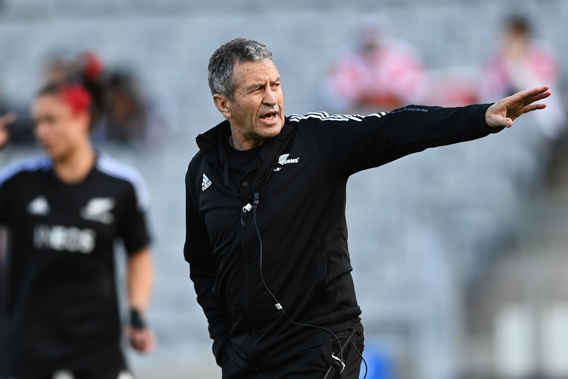 Wayne Smith: 'Rugby can't carry on like this, changes must be made'
Former All Blacks and Black Ferns coach Sir Wayne Smith can envisage the day when rugby's laws are amended so that the permissible tackle height is lowered to belly-button level. 
And while he suspects such a change would produce "exhilarating rugby", the man who masterminded the Black Ferns 2022 Rugby World Cup championship win and has more recently been appointed as Performance Coach for both the Black Ferns and All Blacks in a new mentoring role also predicted it would inevitably be accompanied by some unintended consequences, in a wide-ranging interview on the latest Between Two Beers podcast released this week. 
Smith said a lot of people were becoming frustrated by rugby's lack of "flow" compared to rugby league, where he described this year's NRL final as "phenomenal" - but could see changes coming. 
"I think what's made us as a country, really, ahead of the ball for 120 years, is we've always been able to reinvent ourselves quicker than anyone else," Smith said."As an example, I think one of the changes might be that they'll lower the tackle height again. And maybe they will lower it at belly button height. 
"So the intended consequence of that would be to stop dangerous injury and stop head clashes. And it will need some good coaching movement to teach good technique for the tackler - chin up, eyes open, head to the side, strong grip, drive through all those sorts of things - but it will make the game safer. 
"But the unintended consequence will be the ability to offload. And so we're going to have to work on support players understanding probably the offload is going to come now." 
Smith said that whenever there has been a rugby law change, New Zealand had been able to adapt to it quickly, and then dominate the world. 
"You think back to Dave Gallaher, on the boat going over in 1905, he read the law book and saw that there was a loophole in there that you could have a player playing in the backs or on the forwards. And they could change when they wanted to do that. 
"So he became a wing forward and they just obliterated every team and in Europe having reinvented themselves. 
"But eventually they got scouted by Wales, who decided that play this tactic back at the All Blacks, the originals, and beat them in that last game. 
"And so since then, I think we've been really good at looking into the future, and making changes before they happen." 
Smith predicted New Zealand would continue to do that. 
"It's in our DNA. If you're sailing in the Americas Cup, you're looking at the horizon, trying to pick up the wind changes, and then you're trying to have a strategy before you hit that wind. 
"I think we've got to do the same. And if you look at the game, currently, there's a lot of frustration around the number of penalties, the number yellow cards, the number of rucks... There's another ruck and they'll always pick up the penalty, because it's a penalty, just about every ruck, if you want to see it. 
"Then you play maybe four, five, six or seven phases of advantage, and you come back then and kick to touch, then there's a drive and so on. 
"I think that's frustrating a lot of people, not just people like me. And if you are in the crow's nest, it can't carry on like this, so they're going to have to make some changes." 
Smith predicted that a lower tackle height would lead to less rucks - which would then lead to fewer penalties and injuries. 
"And the games will become either exhilaratingly good as the All Blacks were against Italy - or exhilaratingly bad, like Italy were against the All Blacks. 
"But it'll be exhilarating, just the same. That's only one example. but I think the game will evolve again, and we've got to be at the forefront of it. 
"I'd like to see a coaching movement now that teaches the skills to be able to play that sort of game when it's legislated." 
Meanwhile Smith also reflected on the differences between coaching men and women, particularly in terms of communication, admitting that when he started with the Black Ferns, he found the selection meetings to be quite difficult. 
"With the boys, in my experience it has basically been like, 'You're not playing this week - this is why - have a look at a couple of clips'. 
"'Yeah, all good Smithy,' and off they'd go. But you don't know really what they're thinking or how they're feeling inside. Not often anyway." 
By contrast, with the women, they wanted to get it out and have a cry or a hug. 
"And I think that's really, really healthy to help them get through some tough times." 
Smith said he regularly would visit players in their hubs and have 30-40 minute meetings, go through clips of what they're doing to get better, and what they're good at. 
"There would often be tears. Sometimes I get a call a couple of days later, to say could I go back? Normally, I couldn't go back, but I'd open up my Zoom for a couple of hours." 
Here Smith would give individual players 10-minute periods to chat to him online. 
"And I just let them vent. I just sat there like this and 'Yep, I understand. Yep, totally understand that.' 
"And then at the end, they'd go, 'That was bloody great, Smithy'. And, oh my God, another one would come on. And this was like, over a week. And at first, I was a bit traumatised myself by it." 
But by the end of the World Cup Smith was convinced this was the way to proceed. 
"That's what we need to do. You need to put in more time and caring for them during that period. Because missing out is a big thing. And so I think the way we did it was maybe a blueprint for the future." 
Take your Radio, Podcasts and Music with you