Rugby: Razor on the moments that made the Crusaders champions
Author

Publish Date

Sun, 5 Aug 2018, 7:03AM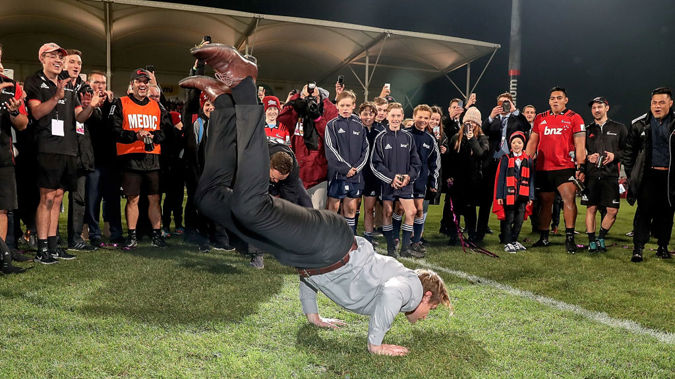 Rugby: Razor on the moments that made the Crusaders champions
Author

Publish Date

Sun, 5 Aug 2018, 7:03AM
He was, he says, "ecstatic" last year in Johannesburg when the Crusaders broke their championship drought with a Super Rugby title in the Lions den, but it was more like relief for head coach Scott Robertson as his side repeated their feat in Christchurch.
It wasn't until Mitchell Drummond scored late in the second half to make it 37-18 that Robertson felt the title was in the bag and he could prepare his breakdancing routine.
His side were on top in the first half but the Lions, as their finals pedigree suggests, are a resilient and tough team and their second-half performance demanded attention from the defending champions.
"No possession, no territory against a pretty desperate Lions side. I don't know if we made 1000 tackles but it felt like it," Robertson said. "We were on our back fence all night – it was tough to get off it. I'm just glad we won a couple of key moments and scored when we needed to.
"We had 16 debutants this year, including for the French Barbarians game, and it meant everyone stepped up. I'm just really proud – when we had nine All Blacks out and we beat the Chiefs away. We beat the Hurricanes at home and we didn't have our skip or our vice-captain you have a few guys out of position. Those are the games that you win to give yourselves a chance to win your conference.
"There's a different feeling [this time]. Last year we went over there as underdogs. But we started here as favourites. It's a different feeling – it's relief."
Robertson, who has been in the job two years, is already thinking about another title and few would bet against him achieving it.
Last night his side hurt the Lions physically and mentally with their maul defence and ability in the set piece. "The boys just stepped up," skipper Sam Whitelock said of the lineout drive. "Not a lot of people enjoy doing it but the boys embraced it tonight.
"Credit to the Crusaders – they had to stop our maul and stop our scrum," Lions skipper Warren Whiteley said. "We had about 70 per cent possession, we really did give it everything… but they're a championship side and they deserve this win."
And then there was the performance of No10 Richie Mo'unga. "He beat about 20 defenders, he kicked the majority of his goals, he was tough on defence, and he was behind a Rolls Royce pack," said Robertson with a nod to Steve Hansen's comment during the week.
Lions coach Swys de Bruin said of Mo'unga: "He's played so well for the whole season. I think he is the catalyst for this team. His ability to take it up running or taking it deeper – he was just never caught in no-man's land. We tried to trap him but he was very good on the night.
Asked whether Hansen should pick Mo'unga or Beauden Barrett as his staring first-five, de Bruin said: "Yeah I guess that's a tough one. Good luck to him on that choice – he knows his game so I'm sure he'll pick the right guy."