Coach's advice to Walsh: You can't be Billy Slater overnight
Author

Publish Date

Thu, 24 Mar 2022, 12:52pm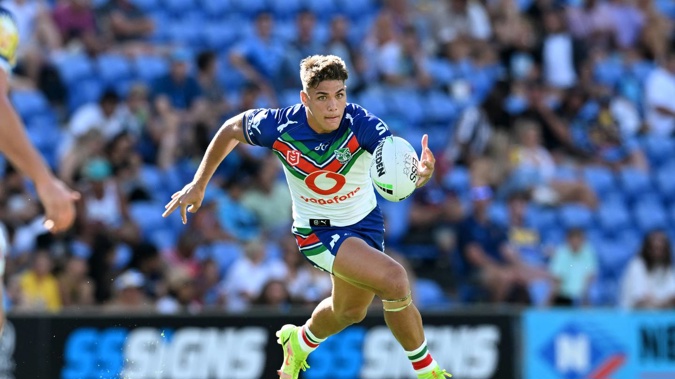 Coach's advice to Walsh: You can't be Billy Slater overnight
Author

Publish Date

Thu, 24 Mar 2022, 12:52pm
From the way Reece Walsh burst onto the NRL scene in 2021, it could be easy to forget the young Warriors fullback is still a novice. 
The 19-year-old has come through the younger grades with plenty of people tipping him as a star of the future, and his signing with the Warriors in 2021 was considered a major coup for the club. 
Making his NRL debut in late April, displacing the departing Roger Tuivasa-Sheck at fullback, Walsh turned heads quickly with his dynamic attacking game and earnt a call-up to the Queensland State of Origin squad later in the year. 
It was a debut campaign to remember, but one that might have seen expectations of him rise beyond what was anticipated for someone still learning on the job. 
"I have chats regularly with (coaches Nathan Brown and Justin Morgan), and I sometimes forget I'm still learning as well," Walsh says. 
"I'm pretty hard on myself. I want to be this fantastic player now and it's hard to forget how many games I've played and how young I am. I've still got a lot of growth to go. 
"I was just talking with Morgs about Billy Slater and how good he was when I was watching. One thing he said to me was don't expect to try and be that player overnight. It took Billy many years to become the player he did; it took a lot of lessons and I think it's hard for people on the outside to also see that. 
"But I'm just grateful to have the coaching staff and the players that I do here at this club who keep chipping me up when I'm doing things wrong, tell me where I'm doing good things and where I need to keep working." 
Wanting to someday reach similar heights as Australia and Queensland great Slater, who is widely regarded as one of the best fullbacks to ever play the game, Walsh has been fortunate to have the opportunity to pick the 323-NRL match veteran's brain on occasion – as recently as this week. 
Walsh says it's a welcoming part of the game that players – past and present – are more than willing to have a conversation about various areas and how you can improve your performance in them. 
There were a few of those in his first outing of the year in the Warriors' loss to the Gold Coast Titans last weekend – an individual performance that Walsh was realistic about. 
"I'm pretty disappointed at myself and the way I played out there. There were some key moments and some key things in the game I just didn't get right. Luckily enough we've got another game this week so I can go out there, take the lessons and keep trying to put my right foot forward." 
Walsh will again don the No 1 jersey for the Warriors' clash against Wests Tigers on Friday night, looking for a better performance. 
That is as far ahead as Walsh is willing to look, downplaying suggestions that he has been considering opportunities at other clubs at the conclusion of his deal in 2023, which has a player option for the 2024 season. 
Rather than focusing too far forward, Walsh says he is more worried about the things he can do now to join the competition's elite. 
"It's a vision. You watch these players – the Clint Guthersons, the Tom Turbos (Trbojevic), (James) Tedesco, (Ryan) Papenhuyzen – you see all the work they do and me, being a fullback, the fans might not see all the stuff or have the knowledge of how hard they work off the ball and the little things they do to put themselves in the good positions. 
"That's somewhere I want to get to and the only way I'm going to get to that point is if I keep working hard, keep getting the advice and knowledge off my coaching staff – the people that are willing to help me. It just comes down to me listening to them and actually putting it in play."