NZ marches in Winter Olympics closing ceremony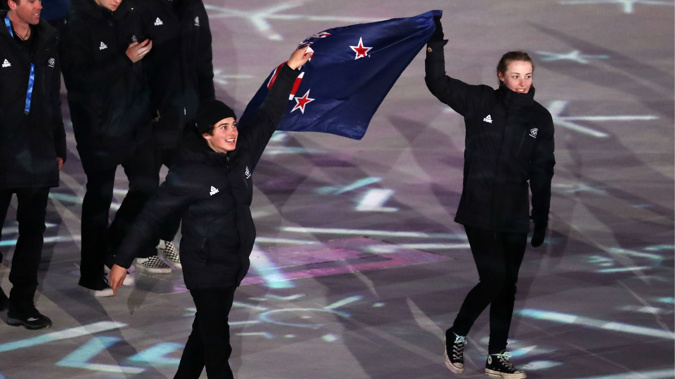 NZ marches in Winter Olympics closing ceremony
New Zealand has marked the end of a successful PyeongChang campaign, with around 25 of its athletes and officials marching at the closing ceremony.

Snowboarder Zoi Sadowski-Synnott, 16, carried the flag after being bestowed the honour for ending the country's 26-year Winter Olympic medal drought.

"Only a few people get to do it, which is crazy," Sadowski-Synnott, who won bronze, said on Sunday.

"I hope I represent our team, New Zealand, well. It's really cool being able to walk with all the other flagbearers."

Flagbearers entered PyeongChang Olympic Stadium before their fellow athletes and stood in a circle in the centre, with the parade then happening around them.

Freestyle skier Nico Porteous led out New Zealand's team having won a bronze medal hours after Sadowski-Synnott to see the country exceed its expectations of at least one medal.

Athletes danced and sang together in one-degree Celsius temperatures at the vibrant ceremony as South Korea brought the curtain down on its "Peace Games".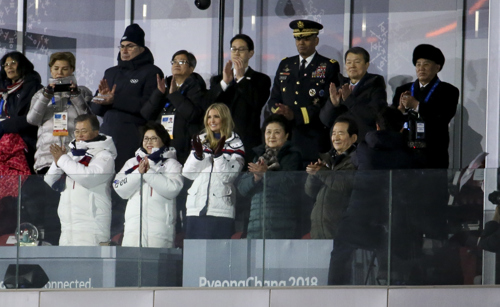 Ivanka Trump sits with the President of South Korea one row in front of General Kim Yong Chol of North Korea. (Photo / Getty)
US President Donald Trump's daughter Ivanka attended and sat in the same box with Kim Yong Chol, vice chairman of North Korea's ruling Worker's Party Central Committee.

They did not appear to interact when South Korean President Moon Jae-in shook hands with dignitaries at the beginning of the ceremony.

Also in attendance were the North Korean cheerleaders who have captivated the world over the past few weeks.

Despite the divisions and distrust between the two Koreas, they agreed to have their athletes march together at both the opening and closing ceremonies under a banner of unification.

They also fielded a unified women's ice hockey team.

IOC President Thomas Bach paid tribute to the athletes, saying they were an example to the world.

"You have shown how sport brings people together in our fragile world; you have shown how sport builds bridges," he said.

"The IOC will continue this Olympic dialogue, even after we extinguish the Olympic flame.

"In this, we are driven by our faith in the future."

During his speech, Bach invited several athletes to join him on stage, including South Korea's gold medallist skeleton rider Yun Sung-bin, North Korean figure skater Ryom Tae Ok, American skier Lindsey Vonn and shirtless Tongan flag carrier Pita Taufatofua.

Bach signed off by calling upon the youth of the world to gather in Beijing in four years' time for the 2022 Winter Games.

Russian athletes marched without their flag after the International Olympic Committee upheld the ban against them.
- AAP