NRL 2020: Cardboard cutouts in the stands for NRL return has taken a darker turn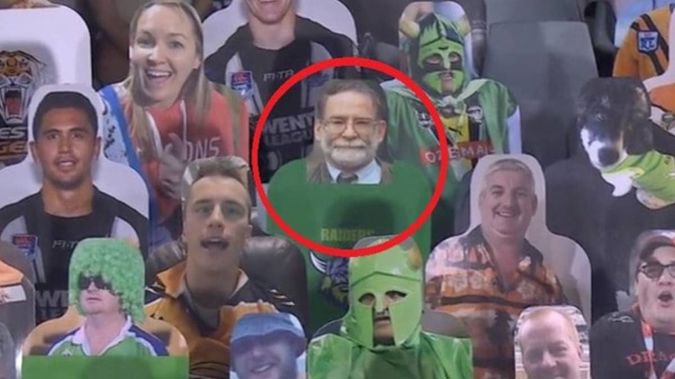 NRL 2020: Cardboard cutouts in the stands for NRL return has taken a darker turn
Round three of the NRL has been run and done with rave reviews from fans.
The action on the field has been quicker, the referees have stayed mostly out of the spotlight and most fans don't seem to mind the stadium sounds on the broadcast.
The only issue has been fans not being allowed in but the NRL's Fan In The Stands promotion has given fans the chance to buy a cardboard cut out to fill out the seat in the stadiums.
For just $22, fans can pay to have their likeness — or apparently any likeness — in the crowd at a game, including cute dogs in the stands.
Channel 9's live coverage of the Friday night's match between the Rooster and Rabbitohs even featured commentators Phil Gould and Ray Warren having a giggle at the sight of a cut-out of a fan's dog sitting in the stands.
My dog was just on national TV. Best $22 I've ever spent #NRLRoostersSouths pic.twitter.com/YaKXNWdATX

— Matt Bungard (@TheMattBungard) May 29, 2020
While other dogs have followed suit along with screaming fans and diehards who went the full makeup look, others have slipped through.
Even British PM Boris Johnson's chief adviser who broke Covid-19 restrictions to travel 402km to visit his parents farm during the pandemic made an appearance.
In the NRL someone paid $22 dollars to put Dominic Cummings as a spectator (fans could pay to be in the 'empty stadium')

Fair play whoever@afneil @IainDale @DPJHodges pic.twitter.com/3Jt2wwgP8b

— Blindly Left Behind (@Adayint72749316) May 30, 2020
But at Sunday's thriller between the Penrith Panthers and Newcastle Knights, the joke got a bit darker.
As the game passed into golden point, the camera panned and settled on a section of the crowd.