Spain's World Cup-winning women's players refuse to end their boycott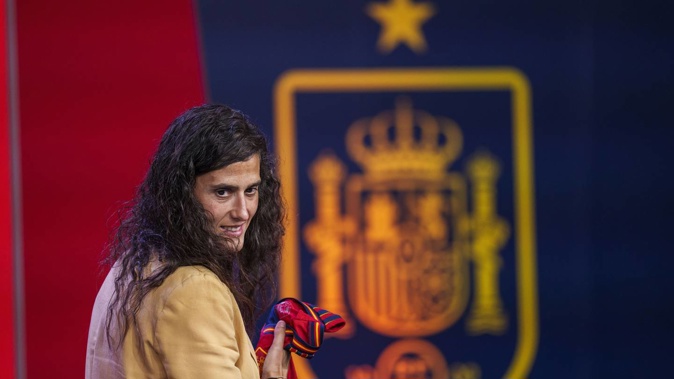 Spain's World Cup-winning women's players refuse to end their boycott
Spain's World Cup-winning women's players don't plan to end their boycott of the national team despite being called up for the squad by new coach Montse Tomé on Monday.
The players said they were caught by surprise by the call-up after they had made clear their decision not to play for the national team until their demands for change at the Spanish soccer federation were met.
Tomé selected nearly half of the 39 players who had signed a statement refusing to play for the national team — including 15 World Cup winners — after former federation president Luis Rubiales refused to resign for kissing player Jenni Hermoso on the lips at the World Cup awards ceremony in Sydney last month. Rubiales eventually stepped down and coach Jorge Vilda was fired, but the players said their demands for deep reforms and new leadership had not been met yet.
Tomé said she decided not to call up Hermoso "to protect her" after the player was caught in the middle of the controversy that led to an institutional crisis and brought embarrassment to Spanish soccer. The new coach, who was an assistant to Vilda at the World Cup, did not say whether it was Hermoso who asked not to be called up.
In the players' new statement on Monday, they said the federation can't force them to join up with the team and said the call-up was not made in accordance with current FIFA regulations. They would have to report to training camp on Tuesday morning in Madrid, though some are abroad and would not be able to make it in time.
According to Spanish sports law, athletes are required to answer the call of their national teams unless there are circumstances that impede them from playing, such as an injury.
Spain's new women's national team coach Montse Tome, centre, holds a jersey during her official presentation with her technical staff at the Spanish soccer federation headquarters. Photo / AP
"As professional athletes, after everything that happened today, we will study the possible legal consequences to which the federation exposed us to by including us in a list in which we had asked not to be in because of the reasons that we already publicly explained," the players said. "We regret once again that our federation has put us in a situation in which we never wanted to be in."
Tomé said she talked to the World Cup-winning players that she selected and expected them to report to the training camp on Tuesday. She said no player asked not to be called up, but hadn't said whether they had actually agreed to end their boycott.
 "The players are professional and I believe that they will do their job well," Tomé said. "They are world champions, they love their profession. It's a privilege to be in the Spanish national team and I know that they will be here with us tomorrow (Tuesday)."
Tomé also included in her first list some of the players who last year had rebelled against Vilda asking for a more professional environment.
Spain's new women's national team coach Montse Tome holds a jersey during her official presentation. Photo / AP
Spain will play Nations League games against Sweden on Friday and Switzerland on September 26.
Tomé had been originally scheduled to announce her squad on Friday, but the federation postponed her news conference 20 minutes before it was supposed to happen because of the boycott.
Monday's squad announcement came after the federation released a statement in which it publicly reiterated to the players its commitment to structural changes in the institution.
 "We urge the players to join these changes led by the federation, knowing that these transformations must be fair and solid," the federation said. "We guarantee a safe environment for the players and we are committed to promoting mutual trust so that we can work together and ensure that women's soccer continues to progress strongly."
Among the players' demands was for interim president Pedro Rocha also to resign, and for the women's team staff to be overhauled.
The federation had said Rocha would lead "a process of transition" until the federation can hold elections.
Take your Radio, Podcasts and Music with you