Schumacher's brother provides heartbreaking update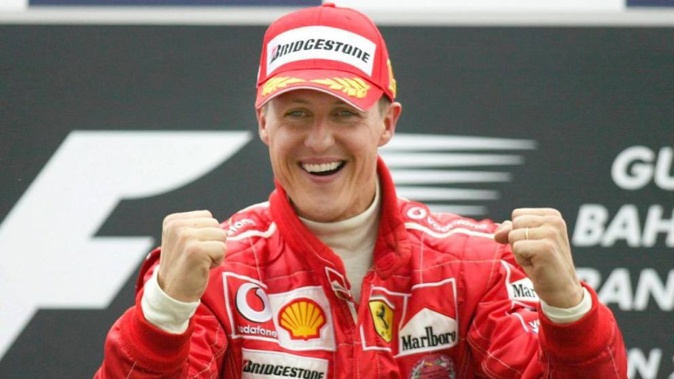 Schumacher's brother provides heartbreaking update
The brother of seven-time Formula 1 Michael Schumacher has provided a rare update on his condition, 10 years after he suffered a near-fatal brain injury. 
Schumacher suffered the injury in a skiing accident in the French Alps in 2013 and very few updates have been provided on his condition. 
He fell and hit his head on a rock, needing 250 days in a medically induced coma before returning home. He has not been seen in public for more than a decade. 
"Unfortunately, sometimes life isn't fair," Ralf Schumacher told German magazine Bunte when asked about contact with his brother's family. 
"We have to accept it." 
"When I see his children Gina-Maria and Mick, my heart smiles," he said. 
"If someone in the family is looking for my advice, I'm there. They go their own way." 
Even some of those closest to one of the most famous names in motorsport have been in the dark about his condition. 
In 2020 Italian media reported that French cardiologist Philippe Menasche was set to perform a new stem cell operation on Schumacher to "regenerate his nervous system". 
According to further reports, the Covid-19 pandemic put an end to those plans. 
Schumacher has been treated at home in a mansion in Switzerland since September 2014, and former Ferrari teammate Felipe Massa revealed he remains in a "difficult phase". 
Schumacher's son Mick, also a Formula 1 driver, said in 2022: "I would give anything to talk to Dad." Photo / Getty Images 
Earlier this year a close friend of Schumacher claimed the former champion is a "case without hope". 
F1 journalist Roger Benoit, a friend of Schumacher, claimed in September the 54-year-old's case is one "without hope" in a devastating update. 
During an interview with Swiss newspaper Blick, he refused to elaborate on the specifics of Schumacher's condition, referring to a rare 2022 interview in which Schumacher's son Mick said: "I would give anything to talk to Dad." 
"This sentence says everything about how his father has been doing for over 3500 days," Benoit said. "A case without hope.'" 
Mick Schumacher drove in Formula 1 for Haas in 2021 and 2022 and is now a reserve driver for Mercedes and McLaren. 
He said in 2022: "I think Dad and me, we would understand each other in a different way now. 
"We would have had much more to talk about, and that is where my head is most of the time, thinking that would be so cool. I would give up everything just for that." 
In April a German publisher fired one of its magazine's editors and apologised to the family of Schumacher for publishing a fake interview that was generated by artificial intelligence. 
"This tasteless and misleading article should never have appeared. It does not in any way correspond to the standards of journalism that we – and our readers – expect from a publisher like Funke," Funke magazines managing director Bianca Pohlmann said. 
Pohlmann said Funke was firing the chief editor of Die Aktuelle magazine, where the so-called interview appeared, and the group apologized to Schumacher's family. 
Take your Radio, Podcasts and Music with you