Michael Cheika: I won't pick Israel Folau anymore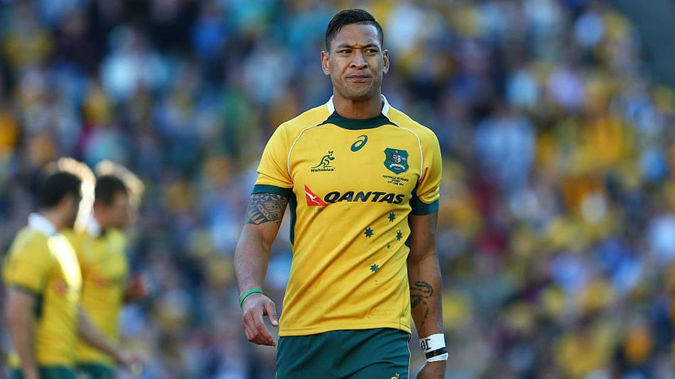 Wallabies coach Michael Cheika has confirmed that he won't pick Israel Folau anymore, following the player's religious-based attacks on various people including drunks, homosexuals, adulterers and atheists.
Folau has been stood down by New South Wales and Rugby Australia intends to terminate his contract.
Speaking to media today Cheika stated Folau won't be playing for the side which is a major blow in a Rugby World Cup year.
Cheika said he had attempted to contact Folau several times since the player posted on social media last week.
"No I haven't spoken to him," Cheika said.
"Based on what I've just said, we wouldn't be able to pick him," he added.
"If I'm honest my reaction was that we'd had that discussion and that line has been crossed," Cheika said when asked about his thoughts on the controversial posts.
However, Folau is sticking to his guns. In a new interview, Folau said what becomes of his rugby career was now purely God's will.
"It's obviously a decision that's in the process right now but I believe in a God that's in control of all things," Folau told the Sydney Morning Herald.
"Whatever His will is, whether that's to continue playing or not, I'm more than happy to do what He wants me to do."
Folau said he would not mind one bit if his rugby career was done as long as he got to do The Lord's work.
"First and foremost, I live for God now. Whatever He wants me to do, I believe His plans for me are better than whatever I can think. If that's not to continue on playing, so be it.
"In saying that, obviously I love playing footy and if it goes down that path I'll definitely miss it. But my faith in Jesus Christ is what comes first."
When confronted with the issue of whether he felt his comments on sinners, specifically the gay community — that he alluded to in this week's social media post — and ones he made in the past were something he would like to reconsider, Folau doubled down and backed his views.
"Absolutely not," he said.
"I'll stand on what the Bible says. I share it with love. I can see the other side of the coin where people's reactions are the total opposite to how I'm sharing it.
"But in Ezekiel, chapter 33, verse 11, it says that 'God has no pleasure in the person that's living in sin' — He's a loving God and he wants people to turn away from what they're living in and he'll give them life."
Despite a large amount of criticism being directed at him Folau said he has the support of his church family and that he does not bare any ill will to those who have delivered harsh comments towards him in the past week.
"Obviously it's a tough time but for me I find comfort in obviously what the Bible says," Folau said.