Melbourne Cup: Updates, odds, tips, results from Flemington
Author

Publish Date

Tue, 2 Nov 2021, 1:53pm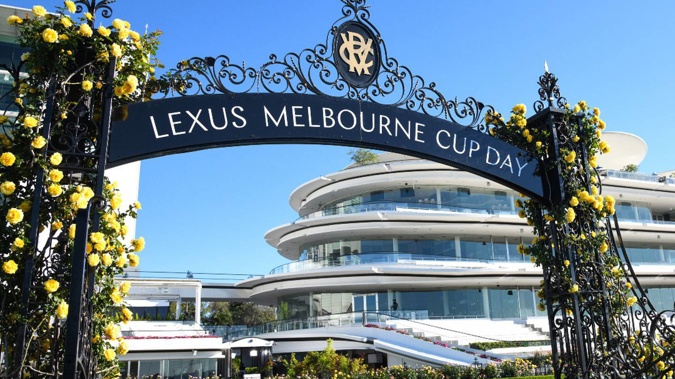 Melbourne Cup: Updates, odds, tips, results from Flemington
Author

Publish Date

Tue, 2 Nov 2021, 1:53pm
Verry Elleegant has won the Melbourne Cup to give trainer Chris Waller his first ever Cup victory after Kiwi jockey James McDonald piloted the horse to a perfect position before she exploded down the final straight to blow the field away.
Verry Elleegant was positioned perfectly to make her run down the straight past the grandstand, shooting past race favourite Incentivise with more than 200m to run.
Incentivise finished second with Spanish Mission in third and Floating Artist fourth.
Huge betting move on Cup 'freak' 
There's been a significant move on race day with Melbourne Cup lightweight Floating Artist being crunched into $13 with bookmakers. 
The six-year-old import was $16 to start the day, but the Maher & Eustace galloper is now into $13. 
Floating Artist was only able to sneak into the Cup as a result of the attrition rate before the final field was made official. 
Sky Sports Racing expert Deane Lester said on Tuesday morning Floating Artist could have won all five of his most recent races. 
"Floating Artist has come from nowhere," he said of the late interest in the six-year-old gelding. 
"He's got an element of freak about him." 
There have also been huge plunges on unfaniced horses.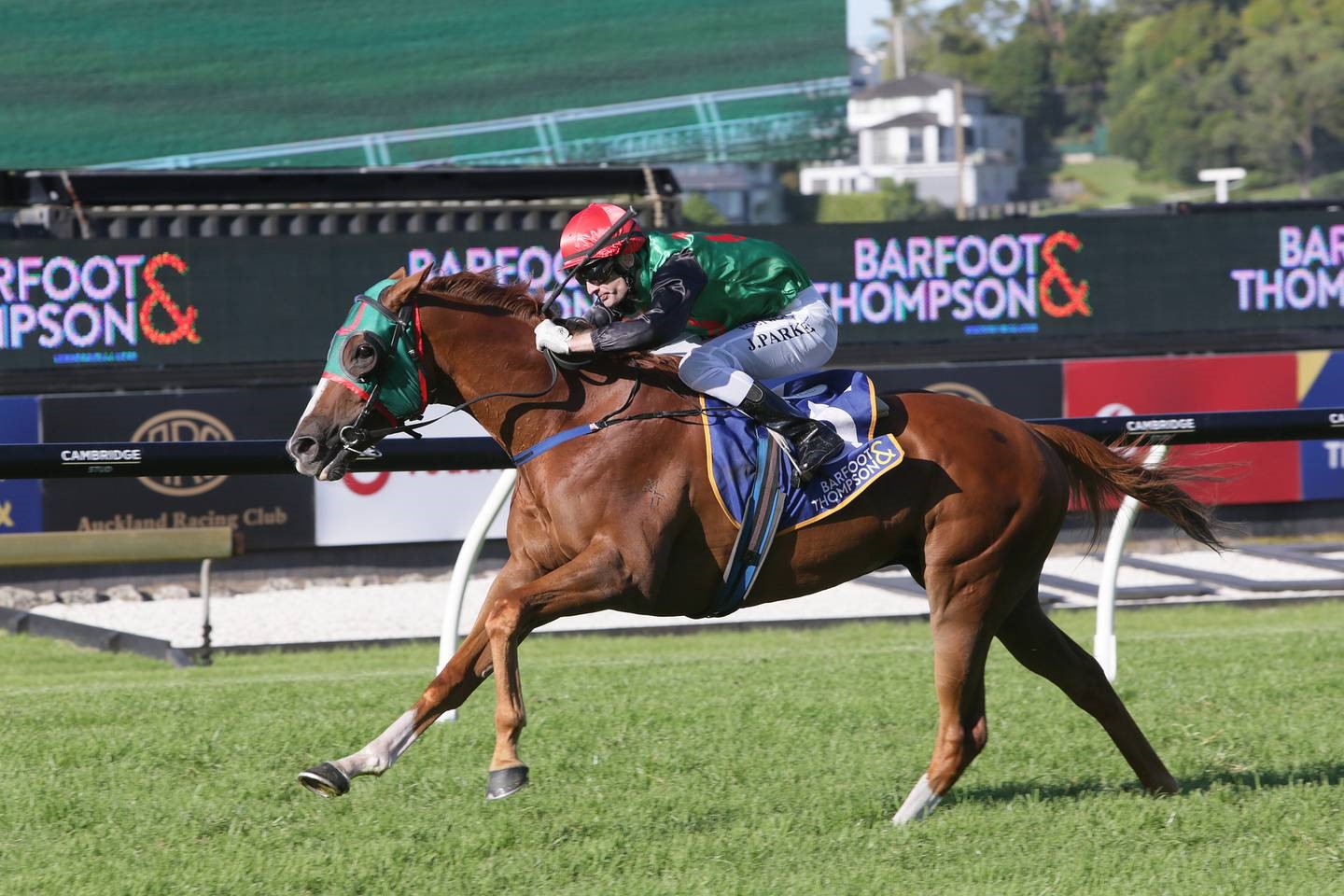 NZ horse Ocean Billy will be going for Melbourne Cup glory. (Photo / Trish Dunell) 
Kiwi Ocean Billy has firmed from $126 on Saturday into $34 with the TAB. 
Johnny Get Angry, trained by former North Melbourne AFL coach Denis Pagan, has also been slashed from $151 into $61. 
Race 6, The Schweppervescence Plate result 
1 – Profiteer 2 – Direct 
3 – Enthaar 
Shocked legend gives his tips for the Cup 
Aussie sporting icon Bruce McAvaney says he can't believe the rapid rise of red-hot Aussie star Incentivise. 
The legendary racing caller is in disbelief at the five-year-old's fairytale run from the obscurity of Queensland racing to become the most talked-about horse in Australia. 
"He was an also-ran six months ago," McAvaney told Channel 7. 
"He was a no-hoper. So you can't believe that he's in this position. He's won nine in a row, including the Caulfield Cup, so he's captured the hearts of the nation. 
"I think most of Australia will be riding on his back today." 
The 68-year-old says foreign raider Grand Prmenade looks the biggest threat to the short-priced favourite. 
Race 5, Grinders Coffee Roasters Trophy result 
1 - Lackeen 2 - Frankie Pinot 
3 - Blondeau 
The Kiwi riding the in-form Great House 
Michael Dee, 25, son of former racehorse trainer Richard Dee and wife Jo, rides the former Ireland galloper Great House, one of four cup starters trained by former Foxton trainer Chris Waller. 
Great House carries the lightweight of 50kg, is No 23 in the book, drew 7 at the barrier and just before midday was paying $18 to win in fixed-odds betting at the TAB. 
A win for Dee would be one of the great racing yarns for, when he climbs aboard in the birdcage today, it will be his first time on the horse's back; and while the horse has a career tally of 501 winning rides, both of his previous mounts in the Cup finished last. 
Race 4, Furphy Plate result 
1 - Milton Park 2 - Skyman 
3 - Charleise 
Big error has come back to bite Cup favourite 
Red hot Cup favourite Incentivise has been burned by a mistake two-months in the making, according to Cup personality Lloyd Williams. 
Williams, who has the record with seven Cup wins as an owner, has pointed out the five-year-old gelding has been punished with a handicap of 57kg on the back of nine consecutive wins this preparation. 
Despite the extra weight, Incentivise is still one of the shortest priced favourites in the history of the great weight-for-age race.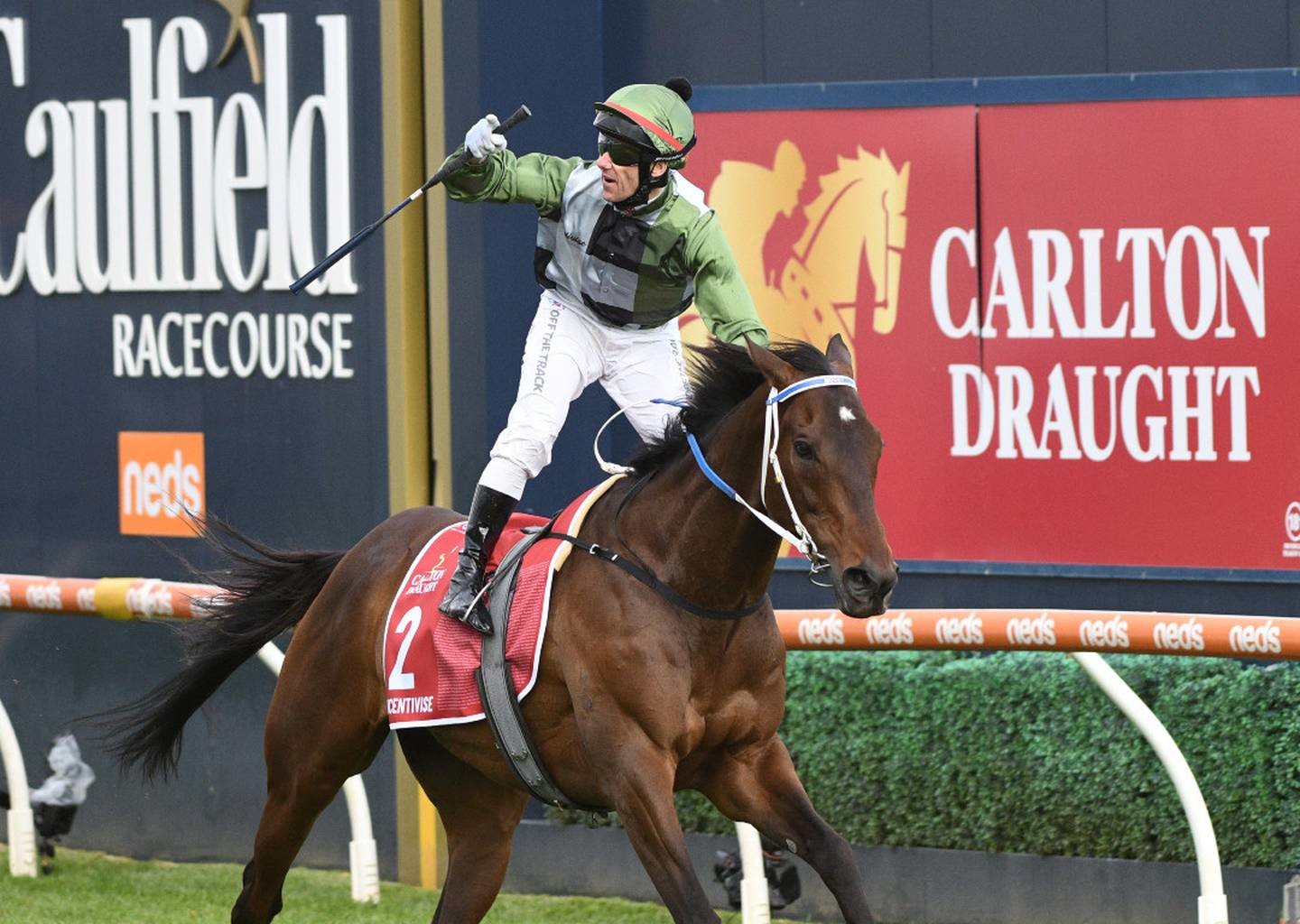 Brett Prebble riding Incentivise in the Caulfield Cup. (Photo / Getty) 
Williams says the owners of Incentivise made a big error in running the Peter Moody-trained horse in the Group 1 Makybe Diva Stakes in September — a win that put the horse's weights for the Cup up with the handicappers. 
The $600,000 prize was simply too good for the connections to ignore. 
"The big thing about him, with great respect to them (connections), I think they handled him very badly running him in the Craiglee (Makybe Diva Stakes) and getting his weight up too soon," Williams said, according to punters.com.au. 
"They could have run him in a 1700m race that day and he wouldn't be carrying the weight he's carrying, he'd probably have 55.5kg or 55kg. He's 2.5kg under the scale at 57kg, it's a serious weight for two miles. If you look at Twilight Payment, he's won the Cup at two miles and he's giving him [only] 1kg. Now this horse hasn't won a Melbourne Cup and he's only getting 1kg off. But I think he might be something very special." 
Despite his criticism of the preparation, Williams still believes Incentivise will be hard to beat. 
Blaike McDougall does the double in Race 3, Subzero Handicap 
Jockey Blaike McDougall has his second win on Cup day after riding Exelman to victory in the 1400m Subzero Handicap. 
The Richard Laming-trained horse powered past runner-up Naval Envoy in the final 100m to win by a length. McDougall also piloted Team Captain to win Race 2. 
Race 3 result: 
1 - Exelman 2 - Naval Envoy 
3 - Standoff 
Race 2, The Macca's Run result: 
1- Team Captain 
2- Accountability 
3- Good Idea 
4- Lion's Share 
Race 1, Darley Maribyrnong Plate result: 
1 - Brereton 
2 - Renosu 
3 - Le Gagneur 
'Nup to the Cup': Protestors storm Flemington gates 
Animal rights activists have been intercepted by police at the entrance to the Melbourne Cup. 
Several protesters dressed in black were filmed being arrested about 10.30am outside the Flemington venue on Tuesday. 
They reportedly marched towards the gates shouting "nup to the cup". 
Members from the Coalition for the Protection of Racehorses were behind the protest, with the group allowing just 30 people to join in compliance with Victoria's current Covid rules. 
Seven horses have died on Cup Day since 2013. 
ABC news presenter Michael Rowland said the figure left him feeling "conflicted". 
"I am increasingly conflicted about the Melbourne Cup," he wrote in a tweet. 
"Yes, it's a huge event (and God knows Melbourne needs them at the moment). But I can't overlook the fact seven horses have died on Cup Day since 2013. That really doesn't sit easily with me. Genuinely torn." 
Anthony Van Dyck, one of the favourites in last year's event, fractured his fetlock on the track and was later euthanised, becoming the seventh Melbourne Cup horse death in as many years. 
In 2018, Cliffsofmoher had to be euthanised after suffering a fractured shoulder, In 2013, Verema was euthanised after snapping a bone in her leg, and in 2014, Admire Rakti collapsed and died in his stall after a race, while Araldo broke a leg and was euthanised. 
In 2015, Red Cadeaux broke his left foreleg, was rushed to the vet for surgery and was euthanised days later. 
In 2016, Regal Monarch died after a dramatic mid-race fall. 
Late plunge on Melbourne Cup runner 
Johnny Get Angry has been slashed to $71 with some bookmakers — less than half the price the unfancied four-year-old gelding was 24 hours out from the Cup. 
The New Zealand horse, which is trained by former North Melbourne AFL coach Denis Pagan, had been $151 with the TAB on Monday. 
Harness racing expert and professional punter Matt Leppard wrote on Twitter the big move in the market "is beyond me". 
'Just very sad': Disaster strikes on Cup morning 
Future Score has been scratched from the race after being re-examined by vets this morning with lameness in his right foreleg, bringing the field down to 23 runners. 
It is a devastating blow for trainer Matt Cumani and jockey Dean Yendall. 
"Just very sad for the owners of the horse, we thought he was a better chance than 200-1, he was really peaking for this week," Cumani told SEN on Tuesday morning. 
The trainer questioned the last-minute decision and was critical of the "ultra-conservative" stance from Racing Victoria. Safety measures for Cup runners have been ramped up this year as a result of an investigation into safety practices after six horses died in the Cup over the past seven years. 
Cumani said the strict measures went too far for his runner. 
"I think there's a lot of pressure on Racing Victoria to be ultra, ultra conservative. And for them it was a real margin call, it went down to 7.29am to make the decision," he said, according to racing.com. 
"They decided to be ultra-cautious. I can understand their point of view when they don't know a horse inside out. But for me and my vet, who know him inside out, and know he presented in the same way going into the Cranbourne Cup, which he won convincingly, it's a bit frustrating." 
He said he expects Future Score to race again this month. 
Meanwhile, Delphi ($21) has been given the all-clear to race in the Melbourne Cup after passing an extra veterinary test this morning. 
Delphi presented signs of lameness in his left foreleg on Monday, but pulled up fine on Tuesday and vets have given him the green light. 
Melbourne turning it on with record temperature 
The 2021 Melbourne Cup will be run in the hottest conditions seen at Flemington since 2005 with the mercury set to reach 30C. 
The heat won't stop the crowd of 10,000 enjoying the day out. 
Flemington race times (all times NZT) 
RACE 1 (12:45PM): GROUP 3 DARLEY MARIBYRNONG PLATE (1000m) 
RACE 2 (1:20PM): THE MACCA'S RUN (2800m) 
RACE 3 (2PM): RESIMAX GROUP SUBZERO HANDICAP (1400m) 
RACE 4 (2:40PM): LISTED TAB FURPHY PLATE (1800m) 
RACE 5 (3:20PM): GRINDERS COFFEE ROASTERS TROPHY (1400m) 
RACE 6 (3:55PM): THE SCHWEPPERVESCENCE PLATE (1000m) 
RACE 7 (5PM): GROUP 1 LEXUS MELBOURNE CUP (3200M) 
RACE 8 (6PM): GROUP 3 HONG KONG JOCKEY CLUB STAKES (1400m) 
RACE 9 (6:40PM): LISTED TAB TROPHY (1800m) 
RACE 10 (7:15PM): MSS SECURITY SPRINT (1200m)