Live updates and commentary: Prada Cup semifinals - day two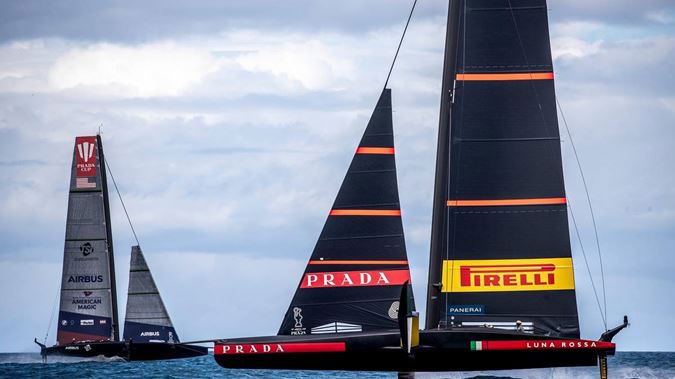 Live updates and commentary: Prada Cup semifinals - day two
Join us here for today's live blog of the Prada Cup semifinal between Luna Rossa and American Magic in Auckland and listen to live commentary with Peter "PJ" Montgomery below:
All you need to know ahead of day two of the Prada Cup semifinals.
There could be a delayed start to Prada Cup semifinal racing today, with light winds expected.
Winds of between 7-10 knots are expected for the start of the first race between Luna Rossa and American Magic at 3.15pm, with the wind having to be above 6.5 knots – measured between nine and four minutes from the start - for racing to get under way.
Racing is set for Course A, and with breeze expected to die around 5pm, there could be a short window in which to allocate the two scheduled races – with 6pm the latest the races can begin.
The time limit for each race is 45 minutes, and the first leg must be completed within 12 minutes. The course can be shortened to four legs if required.
Sunday's forecast looks less promising, meaning Luna Rossa – who are two wins away from progressing to the Prada Cup final - could have their potential progression delayed if races aren't able to be completed today, even if American Magic don't pick up a win.
Two races are scheduled for today and Sunday, with a potential seventh and final race set for Tuesday if required. The first team to four wins advances to the Prada Cup final to take on Ineos Team UK.
Ineos and America's Cup defender Team New Zealand are allowed to practice on the course up to 25 minutes before the start.
Schedule
There are two races scheduled today, with the first to get under way at 3.15pm - weather permitting. The semifinal could be over by tonight - if Luna Rossa win both races, they will take an unassailable 4-0 lead and advance to take on Ineos Team UK in the Prada Cup final. If American Magic pick up a win, there will be racing continuing on Sunday. The first team to four wins makes the final.
Odds
Prada Cup semifinal series winner:
Luna Rossa - $1.09
American Magic - $6.00