America's Cup: Team NZ level America's Cup series 2-2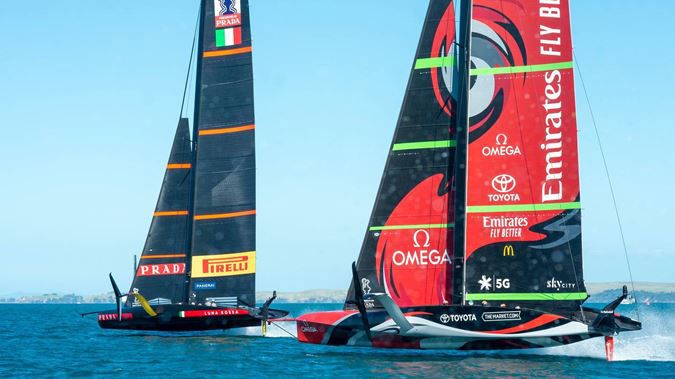 America's Cup: Team NZ level America's Cup series 2-2
Emirates Team New Zealand have bounced back to emphatically level the America's Cup match against Luna Rossa.
The defender has won race four by one minute and three seconds after losing race three by 37 seconds.
The team with Port entry at the start has won each race in the best of 13 race series so far.
Peter Burling won the start and Team New Zealand led by nine seconds after a tight first leg.
They extended to 34 seconds around the second mark which they maintained on the second upwind leg.
Downwind the Kiwis extended to 48 seconds and to 58 on the final upwind leg.
More light winds are forecast for races five and six in the best of 13 race series tomorrow.
Schedule:
The America's Match is a best of 13 series, with the winner being crowned champions and awarded the Auld Mug. The racing window for each race day will be around 4pm-6pm, with the first race of each day scheduled for 4.15pm.
Mar 12: Race 3 and 4
Mar 13: Race 5 and 6
Mar 14: Race 7 and 8
Mar 15: Race 9* and 10*
Mar 16: Race 11* and 12*
Mar 17: Race 13*