'Woke up in the ambulance': Kiwis star recalls shocking on-field incident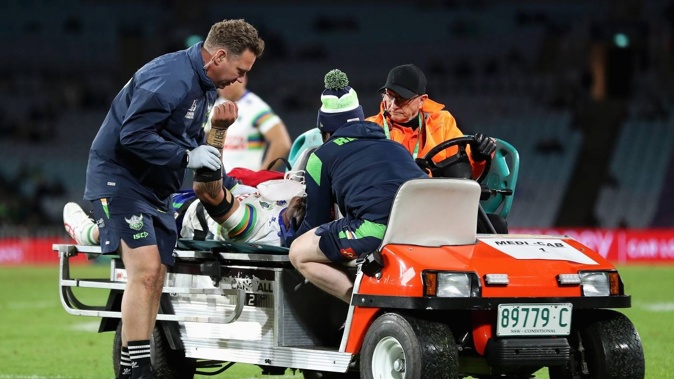 'Woke up in the ambulance': Kiwis star recalls shocking on-field incident
Canberra and Kiwis second rower Corey Harawira-Naera still knows little about the incident that shocked the NRL and threatens to derail his career - nearly six months on. 
"I don't think we will ever get to the bottom of why it happened," he says. 
He is referring to the match against South Sydney in May of this year and the heart-stopping images that circulated of him prone on the turf. Harawira-Naera suffered what is thought to be a delayed reaction to a head knock and he describes it as an "out-of-body experience". 
The match was delayed after Harawira-Naera suffered a seizure as fan and television view was obstructed by a wall of players. One of those watching at home was Harawira-Naera's son Elijah. 
"The hardest part was knowing he broke out in tears watching on TV," Harawira-Naera says of his 6-year-old, who has refused to participate in junior footy games since the incident. 
"He doesn't want to play again and that's probably because I'm not on the field. I'm not going to push him to play if he doesn't feel confident playing. 
"When he gets a bit older he will understand that these kinds of things happen out of the ordinary sometimes." 
Professionals are concerned that Harawira-Naera's condition be passed on and he is considering getting his son tested to put to bed fears it is hereditary. 
"We might go down the avenue of possibly getting a test done genetically to see if there is anything in my family that I have that I could possibly pass on to my little one," he says. 
Harawira-Naera himself has gone through an array of tests since the incident, some of which are ongoing. While results so far are encouraging, the cause of the incident may never be known. 
There are hopes Harawira-Naera will be medically cleared to return to the NRL for next season but the 28-year-old has been unable to resume training. 
"Talking to the cardiologist, looking at the vision, she thought it could have been a cardiac arrhythmic or something like that, which is a seizure caused by your heart. She was pretty confident it was more neurological," he says. 
"I did say that after it happened I do remember having a couple of head knocks in the game and it could have just been a delayed response to it. 
"It's about making sure we can get everything to return to normal. There were some funny rhythms in the heart and I've got a test in a couple of weeks. 
"The cardiologist just called me to tell me the troponin level [high levels can indicate heart damage] has returned to normal. 
Harawira-Naera hopes to be able to return to training soon. Photo / Getty Images 
"We have to make sure there are no funky [heart] rhythms. That's where we are at at the moment, it's one more hurdle to get over and tick. 
"The cardiologist is quite happy for me to return to some form of training if we do get those rhythms out of there." 
The earliest timeframe to return to restricted training duties is in mid-December and it would be a welcome Christmas gift. 
"I don't know if it's a surgery, but I have to put something in my system that tracks me for a couple of weeks," he says. 
"It's about a month away where I will see the cardiologist and return to some form of running and get amongst the boys. 
"I did have itchy feet by the end of the season, the last two rounds I was putting heat on the doc to clear me to play, just because I felt fine. 
"There were a few injuries at the back end of last season too, I was trying to make myself available. I'm not saying I was going to get straight back in. 
"The hardest part of the whole thing was knowing I felt fine. Trying to find out what was going on, I just had to hold myself back. Even at training, with the little conditioning stuff I was allowed to do, I wanted more. That's the best way to put it, I felt I wasn't getting a lot out of it. 
"It would be a lot easier if it was a hammy because I [would] know I literally can't run. I've felt fine since this happened, that's the frustrating part. I've realised now in hindsight that it's the best thing that I didn't rush back. 
"I did concentrate on the worst-case scenario, that if I didn't get cleared I would have to give the game up. 
Harawira-Naera scores a try against Manly. Photo / Getty Images 
"They assured me that I would be fine, it was just the cardiologist realising there could be an element of risk. Not high risk, it's still known it could possibly happen again, but we've pretty much ruled out any serious things at the moment. 
"We're trying to get everything back to normal." 
Harawira-Naera was unable to recall anything about the incident, and is forced to piece together what happened from video footage and teammate accounts. What he has been able to gather is this: about 40 seconds after limping in back play, Harawira-Naera returned to his position on the left edge and then collapsed. 
"Straight after I didn't remember anything," he says. "When I came to, which was in the tunnel in the back of the ambulance, that's when I first remember. 
"As time went on I started talking to people. They would say 'you started spinning around and you played the ball a couple of times'. 
"I just remember I played the ball, that last one, and then I looked into the crowd. From there, my eyes just sort of [were] fluctuating. I was gone until I woke up in the ambulance. 
"Watching the vision, it's a bit of an out-of-body experience because I just don't remember anything on the field as I was spinning around and falling onto the ground." 
Raiders and Rabbitohs players and staff rallied around him. Both sides admitted they struggled to complete the game. 
"I don't know how well I would have reacted if I saw another player doing that," Harawira-Naera says. 
There were times he feared he would be forced into premature retirement, despite having two years remaining on his deal with Canberra. 
"I would struggle straight away knowing it had been stripped away from you, but there are a lot of guys who have had it worse to finish up," he says. 
"It has played on my mind but after having a talk to that doc and the cardiologist and they think I'll be sweet to return eventually, I stopped thinking about it. 
"Hopefully I'm back on the [training] field this year. You'd still hope there was a lot left." 
Take your Radio, Podcasts and Music with you