Joseph Parker v Deontay Wilder: Kiwi heavyweight's blockbuster clash confirmed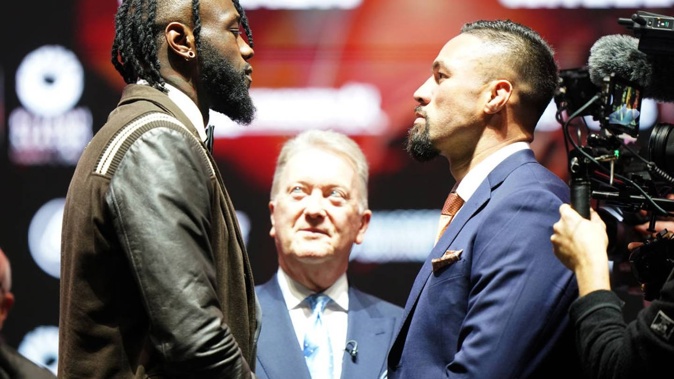 Joseph Parker v Deontay Wilder: Kiwi heavyweight's blockbuster clash confirmed
Kiwi heavyweight Joseph Parker says he has his "spark back" after one of his biggest bouts in recent years was confirmed today - a blockbuster against former WBC titleholder Deontay Wilder in Saudi Arabia next month.
It was confirmed today that Parker and Wilder will fight on the same card as Anthony Joshua's bout against Swede Otto Wallin. Fellow Kiwi Junior Fa also features on the card. The event is set for December 24, NZT.
Wilder will head into the bout having fought just one round in two years, while it will be Parker's fourth fight in 2023.
"We made a decision at the beginning of the year to keep busy. It's the fourth fight of the year and a fight that really excites me. Throughout my career I never went away from big fights and big opportunities and this fight against Wilder, I'm ready for it. I can't wait to get back into camp and put in work for this fight," Parker said.
"I respect Wilder, I respect Malik Scott, his trainer, and everything they've done in boxing but he's in my way. I know what I can do and I'm here to win."
Parker will have an advantage on his side having worked closely with WBC heavyweight title holder Tyson Fury, who defeated Wilder twice in their three meetings after the first was a draw.
"I rely on Andy Lee, my trainer, to come up with advice and a plan but Tyson has a lot of advice as well and knowledge on Deontay Wilder being a person to beat and having fought him three times, so I'll lean on Tyson in this camp," Parker said today.
"I feel like my career went down a bit but I've got my spark back. [You'll see] a lot of movement, a lot of speed," he added.
Parker's most recent victory was in Saudi Arabia when he defeated Simon Kean in a third-round knockout to take his record to 33-3.
Wilder (43-2-1) has an impressive power game having won 42 of his fights by knockout. He won the WBC title in 2015 when he beat Bermane Stiverne and held the belt for 10 fights before going down to Fury in 2020.
Wilder hasn't fought since a first-round knockout of Finland's Robert Helenius last October.
"When people come to heavyweight boxing they come to see excitement but mostly they come to see knockouts. One thing's for sure, when I come, I come to deliver," the 38-year-old said.
"With Joseph Parker, I think highly of him. He's an amazing human being as a man and a great fighter as well. It will be a remarkable feeling to be able to share a ring with him once and for all."
British heavyweight Derek Chisora heckled Parker at one point from the audience during the press conference before the Kiwi told him to "shut your mouth".
Fa (20-2) will also fight on the card, taking on Cuban heavyweight Frank Sanchez (23-0, 16 KOs).
Take your Radio, Podcasts and Music with you