Former NRL star Jarryd Hayne jailed for 5 years, 9 months for rape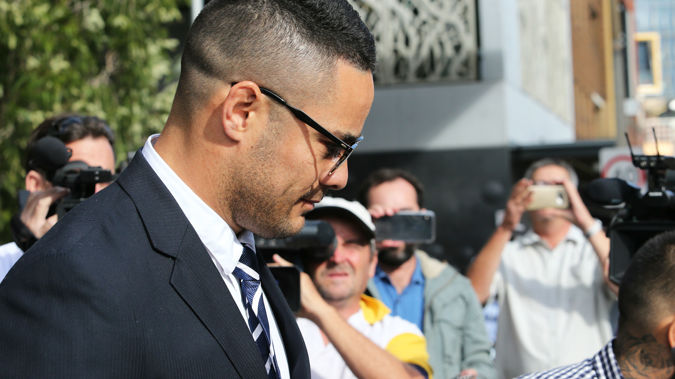 Former NRL star Jarryd Hayne jailed for 5 years, 9 months for rape
Former NRL superstar Jarryd Hayne has been sentenced to at least three years and eight months in prison for raping a woman at her home in Newcastle in 2018.
The former Kangaroos and New South Wales back, who won two Dally M medals during his first playing stint with the Parramatta Eels, was found guilty of raping the woman - who cannot be identified - in March.
Hayne was sentenced to 5 years and 9 months in prison, with a non-parole period of 3 years and 8 months.
When announcing her sentence, Judge Helen Syme addressed the court: "I do not accept that he was not aware that she was attempting to push him away and trying to physically resist him... it was very clear she said no several times".
Judge Syme added Hayne's upbringing, while difficult at times, had no link to his "entitled behaviour next to this young woman who simply refused to have sexual relations with him".
"At present he shows no remorse and does not accept a need to change his attitude to consent, to sex and to women."
Earlier, Hayne's victim spoke in court about rumours and innuendo that swirled around the case, saying the assault left her feeling "dirty and violated".
"People talk about my vagina, my choices, and like to give their opinions based on what they've heard and it is the most helpless feeling," the woman told the court on Wednesday.
The victim was left with two lacerations on her vagina, which bled profusely.
During her evidence, the woman said she refused to consent to sex because the ex-Parramatta fullback had a taxi waiting outside her Fletcher home.
The court previously heard that it was inevitable Hayne would be jailed after being found guilty of two counts of sexual assault.
He was found not guilty of the more serious charges of aggravated sexual intercourse without consent, recklessly inflicting actual bodily harm.
MORE TO COME
Where to get help:
If it's an emergency and you feel that you or someone else is at risk, call 111.
If you've ever experienced sexual assault or abuse and need to talk to someone call the confidential crisis helpline
on: 0800 044 334 or text 4334.
Alternatively contact your local police station
If you have been abused, remember it's not your fault.