Former All Black Fergie McCormick dies aged 78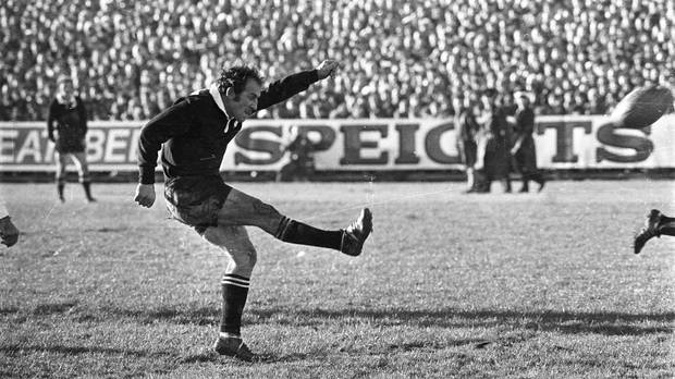 Former All Black Fergie McCormick dies aged 78
Former All Blacks fullback Fergie McCormick has died this morning in Christchurch Hospital.
He was 78 and had been battling throat cancer.
William Fergus McCormick played 28 times for the All Blacks between 1965 and 1971, including 16 tests, and was well known for his smallness – he stood only 1.71m – and his toughness.
In a profile on the All Blacks website, Lindsay Knight writes of McCormick, who was born in Ashburton on April 24, 1939: "In his heyday there were few more indomitable figures in the game and the stockily-built pocket battleship became celebrated for his fearless tackling.
"He was also one of the first running fullbacks, possessing a startling turn of pace and successfully adapting his style when the restricted kicking into touch laws were introduced in the late 1960s."
McCormick made a record 222 appearances for Canterbury in an 18-year representative career from 1958 to 1975, scoring a record 1297 points.
Fergie McCormick (left) and Murray Delieu from Greenpark
He was part of the Canterbury team that beat the Lions in 1959 and played in the infamous 1971 match against the same opponents, a bloodbath after which the tourists complained about the roughhouse tactics of the home side.
McCormick played 310 first class matches, scoring 2065 points throughout his long career.
A stalwart of the Linwood club in Christchurch's eastern suburbs, McCormick had trouble breaking into the All Blacks in the early to mid-1960s despite his consistently excellent form for Canterbury.
The legendary Don Clarke was a major impediment to McCormick's progress, and when Clarke was forced out through injury after the 1964 season, Wellington's Mick Williment was his preferred replacement.
McCormick's chance came in the fourth test against the Springboks in 1965 when Williment was injured.
Despite being 28 and considered to be in the twilight of his career, McCormick was chosen ahead of Williment for the 1967 tour of Britain and excelled under the coaching of Fred Allen.
Former Herald rugby writer TP McLean compared McCormick's defence and goalkicking on the tour to one George Nepia.