Chris Rattue: 'Do the right thing, Tana Umaga - resign'
Author

Publish Date

Sun, 3 Jun 2018, 6:11pm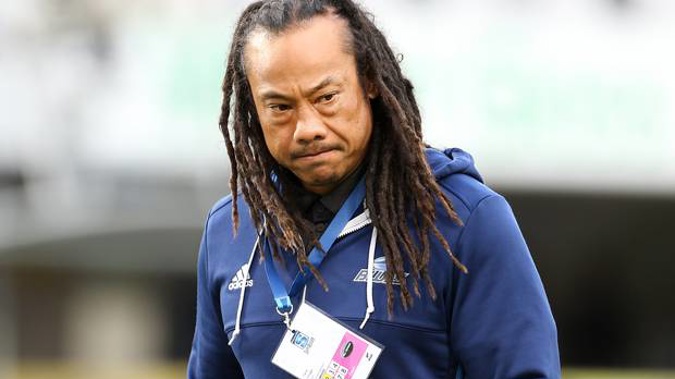 Chris Rattue: 'Do the right thing, Tana Umaga - resign'
Author

Publish Date

Sun, 3 Jun 2018, 6:11pm
Put Friday June 29 in your diary, a not-to-be-missed chance to see history made in the current rugby season.
The Queensland Reds are coming to town, and this could be that extraordinary moment when the Blues score a home victory in 2018.
No promises people, but the Reds are pretty awful.
The Chiefs, Sharks, Highlanders, Jaguares, Hurricanes, Crusaders and Rebels have all trundled out of Auckland with a win this season, another journey into hell for the Blues.
Except it can't be all that bad, because Tana Umaga has been retained for a fourth and presumably farewell season as coach. It's like putting on a street parade for a loser.
Do the Blues not care anymore? Have they given up?
People keep trying to tell me it's not Tana's fault. It's the Auckland culture, the players....blah, blah, blah. Not buying that.
The Blues signed off on the 2017 season by getting smashed by the Sunwolves in Tokyo. People hoped it was a weird blip. It wasn't. It was the truth.
Just over 10 months later, they are as bad as ever, and have just been dealt to by the Melbourne Rebels at Eden Park.
There was a team with an excuse on Saturday evening - the Melbourne Rebels.
Rugby hardly exists in Melbourne, and decent rugby hardly exists in Australia anymore.
Greater Auckland, meanwhile, has a deep rugby tradition and is full of great athletes who want to play the game. Allies Northland produce exceptional players.
Added to this, New Zealand's NPC is a quality Super Rugby feeder system Australian rugby can only dream of.
The Blues' appalling run gets even worse when you consider they are, quite logically, barely affected by All Black camps and the guarding of test players.
Yet while the Blues go from bad to worse, the Crusaders charge on thanks to players like Heiden Bedwell-Curtis, who is like a back-up to the back-ups.
Umaga has done the impossible, by taking the Blues backwards. (His Blues beat the Rebels by 38 points in Melbourne last year).
It couldn't get much worse although it might do next year with Umaga staying. There is no hope there, no light at the end of the tunnel. And yet, he's already been signed up for one more certain fiasco. Staggering.
The plaintive cry now is that Umaga is hamstrung because no decent young footballer will take the risk of signing for the Blues.
They certainly won't sign while Umaga is still there, that's for sure, whereas a new coach might stand some hope.
Retaining Umaga — by re-appointing him before this disastrous season had even ended — is among the most unprofessional, reckless and stupid decisions I have seen in sport anywhere.
It turns a bad joke into a laughing stock.
Enough is enough. Even a temporary coaching solution, if the chase is on for a big name signature for 2020, is better than this.
Only Umaga can get Umaga and the Blues out of this jam. Do the right thing, Tana Umaga. Resign.
(Note: I don't expect he will resign.)