'Embarrassing': SBW's assessment of Wallabies, Jones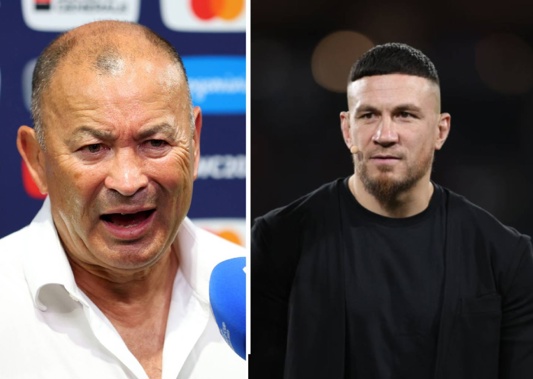 'Embarrassing': SBW's assessment of Wallabies, Jones

Former All Black and World Cup winner Sonny Bill Williams has not held back in his assessment of the Wallabies against Wales.
Australia were comprehensively beaten in Lyon 40-6 and from the opening exchanges they looked beaten already as the Welsh scored a try in just the third minute.
"Proof's in the pudding. 40-6 was really embarrassing."
Australia failed to get any continuity going, lacking attacking potency and conceded a raft of penalties in kickable areas that kept the scoreboard mounting against them. They appeared to lack cohesion and any sense of a game plan or response to how Wales were attacking them - potentially a result of the many personnel changes they've gone through at this tournament.
'Feel for these kids'
The selections by coach Eddie Jones have been much-discussed prior to and during this World Cup and Williams said felt for them as they are likely to bare the full brunt of this loss and World Cup performance.
"I feel for these kids, they're going to carry this on for the rest of their careers. They'll feel this until they comeback here again and rectify it."
Williams appeared to direct further comment toward Jones - and speculation that he had a meeting with Japan before the World Cup began.
"If I'm a player I'm not following a guy that's sitting in a meeting with another national team, potentially looking for another job days before you're hoping on a plane to come to this World Cup."
Hooper defends Jones
Hooper was part of Stan Sport's broadcast team and came to Jones' defence on their coverage.
"I think a lot is going to come on Eddie. Right. And maybe there's been fairness to that. But I've been in the environment, I've been in the camp. No one's up in more hours in the day than Eddie, that guy's going to bed at 11 at night thinking about how to make all Wallabies team better - and he's waking up at three in the morning answering messages on how to make the Wallabies team better."
The 138-test Wallaby said despite the poor results, he would not find fault in Jones' commitment to making the Wallabies a better side.
"There's no lack of desire for that for that guy to make this team the best it can possibly be. Now it hasn't worked out that way. So yes, there's going to be people that come under fire, players first, you know, coaches, coaches staff, the great wider rugby community in Australia."
Jones will undoubtedly come under massive scrutiny following the crushing Welsh defeat but Hooper asked the Australian rugby-loving public to look at the big picture.
"Let's not like have a crack at the bloke, We've got to look at thing as a helicopter view and you know, I hope that's the approach taken."
Get full coverage of the Rugby World Cup.
Take your Radio, Podcasts and Music with you