Simple life for Kiwi released after 'insulting Buddha' incident
Author

Publish Date

Sat, 28 Jan 2017, 6:30AM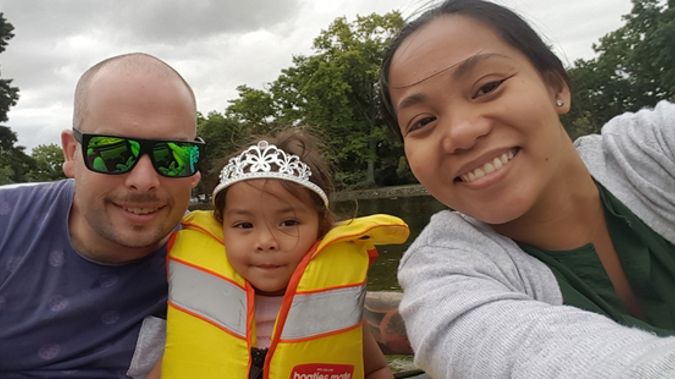 Simple life for Kiwi released after 'insulting Buddha' incident
Author

Publish Date

Sat, 28 Jan 2017, 6:30AM
Now and then Phil Blackwood misses the Burmese prison in which he spent 13 months behind bars.
Not the squalor, the crowded conditions, the terrible hopelessness. Certainly not being separated from his fiancee and baby daughter, and the effect his imprisonment had on his family and loved ones.
No, Blackwood misses the friends he made in desperate circumstances, their unexpected kindness, and the simple, enforced routine of prison.
"Looking back, the weirdest thing is, I wouldn't have predicted the times I missed it," he says.
"You know, sometimes when life gets a bit complicated ... "
He doesn't finish the sentence, it's not an easy concept to get across.
Blackwood turned 35 on Wednesday. Tomorrow marks a year to the day since he came home.
Locked up in December 2014 by the Burmese military junta, his crime was posting an image of a psychedelic Buddha on the Facebook page of a bar he was managing.
He was arrested, along with two colleagues, and put through a show trial. The issue was never about whether he was guilty, but instead just how guilty he was.
All three were sentenced to two-and-a-half years at the Insein Prison in Yangon.
He was fed rice and gruel, and initially kept for 14 hours a day in a tiny stuffy cell that had an open sewer for a toilet.
His fellow inmates, mainly Singaporeans and Thais, included murderers and drug dealers.
But among them were also some "friendly, lovely guys", who helped him to cope with life behind bars.
The whole experience "flipped things on their head" for Blackwood, as "good guys were doing bad things and bad guys were doing good things". Today he's grateful for those bad guys and their camaraderie and says he wouldn't be so "psychologically sound" if not for their kindness.

In January 2016 Blackwood and his two colleagues were among 101 political prisoners freed by Burma's Government after receiving a presidential pardon.
On arrival at Wellington Airport he said he wasn't going to dwell on the negatives, despite the horrors he had experienced. "I slept on a wooden pallet for 13 months, and every night ... I never wished for a softer bed," he told awaiting media.
"I just wished for my family ... that's the main thing."
These days Blackwood lives for those closest to him, not for his work. He oozes happiness, laughs often. And he has every reason to be happy.
He is the father of a beautiful daughter, Sasha, 2, and his fiancee Noemi Almo, who works in marketing, is expecting the couple's second child in May.
Blackwood works at a bar in Paremata, just north of Wellington.
Mondays, Tuesdays and Fridays he waits tables and works behind the bar: the rest of the time he's doing things with Sasha.
Life has become simpler since his return.
Before he was locked up he was "driven, quite stuck-in" career-wise.
Those days are over, not that he doesn't have to remind himself not to fall back into that trap.
"I have different goals in life and that doesn't involve spending the majority of my time working for someone else," he says.
"I sort of look at things a bit differently these days."
Once again he partly thanks his experience for that.
"Not many people have the opportunity to go through something like that, and be tested, and have to work out what's important."
For Blackwood, it's clear that his arrest was politically motivated.
The arrests came during a period of growing Buddhist nationalism in the country, and elections were looming.
As Blackwood puts it, the authorities were looking for a political tool and he was the one who happened to "land in the web".
He doesn't want to go into the "religious side of it", but says the Buddhists probably did themselves more harm than good by the arrest and the subsequent trial.
Asked about the New Zealand Government's response, Blackwood becomes wary.
Although the consular support was "outstanding", it's clear he believes more could have been done.
"It seems like it's 'as long as we're selling milk powder' ...
"Anything that gets in the way with that, then that's ... a problem."
He says the New Zealand Government was still making donations to Burma throughout his incarceration, and wonders why that could not have come with a certain proviso - releasing a Kiwi political prisoner.
However, as with the religious aspects, Blackwood doesn't really want to go into the politics of his case either.
His parents, Brian and Angela Blackwood, fought at every step for his release. The pair were unstinting in their efforts to keep their son's case in the media, here and in the United Kingdom, where Blackwood was born. Petitioning MPs in both countries, demanding answers from the governments, and working with human rights groups, the Blackwoods never gave up.
Almost a year into Blackwood's sentence, the couple visited their son in prison, describing his dramatic weight-loss and the "brave face" he assumed for his parents.
They also railed against what they saw as inaction from our Government, saying the response from the Ministry for Foreign Affairs amounted to "no response at all".
In September 2015, Foreign Affairs Minister Murray McCully said he was aware of the situation and understood the "upset and stress" of it.
"I have raised Philip Blackwood's case with the Myanmar government and will continue to do so as appropriate," McCully said.

Blackwood and Almo have always been pretty active, but the pair make a special effort to get out and about these days. That includes quite a few trips over to Wairarapa.
Blackwood and Sasha biked across Castlepoint Station last weekend as part of the annual Huri Huri cycle festival, and also recently checked out the drags at Masterton's Motorplex.
"It's all about making the most of every opportunity," Blackwood says.
"Some days [I] want to stay home and then I'll think of what [the guys in prison] would give to do some of the things I can do, and I think I better get out and bloody do something."
With the baby due in May they plan to take things easy over the next few months. But they are keen to travel, with South America high on the wish list. Blackwood is banned from Burma, so that's no longer an option.
As for marriage, the Burmese authorities got in the way.
"We were supposed to get married but I went to prison instead," Blackwood says, laughing.
"Things are awesome," he says, laughing once more. And it's clear he means it.