Winston Peters should 'seriously look at himself': Islamic spokesperson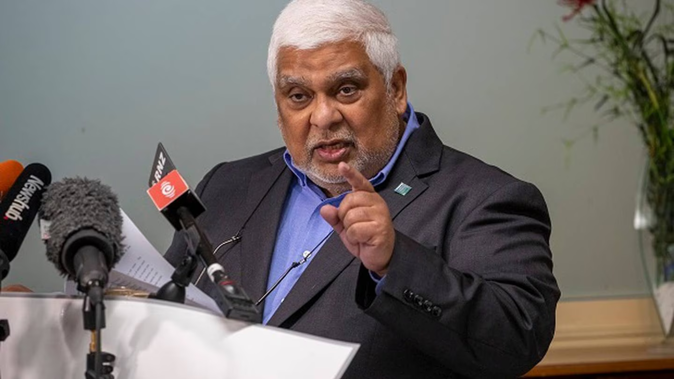 Winston Peters should 'seriously look at himself': Islamic spokesperson
By Anneke Smith and Russell Palmer of RNZ
Federation of Islamic Associations of New Zealand spokesman Abdur Razzaq says now - during the coronial inquest - is not the time for politicking, after Winston Peters' false tweets about the mosque attacks.
Peters, the New Zealand First leader who is expected to join talks in forming the next government, claimed on Wednesday that "we waited until today to find out for the first time" the prime minister's office had received information prior to the attacks that killed 51 people in Christchurch in 2019.
However, this had been public knowledge as early as the day after the attacks. Then-prime minister Jacinda Ardern had confirmed her office - along with about 30 others including the then leader of the opposition and various media outlets - was emailed the terrorist's manifesto less than 10 minutes before the first shots were fired.
Peters' tweet called for Dame Jacinda to appear at the inquest to "explain this appalling lack of transparency".
Razzaq told RNZ the facts were all laid out in black and white four years ago, and now was not the right time for Peters to be making such statements.
"Winston Peters gave wrong information and at the wrong time. We would like to think that he would be wiser than that."
Peters' tweet coincides with - and likely stems from - the six-week coronial inquest into the murders, which began on Tuesday. Muslim community leaders hope it will answer questions that still remain about the response to the attacks.
"New Zealand is trying to find out how we can prevent future deaths. That should be the focus. The focus should be on the families, the whānau, who are finding out how their loved ones died, and what happened and why it happened. This is not a time for political posturing."
Asked if Peters should apologise, Razzaq said he had never apologised for his 2005 comments that New Zealand "has never been a nation of Islamic immigrants", but should think about what he was doing.
"After March 15th, he was asked whether he would apologise for those statements he's made earlier, and he said no, we still respect him despite him not apologising.
"What we want him to do is seriously have a look at himself and say 'Look, is this the right thing to say right at this time?'"
He said it was obvious Peters had never read the findings of the Royal Commission into the attacks.
"For a prominent lawyer and a statesman: March 15, he himself said, changed the landscape of New Zealand. The Royal Commission ... it took such a long time, and he hasn't read even the opening chapters - and this is in the opening chapter. It is there.
"I'm not talking about small print, I'm talking a large headline of the Royal Commission. He would have known this, but it's quite obvious he hasn't read it."
Razzaq would not comment on what Peters may have intended by making the comments, and refused to characterise the comments as dangerous, saying he did not want to get into the politics of the matter.
"We are not in the political field. We have enormous respect and we value politicians. But we also think that that they have responsibility to be accurate, and to speak in context.
"When we first saw the tweet, we didn't want to give it any oxygen, but then we've learned the lessons hard: today's tweet and social media becomes tomorrow's fact."
Razzaq did say Peters' comments amounted to misdirection and disinformation.
Disinformation Project director Kate Hannah said the research group, which monitors the spread and effect of mis- and disinformation, was already seeing the topic emerge as a talking point online.
The Disinformation Project lead and University of Auckland research fellow Kate Hannah.
"I think it's a really unfortunate statement to make at a really critical time for the whānau of those who were killed and those who were also survivors of the mosque attacks who are going through the coronial inquiry - and at a time when false flag narratives about the Christchurch mosque attacks are present on social media in quite large numbers.
"It's a dog-whistle. It sort of adds support to those who deny the truth of the attacks."
She said Peters' position of power would amplify the effect.
"By signalling towards this idea that there might be some kind of cover-up or that something went wrong or there was a discrepancy at a time when he was deputy prime minister and then now when he has influence and power due to the recent elections, both those mean his statements have more weight."
The National Party is expected to discuss governance arrangements with NZ First after the final tally of voting - including special votes - due on November 3.
National MP Simeon Brown told TVNZ's Breakfast the focus should be on the inquest, and the question of whether the tweet should be removed or apologised for should be put to Peters himself.
Simeon Brown. Photo / Alex Cairns
"He is the leader of a different party, and those are questions that you have to put to him - I can only speak on behalf of the National Party," Brown said.
"The reality here is, he was the deputy prime minister, Jacinda Ardern was the prime minister, we weren't party to those intricate conversations of what happened when."
The party refused to say anything further about the matter until Friday.
RNZ has approached Peters for comment.
David Seymour - leader of the third party likely to be in government, Act - also declined to comment.
- RNZ
Take your Radio, Podcasts and Music with you