Revealed: Why Chris Hipkins has a back-up plane for his China trip
Author

Publish Date

Mon, 26 Jun 2023, 1:53PM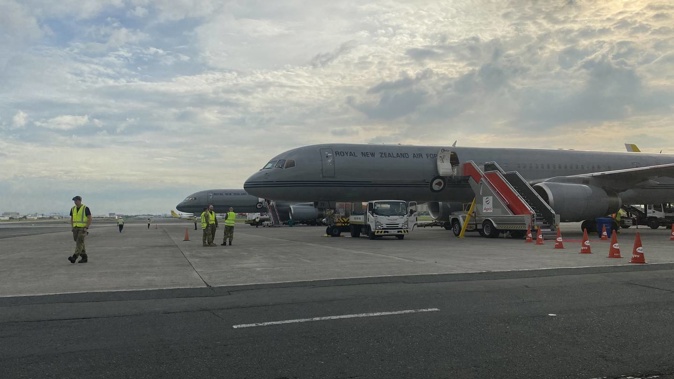 Revealed: Why Chris Hipkins has a back-up plane for his China trip
Author

Publish Date

Mon, 26 Jun 2023, 1:53PM
The Prime Minister's office has defended sending a backup Defence Force plane for Chris Hipkins' trip to China after criticism from National and Act over emissions - the latter also calling the fleet "decrepit" - saying it was warranted in case of a breakdown and only travelled as far as the Philippines.
It comes after former Prime Minister Jacinda Ardern had to contend with a series of breakdowns in her time - which also occurred during former Prime Minister John Key's tenure - raising questions about bringing forward the current replacement date from 2028 to 2030.
Hipkins touched down in Beijing in the early hours of this morning, beginning a highly-anticipated week-long tour of China, which includes a meeting with President Xi Jinping.
The Herald, which is travelling with the delegation, reported today there were two NZ Defence Force Boeing 757 planes on the runway during a stopover in Manila, Philippines, en route to China.
National Party leader Christopher Luxon said Hipkins should not have taken two planes and, along with Act, criticised what he saw as an unnecessary burning of fuel and associated carbon dioxide emissions. Act leader David Seymour said it was emblematic of an "embarrassing" and "out-of-date" air fleet.
"New Zealand's embarrassingly ancient Defence Force planes are so decrepit that the PM has to bring a spare in case one of them breaks down on a stopover," Seymour said.
"The emissions created by taking the extra plane is the equivalent of driving a Ford Ranger the distance of a trip to the moon three times."
The Herald can confirm these calculations and also that they were based on a return trip to Manila and Cairns, Australia.
A spokesman for the Prime Minister said the two planes had not travelled to China. The backup aircraft went to Manila, Philippines, and would now proceed to Cairns.
"Backup was put in place in the event that the flight broke down on the way up, but it is not shadowing the plane around China," he said.
The spokesman referenced similar situations under former National Prime Minister John Key when a "highly-publicised series of breakdowns" affected a delegation he led in 2016.
Rules were then updated to provide for backup aircraft based on the circumstances of a trip, and it is not unusual that in some instances backup aircraft are provided, the spokesman said.
"Whether the [Air Force] provides backup aircraft is an operational decision based on a combination of factors, such as the importance of the mission, the distance being flown.
"With this particular mission, with a delegation going a long distance, and with the Prime Minister and around 45 others delegation members board on board (plus air crew, plus media), it was considered that backup aircraft were justified to ensure the success of the mission to what is New Zealand's largest trade partner."
Using Air Force planes was cheaper than a commercial charter and had other benefits such as security assurance, and the ability to travel point to point to reduce time away from home and additional costs such as hotels which would be required if there were stopovers, he said.
The 757s are around 30 years old, are nearing the end of their economic lives, and are due for replacement between 2028 and 2030.
Seymour said the "out of date air fleet is becoming a source of national embarrassment".
Last year, Ardern was stranded in Antarctica and had to be saved by the Italians, while then-defence minister Peeni Henare was stranded in the Solomon Islands at one point as well after an Air Force C-130 Hercules broke down.
In a different situation, Ardern also famously had to hitch a ride with Canadian Prime Minister Justin Trudeau from London to New York, which was more due to the availability of flights.
Seymour said the Government was underinvesting in defence and pledged to increase it to two per cent of GDP.
National Party leader Christopher Luxon told Newstalk ZB's Mike Hosking that it didn't make sense to take two planes in a climate emergency.
He said the PM should not have taken two planes on the trip.
He said it also spoke to concerns around the reliability of those aircraft.
The Herald awaiting responses from the National leader if that meant he would refuse to take two planes if he became Prime Minister, and if he would bring forward the current replacement date of 2028.
The two RNZAF's 757s were bought second-hand from Dutch airline Transavia in 2003 for $104 million, with a further $117m spent modifying the aircraft.
At the time they themselves were purchased to replace a fleet that had its own "series of embarrassing breakdowns" the previous year.
Politicians have in the past when defending breakdowns said one of the problems with the aircraft was that they required more frequent use to stay in good condition.
After Key's breakdowns in 2016, it was reported the planes would be replaced in the early 2020s.
The Herald has sought a response from the PM's office about why that replacement date has been pushed out to 2028.
Michael Neilson is a political reporter based at Parliament in Wellington. He joined the Herald in 2018 and has covered social issues, the environment and Māori affairs.
Take your Radio, Podcasts and Music with you