Unanimous vote on Chch Regeneration Bill 'incredibly significant'
Author

Section

Publish Date

Friday, 1 April 2016, 7:03AM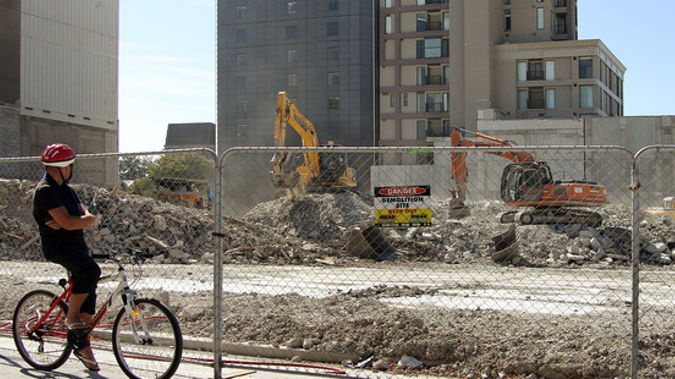 Legislation setting up the framework for the next stage of post-quake recovery in Christchurch, has been passed into law.
MPs from across Parliament have unanimously supported the Greater Christchurch Regeneration Bill at its third reading. The bill will govern what happens when CERA winds down at the end of this month.
Earthquake Recovery Minister Gerry Brownlee said it creates a new entity called Regenerate Christchurch, a joint Crown City Council agency that'll over see the next phase of the city's redevelopment.
"Over a period of years, it will transition from being a 50/50 Government/Christchurch City Council partnership, into being a fully council-controlled organisation."
Brownlee has also taken aim at the Christchurch Press over its coverage of the latest law changes.
An article published this week is critical that the Minister retains veto powers over future work in the city, saying he remains in charge of the rebuild.
But Mr Brownlee doesn't like the analysis and said so in Parliament.
He said the paper has taken a negative approach "to anything that is progressive in Christchurch and largely ignored the fact that this bill is so well supported. A great disappointment."
Meanwhile, Christchurch's Mayor has praised the government's collaborative approach to passing the new legislation.
Lianne Dalziel was in parliament to see the bill be passed into law yesterday. She said the government could have passed the bill with a slim majority, but she's pleased that other political parties chose collaboration instead.
She said it shows everyone understands the importance of Christchurch's recovery.
"They worked really hard to make sure that they could get every party on board. So to have a unanimous vote in parliament I think is incredibly significant."
She said Regenerate Christchurch will be a local organisation made up of local people.
"They're going to be out there engaging with people. But more importantly, as they develop regeneration plans, they're going to be required to actually bring people into that process."
Initially Labour was against the Bill, with MP Megan Woods saying it didn't deliver the local-led recovery Christchurch residents were looking for.
But now she's thankful the amended law will do that.
"What we're going to see is a joint venture, a power sharing, between the city and the Government in the case of Christchurch city," Woods said.
Now the bill has been passed, the new chair of Regenerate Christchurch says he's eager to crack into work.
Andre Lovatt has watched the city develop over the past few years, and said there's a lot of positivity about what the city is going to become, and a sense that it will be a place to set up roots.
He said the passing of the third reading sets Christchurch on the path to the next phase of regeneration.
Lovatt said public engagement will be a vital part of Regenerate Chirstchurch, to make sure locals feel they have a say in their city.