'That's life'- Grumpy National and Labour MPs return to Parliament
Author

Publish Date

Tue, 18 Jul 2023, 2:05PM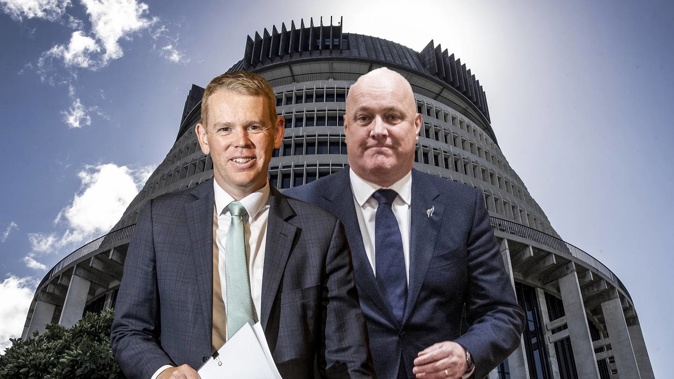 'That's life'- Grumpy National and Labour MPs return to Parliament
Author

Publish Date

Tue, 18 Jul 2023, 2:05PM
MPs returned to Parliament this week after a two-week recess, and to news that both major parties are receiving a hammering in the polls.
Neither Labour nor National MPs appeared particularly happy with the numbers on last night's 1 News-Verian poll, which had National on 35 per cent and Labour on 33 per cent - both down two points.
The two parties soaking up just 68 per cent of the vote between them represents something of a departure from recent elections in which the political duopoly have taken upwards of 72 per cent of the vote.
On his way into an extended caucus meeting, Prime Minister Chris Hipkins said Labour "as a team" needed to "take responsibility for the polling that we're getting at the moment".
Hipkins said that the 1 News-Verion poll showed it "was going to be a very tight election".
"If you look at last night's poll and for example the gap between the centre left and the centre right is actually narrowed a little bit.
Hipkins said none of his ministers had indicated they would quit.
But that did little to boost the mood of MPs who filed into Labour's caucus room for their weekly meeting. It's the first time Hipkins has seen his full caucus in weeks. He was in China for the last meeting of the previous sitting block.
Labour MPs were trying to turn a page on months of bad news, with Michael Wood and Kiri Allan making their first appearance at Parliament after both taking leave.
Justice Minister Kiri Allan on her way to the Labour caucus. Photo / Mark Mitchell
Wood and Allan were accompanied by supporters on their way into caucus, Wood by Kieran McAnulty and Allan by Willie Jackson.
At one point, when Allan was discussing her mental health with reporters, Jackson asked for questions to cease and ushered Allan towards the caucus room.
"I think that's enough now… we're going to an area we don't want to go to. I think we're going to move to caucus," Jackson said, although it did not appear that Allan was struggling to answer questions.
Allan said she had taken some time to reflect on her role over the Matariki weekend.
"You want to create an environment where people will love strapping their boots on to come to work.
"My job I've been put in this role to do is to crack on in and deliver outcomes for the East Coast, but also in a range of portfolio areas... to do that, you know, working with people is incredibly critical to that," Allan said.
Hipkins said Allan was "fully contributing to Cabinet yesterday".
Finance Minister Grant Robertson and Revenue Minister David Parker stood by Hipkins' decision last week to scotch a wealth tax and rule it out for as long as he leads the Labour party - a decision that demoralised sections of the Labour base.
When asked if he thought Hipkins had made the right call, Robertson said, "it's always the right decision if the Prime Minister makes it, obviously, my views are known, but we're moving forward".
Robertson would not confirm he would stick around in politics if Labour lost the election. He said he intended to stay on as the Minister of Finance in a Hipkins-led Labour government, even without tax reform.
Robertson said he still believed in the policy.
Former Transport Minister Michael Wood on his way to caucus. Photo / Mark Mitchell
Parker said he was "disappointed" in Hipkins' decision to kill the tax.
"Grant and I did the design work so I'm disappointed in the decision because it's pretty clear from the papers that I supported it, but that's life," Parker said.
He said he was a "member of the Labour Party", indicating he still supported the team and party's overall mission.
"I've got no current intention to resign, and if I did have I wouldn't tell you folk," Parker told media.
When asked what his "goal" in politics was if not to make the tax system fairer via a wealth tax, Parker responded "we're working to implement Labour policy", and walked into his caucus room without taking further questions.
The mood was only marginally better outside the National Party's caucus room.
National leader Christopher Luxon said Parker and Robertson were "pretty grumpy… around [Hipkins'] nixing of the wealth tax".
Asked why National was failing to capitalise on Labour's internal problems and open up a convincing poll lead, Luxon said he had made "tremendous progress".
He said National's polling would improve as the campaign heated up and the opposition got more air time.
Senior National MP Gerry Brownlee was more frank, saying "it takes people a fair bit of time to work out that there is an election about to happen, but there is an unhappiness out there about the direction".
National leader Christopher Luxon is cautiously optimistic about polls. Photo / Mark Mitchell
When asked whether he was saying Kiwi voters were a bit slow, Brownlee walked into caucus muttering that the question was dumb.
National's campaign chairman Chris Bishop said National was "cautiously optimistic" about the poll.
"Things are trending in the right direction, but there's a long way to go," Bishop said.
"We want to see National's numbers higher obviously."
Last year, Bishop, and fellow MPs Simeon Brown and Simon Watts hosted a campaign meeting at Liberal Party headquarters in Sydney.
At the time, Bishop said National would be focusing attention on the overseas vote and trying to capitalise on discontent.
"Next year, National will be encouraging overseas-based Kiwis who are fed up with New Zealand's direction under Labour to cast their party votes for National for a better future," Bishop said.
"The lottery of human misery that was the MIQ system created huge anger among Kiwis offshore and Monday evening's function will be the first of many around the world to encourage Kiwi expats to change the Government," he said.
But today Bishop said his focus has been domestic and that he "hadn't really" done any overseas campaigning recently.
He said National may do some overseas campaigning if MPs were offshore on other business - as they were on the Sydney trip.
"My focus has been domestic. We haven't ruled out potential campaigning offshore. We'll certainly be running a strong ex-pat vote campaign to make sure New Zealanders who are eligible to vote overseas in markets like London, Sydney, Brisbane, places where Kiwis vote making sure they realise they can vote.
" It was always a bit of an additional add-on," he said.
"It would be fair to say we are not intending to make strips specifically for the purpose of campaigning," he said.
National's Tama Potaka takes three tea bags in his tea. Photo / Mike Scott
About a million voters live overseas. A Regulatory Impact Statement on overseas voting rights said just 62,787 overseas votes were cast in the 2020 election, up 2 per cent on the 2017 election.
The document said 510,600 citizens were eligible to vote as overseas voters in the 2020 General Election down from 586,200 in 2017.
At least one MP appeared to be enjoying himself. National's Tama Potaka was cradling a cup of tea on his way into caucus.
It was revealed the cup of tea included no fewer than three teabags.
Potaka said this was to infuse the tea with a mixture of flavours including green tea and turmeric.
Take your Radio, Podcasts and Music with you