Te Pāti Māori picks up two extra seats in historic result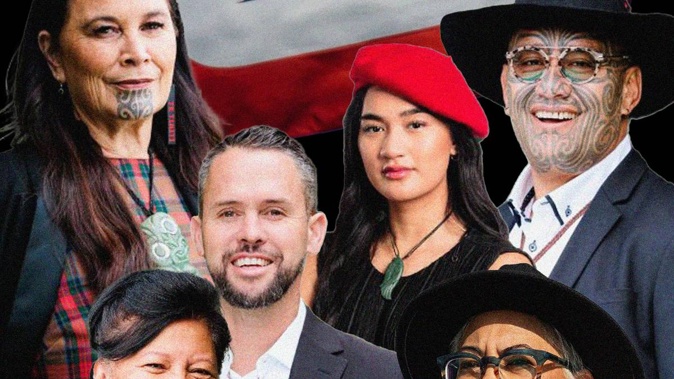 Te Pāti Māori picks up two extra seats in historic result

Te Pāti Māori has picked up two extra seats after the special votes were counted today, meaning the party now has six seats. 
The Tāmaki Makaurau seat has flipped from Labour's Peeni Henare to newcomer Takutai Natasha Kemp, who has won by an incredible four votes. 
And in Te Tai Tokerau, another senior Labour MP - Kelvin Davis - has been pushed aside by Mariameno Kapa-Kingi. 
Here's how Te Pāti Māori stacked up. 
Tāmaki Makaurau
Te Pati Maori's Takutai Tarsh Kemp pictured on election night. Photo / Mike Scott 
After election night, Labour's Peeni Henare managed to get the win in Tāmaki Makaurau, despite first-time politician Takutai Natasha Kemp, of Te Pāti Māori, taking a quick lead early that night. 
The margin between them, however, was 495 votes; with Henare gaining 7408 votes and Kemp getting 6913. Labour also won the party vote in the electorate, with 7808 party votes ahead of Te Pāti Māori's 5297. 
Henare has held the seat since 2014 and is a popular and well-respected MP. He held a number of ministerial portfolios including ACC, forestry, tourism, veterans, Whānau Ora and associate minister for health and environment. 
Takutai Kemp is a newcomer to the political game, but has worked in the health sector for the past 20 years. 
Her profile on the Te Pāti Māori website says she worked in roles specifically for the Māori community, youth development, Pāti Māori health funding and planning roles. 
Te Tai Tokerau
Iwi leader and Te Pāti Māori Te Tai Tokerau candidate Mariameno Kapa-Kingi. Photo / Te Pāti Māori 
Te Pāti Māori candidate for Te Tai Tokerau, Mariameno Kapa-Kingi, proved she was a force to be reckoned with on the night of the election; when she reeled in 7305 votes compared to senior Labour MP Kelvin Davis' 7792 votes - a margin of 487 votes. 
Davis has held the seat since 2015. 
Kapa-Kingi was born and raised in the area and specialises in iwi and hapū health and economic growth, according to her profile on Te Pāti Māori's website. 
"She has decades of experience in iwi social services and governance." 
Kapa-Kingi also has a specific interest and dedication to the health and wealth of whānau. 
"This means our babies being safe with their whānau, living in warm and dry homes with equitable access to education, opportunity and the freedom to be fully Māori. 
Hauraki-Waikato
New Te Pāti Māori MP Hana-Rawhiti Maipi-Clarke at Parliament. Photo / Mark Mitchell 
Hauraki-Waikato is where Te Pāti Māori pulled the biggest rabbit out of the hat - with Hana-Rawhiti Maipi-Clarke, 8825, winning on election night by 1366 over senior Labour MP and much-respected politician Nanaia Mahuta, who got 7459 votes. 
The Labour Party does, however, have a healthy election night lead over Te Pāti Māori; with Labour bringing in 8031 party votes over Te Pāti Māori's 5504. 
Ikaroa-Rāwhiti
Cushla Tangaere‑Manuel is the Labour Party MP for Ikaroa-Rāwhiti. Photo / Paul Taylor 
In Ikaroa Rawhiti, Cushla Tangere-Manuel (10,804) held out Labour defector Meka Whaitiri (7944) by 2860 votes. 
On the party votes, Labour (11,052) gained an even bigger lead of 6280 over Te Pāti Māori (4772). 
Te Tai Hauāuru
Te Pāti Māori co-leader and MP for Te Tai Hauāuru Debbie Ngarewa-Packer. Photo / Sylvie Whinray 
The decision by Labour's now former speaker of the house Adrian Rurawhe to not stand in Te Tai Hauāuru left the door wide open for Te Pāti Māori co-leader Debbie Ngarewa-Packer (11,695) to sweep in as the electorate MP over Soraya Peke-Mason (5348) with an election night majority of 6347. 
Again, Labour (7978) won the party vote by 1528 over Te Pāti Māori (6450). 
Te Tai Tonga
New Te Pāti Māori MP Tākuta Ferris. Photo / Mark Mitchell 
The second upset of the Māori electorates was in Te Tai Tonga, where Takutai Ferris (9426 votes) ended the Rino Tirikatene (7963) reign with a 1283-vote election-night win. Tirikatene had been the MP here since 2011. 
But Labour (7759) won the party vote by 3288 over Te Pāti Māori (4471). 
Waiariki
Waiariki MP Rawiri Waititi. Photo / Erica Sinclair 
In Waiariki, Te Pāti Māori co-leader Rawiri Waititi won the seat comfortably on the night with 15,890 votes over Labour's Toni Boynton 4395. 
But Labour won the party vote with 9454 votes to Te Pāti Māori's 7891 votes, Green's 1158 votes and New Zealand First's 908 votes. 
Take your Radio, Podcasts and Music with you