Sri Lanka cleaning up its record on human rights abuses, says PM
Author

Publish Date

Sat, 1 Oct 2016, 10:16AM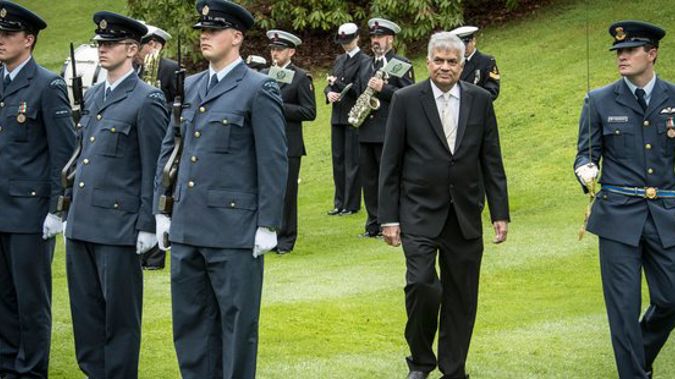 Sri Lanka cleaning up its record on human rights abuses, says PM
Author

Publish Date

Sat, 1 Oct 2016, 10:16AM
UPDATED 3.40PM: The Prime Minister of Sri Lanka says the country is cleaning up its act when it comes to human rights abuses.
Ranil Wickremesinghe is on a three-day visit to New Zealand. He and Prime Minister John Key had formal talks at Government House in Auckland today.
Amnesty International had pressured Key to discuss human rights with Wickremesinghe during the talks, pointing out that Sir Lankan security forces have been implicated in tens of thousands of disappearances.
Executive director of Amnesty New Zealand Grant Bayldon said he wants Key to push for Sri Lanka to repeal its Prevention of Terrorism Act which "is basically a license to abduct and torture people."
"It also needs a law to make disappearances illegal, and it needs to work much harder to investigate those disappearances," Bayldon said.
Today, Prime Minister Wickremesinghe said the Sri Lankan government is going through most of the things it has promised to achieve, including setting up a missing persons office.
"I think by next week the first draft of the counter-terrorism law, which will be placed in the Prevention of Terrorism Act, will be available for discussion," he said.
Prime Minister Wickremesinghe hopes by next March all these things will be behind Sri Lanka. He said it's a quite open society these days, where fear is no longer a factor.
Animal rights group SAFE also wants John Key to reject Sri Lanka's offer of another elephant to join the breeding programme at Auckland Zoo.
Meanwhile, New Zealand is set to open a High Commission in Sri Lanka next year to cement ties and increase business between the two countries.
John Key made the announcement after meeting with Prime Minister Wickremesinghe today.
Both countries have committed to reducing tariffs on goods, especially dairy, though Key said he wasn't seeking to put Sri Lankan farmers out of business.
Economic Development Minister Steven Joyce, Trade Minister Todd McClay and Primary Industries Minister Nathan Guy also attended the talks.
Prime Minister Ranil Wickremesing told media they also want assistance in the education sector, especially teaching of English.
And they are also looking at our political system.
"The Sri Lankan parliament is seriously considering taking on the New Zealand MMP system, which means there'll be more Sri Lankan MPs down here studying what is happening."
He is visiting the Auckland Zoo this afternoon before meeting with Sri Lankan business leaders and being hosted at a business event this evening.
Wickremesinghe's itinerary also includes a visit to Fonterra's dairy factory in Waikato, followed by a tour of Hobbiton.
In Wellington, he'll attend a wreath-laying ceremony and will be given a tour of bird sanctuary Zealandia.