PM, Speaker 'making light' of sexual violence
Author

Publish Date

Thu, 12 Nov 2015, 5:23am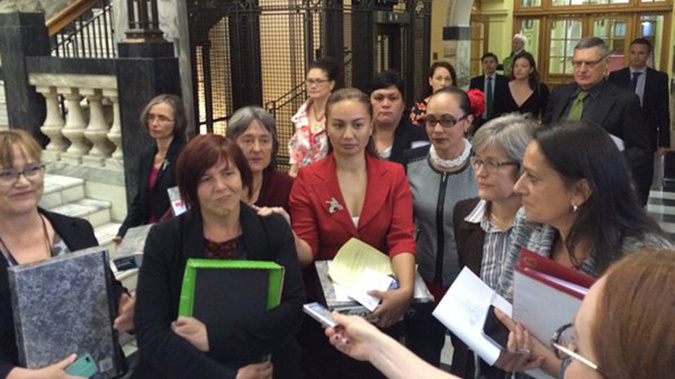 PM, Speaker 'making light' of sexual violence
Author

Publish Date

Thu, 12 Nov 2015, 5:23am
Both the Prime Minister and Parliament's Speaker are being accused of making light of sexual offending.
LISTEN: Andrew Little on the Parliament walk-out, Christmas Island
MORE: Detained Kiwi soldier: Why has Key forgotten me?
It follows another turbulent day in Parliament where female opposition MPs were both thrown and walked out en masse. They demanded, unsuccessfully, that John key apologise for his claim that the Labour party was "backing rapists" comments in defending the rights of New Zealand-born detainees held on Christmas Island.
Newly released information from reveals Justice Minister Amy Adams there are no New Zealanders convicted of rape or murder being held there.
Offences listed include indecent treatment of a child, manslaughter, armed robbery, aggravated assault, common assault, family violence, as well as drug offences, grievous bodily harm, and weapon crimes. 
The Soap Box: Greens' walk-out claims ridiculous
Mike's Minute: Question Time shambolic but necessary
Green MP Catherine Delahunty was one of those MPs who was thrown out of parliament after she made a point of order to object to the Prime Minister's "rapist" comments as a victim of sexual assault.
She is still hoping Key will voluntarily offer an apology.
"You are the bigger person if you own that you have said something that you should apologies for and that you have not understood this issue. That's what makes leadership, not that you don't make mistakes," she said.
Delahunty, whose comments about her sexual assault were made for the first time, said it's a deeply personal issue.
"I experienced something at 15 that I shouldn't have experienced and when I was very much younger, and I think it's important to realise that I'm representing many, many, many people out there."
Green Party Co-leader Metiria Turei, who was another MP that was thrown out of the house after a similar point of order, said neither the Prime Minister or the Speaker are taking the issue of sexual assaults and rape seriously.
"They are jokes to the Prime Minister, they are jokes to the Speaker and therefore we have this ridiculous situation where women MPs who take personal offence are thrown out before they can get a word out."
But the government is not convinced the dissent and disorder seen in Parliament this week is an issue that needs to be rectified.
Deputy Prime Minister Bill English said there's not really a problem to be fixed.
"It's just a place where sometimes people have strong views about things, both Prime Ministers and opposition MPs," he said.
However leader of the Labour Party Andrew Little believes it's up to the Prime Minister to restore some semblance of order to Parliament's proceedings. He said what is happening at the moment is clearly untenable and describes the situation in the House as chaos which can't continue.
"It's for the Prime Minister, as the leader of the country, as the most senior politician in the house - to take appropriate steps to put the house at their ease so that we can get back on the business of running parliament professionally and properly."