PM reveals contact with Whale Oil blogger
Author

Publish Date

Wed, 26 Nov 2014, 6:51AM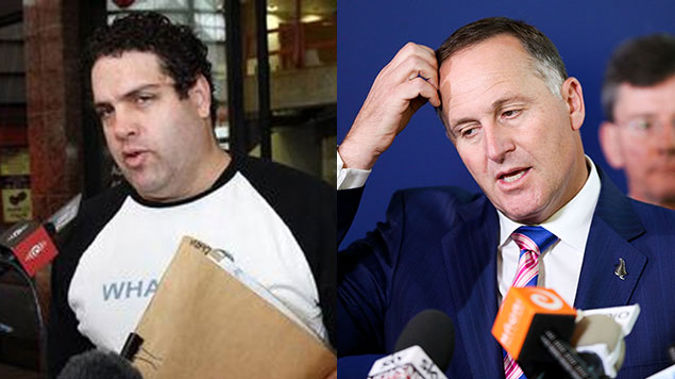 PM reveals contact with Whale Oil blogger
Author

Publish Date

Wed, 26 Nov 2014, 6:51AM
UPDATED 8.45PM: The Prime Minister's had to backtrack on a denial he'd had contact with right wing blogger Cameron Slater.
John Key was directly asked in Question Time today if he'd had contact with Mr Slater around the time of the release of reports into the SIS and Judith Collins.
"Mr Speaker, No."
But just hours later Mr Key had to correct that answer.
"I received an unsolicited text message from Mr Slater with a reference to the IGIS report.
"There was a short exchange where I briefly acknowledged that text message."
Labour leader Andrew Little's now accusing Mr Key of misleading the country
"The Prime Minister gave an answer to a question in Parliament that was wrong and I think people will draw their own conclusions.
"It looks like a lie to me."
Slater's credibility questioned
The Prime Minister has questioned the credibility of blogger Cameron Slater.
The blogger's taking issue with elements of the Inspector General of Intelligence and Security's report into the SIS and his dealings with the John Key's office.
Mr Key says it's known that Mr Slater isn't always accurate.
"I think he makes up quite a lot of stuff because that was the basis on which we rejected the view - at least Justice Chisholm did - or a lot of what was there in relation to Judith Collins."
Did Goff leak report? 
Labour's leader says he'd be disappointed if Phil Goff did leak details of an embargoed spy watchdog report.
Some of the findings from the report found their way into the hands of the media on Monday, a day before it was made public.
John Key's repeatedly accused Phil Goff of giving details to media ahead of time - in breach of the law.
But Labour leader Andrew Little says he's accepts Mr Goff's assurances that didn't happen.
"It would be disappointing if he had done that given that there was an embargo on the report.
"And that is unfortunate and I will talk further to Phil about that."
Little loses temper
The Labour leader has lost his temper in Parliament, over a spy watchdog inquiry into the Dirty Politics saga.
John Key's staff tipped off blogger Cameron Slater about SIS documents to embarrass Labour.
Mr Key says maintains there was no wrongdoing, because the information wasn't classified.
That prompted Labour leader Andrew Little to tell John Key to "cut the crap" and apologise to New Zealanders, for "running a smear machine out of his office".
But there's a chance there could be a formal investigation into how inquiry findings regarding the SIS were leaked to the media, after Labour MP Phil Goff admitted leaking parts of the inquiry to the media.
SIS Minister and Attorney General Chris Finlayson indicates it is under consideration.
"The Inspector General has said she wants to investigate the matter and I imagine that this would be the course she would take," he says.
Calls for further SIS inquiry
New Zealand First is calling for a further inquiry into how the SIS released information to blogger Cameron Slater.
It comes following the release of inquiry findings into the matter from the Inspector General of Intelligence and Security.
New Zealand First leader Winston Peters is of the view there should be a full scale inquiry because he says the IGIS report isn't worth the paper it's written on.
"The most critical person to ask the number question, were you apart of this, were you involved, in any way were you colluding with your staff to get this information, was never asked," he says.
PM defends handling of SIS 
An under-pressure Prime Minister is standing by the way his office handles its relationship with the SIS.
John Key maintains it's appropriate for certain staff in his office to handle SIS matters, in particular Official Information Act requests.
"It's a different style to the way Helen Clark did it, but you can't tell me that Tony Abbott and David Cameron, all these guys, handle their own OIA requests. I don't handle a single OIA request, I've never handled one."
The Government and the opposition are at loggerheads over the inquiry.
The Government's claiming exoneration, while its political opponents allege the findings prove all the pre-election "dirty politics" allegations
New Zealand First leader Winston Peters is scathing that John key wasn't called to give evidence to the inquiry.
"Surely if this was a thorough investigation, even a constable on the street would ask the question of all parties involved."
But cabinet minister Steven Joyce is ridiculing Mr Peters' criticisms.
"If only the Inspector-General had been up to her job you would have found that in fact the Prime Minister was the devil beast."
Labour Leader Andrew Little is adamant the report shows the Government used the SIS in a smear campaign.
"This is a Government that does not know the boundaries between politics and political opportunism."
But Deputy Prime Minister Bill English says the inquiry's found no such thing.
"The Inspector-General's report makes it absolutely clear that did not happen."
The SIS has apologised to Phil Goff and Mr Little, who says political neutrality at the agency is essential.
"I have confidence that the present director of the SIS understands that and we'll be working hard to maintain that, and I look forward to that happening over the new few months in terms of my relationship with my current director."
Norman says it should be game-over for Key
Accusations of corruption at the highest levels of Government, over revelations the head of the SIS played a role in undermining the Labour Party.
An inquiry's found former spy boss Warren Tucker failed to stay politically neutral, and gave misleading advice to the Prime Minister's office - which was used to attack then-Labour leader Phil Goff.
Greens co-leader Russel Norman says it should be game-over for John Key.
"The Prime Minister should step aside. There should be a Royal Commission of investigation into what is going on inside the Prime Minister's office when we have a Prime Minister who is abusing his access to security briefings."
A Government under pressure has lobbed accusations that the Greens were involved in the hacking and email theft behind the book Dirty Politics.
After Dr Norman yesterday demanded John Key resign over his staff misusing SIS information for political gain, Bill English responded with this claim.
"The Greens are a Party who were a political movement party to large scale stealing of emails, published in a book six weeks before an election."
The Greens reject the claim.