Bennett's antics to blunt dope debate
Author

Publish Date

Wed, 4 Dec 2019, 5:31PM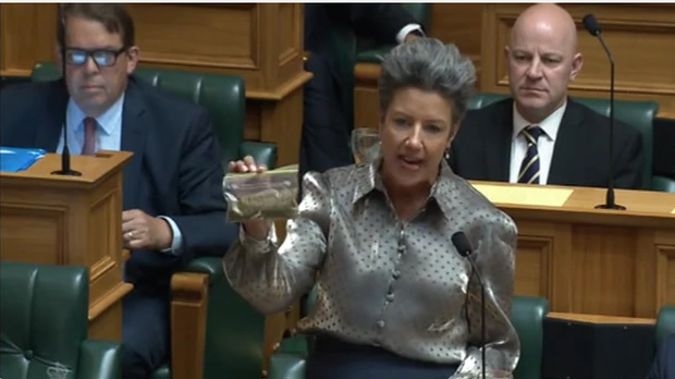 Bennett's antics to blunt dope debate
Author

Publish Date

Wed, 4 Dec 2019, 5:31PM
National's drug reform spokeswoman Paula Bennett turned a few heads in Parliament this afternoon when she pulled out a bag of green leaves in a clear plastic bag.
Questioning Prime Minister Jacinda Ardern, Bennett asked: "Does she think it promotes the wellbeing of New Zealanders when, under her Government's legislation, people will be able to purchase up to 14 grams a day of weed?"
After Ardern answered, Speaker Trevor Mallard told Bennett – and Finance Minister Grant Robertson who was interjecting – to "chill out".
WATCH BELOW: SKIP TO 3:00
The confusion around what was in the bag was laid to rest when Bennett told reporters after question time that it was not, in fact, a bag of cannabis, but in fact a bag of oregano.
She said it was "look-alike cannabis" and was trying to show that the quantity was a lot.
Under the draft cannabis legislation bill, which would be made law if New Zealanders vote yes on the cannabis referendum next year, individuals would have a 14g limit on the amount of cannabis they would be allowed to carry.
"I think that is too much for personal use."
The stunt was met with amusement from Finance Minister Grant Robertson.
"I just wonder if the the Member opposite might consider tabling the bag in the House."
Bennett didn't take him up on the offer.