Opposition leaders berated PM about his conduct in Barclay scandal
Author

Publish Date

Tue, 25 Jul 2017, 5:02pm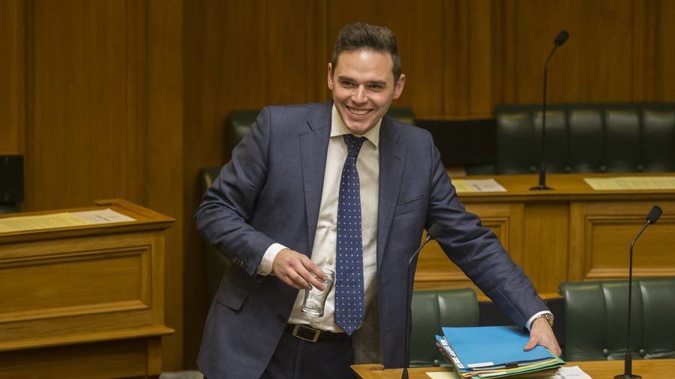 Opposition leaders berated PM about his conduct in Barclay scandal
Author

Publish Date

Tue, 25 Jul 2017, 5:02pm
National MP Todd Barclay's back at Parliament and back at the centre of political attention.
The scandal besetting the Clutha-Southland MP's been front and centre during Question Time in the House today.
The outgoing Clutha-Southland MP sat with his head down the entirety of question time, particularly as Opposition leaders berated Mr English about his conduct and the ongoing Police investigation.
Labour MP Chris Hipkins is challenging the Prime Minister to say more about his involvement and knowledge of allegations Mr Barclay illegally recorded a former electorate staffer.
"Why won't he live up to his own words and fully and honestly answer questions about his role in the Todd Barclay saga."
Mr English responded that "the matter's been covered extensively by a 10-month police investigation."
New Zealand First leader Winston Peters said: "Why did he feel the need to interfere with an employment dispute between another MP and a staffer?"
Mr Hipkins said: "Does he agree that it is slippery deceit and a disgrace for a Prime Minister not to tell the police everything they know about a matter under investigation."
Mr English stuck with the same response to all questions on the matter - that it's outside his Ministerial responsibility and therefore he is not required to answer.
Mr Peters is using the Barclay scandal as a way top back his party's call for a cut in the number of MPs in Parliament.
It comes as he faced questions over Mr Barclay's recent absence from Parliament.
Mr Peters said it's not acceptable, nor is Murray McCully's recent absences, or John Key and David Cunliffe's early resignations from politics.
"That's why we want a reduced size of Parliament. They've just shown us about seven who are not needed already."