'Left-wing, anti-Government protesters': Coleman slams group calling for action on mental health
Author

Publish Date

Tue, 9 May 2017, 11:31am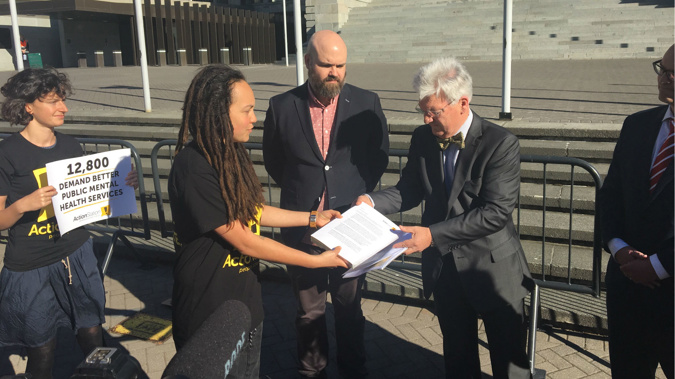 'Left-wing, anti-Government protesters': Coleman slams group calling for action on mental health
Author

Publish Date

Tue, 9 May 2017, 11:31am
An open letter calling for Government action on mental health has been presented to Parliament.
A small number of representatives from lobby group Action Station - the group behind the "People's Mental Health Report" released last month - gathered for the occasion.
12,800 people have signed the open letter, which has been presented to Associate Health Minister Peter Dunne.
However, Minister of Health Jonathan Coleman has accused Action Station of being politically aligned and motivated. He described them as "anti-Government protesters".
"When you look at the people behind it, they're very left-wing, anti-Government protesters," Dr Coleman said.
The letter was signed by a number of well-known New Zealanders, including Taika Waititi, Louis Nicholas and Rhys Darby, and calls on the Government to implement the four recommendations in the "People's Mental Health Report".
They include; an urgent increase in mental health funding, better independent oversight of the mental health system, an urgent inquiry into mental health services, and a national education programme to help people better understand mental health issues.
There was extra security outside Parliament, although only a small number of people turned up for the handover.
Action Station co-director Marianne Elliott said mental health touches every family in the country so there's a desire from many for things to be done better.
"I would imagine that coming up with a clear plan and priority to provide better mental health services in New Zealand could be a vote winner, and more than that, it's the right thing to do."
Elliott said it's good the Government has responded, with its promise of extra mental health funding coming in this month's Budget.
This would come from an already announced $321 million social investment initiative.
But Elliott said the Government's announcements so far have still left her unclear on what it's planning to do to increase access to mental health services.
"It's not entirely clear what in that social investment package might be specifically directed to mental health, so we need to wait and see."